Dustin Apgar becomes part of the sky
BRISTOL — The ashes of father, son, brother, partner, motorcycle racer, stunt rider, crew chief and paramotor flyer Dustin Apgar came down the mountain from South Lincoln on Saturday with a pack of motorcycles and rode one last "hot lap" up Fuller's Flats (Route 116) to the place that used to be known as Fuller's Dairy. That's where Randy Russell, Apgar's best friend growing up, was preparing to shoot them into the Vermont sky.
Apgar died on March 27 while paramotoring in the sky near his home in Arizona. He was 41.
Paramotoring is a form of paragliding in which the rider is harnessed to a gas-powered propeller.
Apgar discovered the sport in August 2020 when he was working at a motorcycle track in Washington state.
"This dude came in and paramotored (over) the whole racetrack," Apgar said in an undated video interview posted last month on the Danielo Staybad YouTube channel. Apgar had no idea what the contraption was but he was transfixed, he said, and by the time it had sailed out of sight, he had googled it, called a local paramotor flight school and signed up for lessons.
Paramotoring changed his life, he said.
"I've always since I was a kid looked out that window going along and felt like I could be that bird soaring mountaintop to mountaintop," he said. "Watching falcons is one of my favorite things to do in nature and now suddenly to be able to soar with the falcons and fly like a bird — it's the most relaxing, exhilarating, adrenaline-packed, relaxing … I know I said that twice, but man it's good for the soul."
He tried to fly every day, he said, and he especially loved being in the sky a half-hour before sunrise or a half-hour after sunset. Sometimes he even took his dog Cassie along.
Apgar grew up in South Lincoln and went to Mount Abraham Union High School.
"Dustin always needed to be moving," his sister, Amanda Bolduc, recalled. "Going somewhere, doing something. He loved being able to be outside on the backroads or in the fields tearing it up. Each day you had to have more fun than the last, and the backroads of Vermont, snowboarding in the mountains, jet-skiing on the lake — there was always something to do and friends to do it with. We were very lucky to have a wonderful community of adventurous parents and crazy kids all running around together."
Russell, who grew up on Fuller's Farm and recently returned there to launch the Leaning Barn VT Hemp Company, remembers Apgar coming over and practicing motorcycle tricks on the farm.
He also remembers the expression on Apgar's face that said, "Think I can't?"
"Dustin had absolutely no fear, combined with a special kind of common sense," Russell said. "It's like he was a natural born stunt man. He loved the rush of adrenaline and he loved the people who loved to watch him do it."
The escort Apgar received from Lincoln to Bristol on Saturday was reminiscent of the one he himself had organized in 2018, when his father, Jim Apgar, died.
"Dustin was the person who drove my father's casket to the crematorium and he gave him quite the ride to get there," Bolduc said.
People came from all over the country to attend the celebration of Dustin Apgar's life, which was held just after midday in one of Russell's barns and included several slide shows and a eulogy by Apgar's uncle, Peter Funk of Cornwall.
Afterward, family and friends stuck around to eat and drink and share their favorite Dustin Apgar stories.
"Dustin would have appreciated everyone coming together to have a good time," Bolduc said. "He would not have wanted a 'traditional' funeral. At my father's memorial, (Dustin) really appreciated everyone gathering together to tell stories, so I'm sure he was happy to have that for himself as well."
THEN THERE WAS FIRE
When night fell, Russell honored Dustin and his father with fire.
"Both Jim and Dustin were huge fans of fire," Russell said. "Jim would always have the biggest bonfires in Lincoln so I knew I had to step my game up for the event."
When darkness had settled, and a bottle of tequila (and lots of bug spray) started making the rounds, Jericho-based Cirque de Fuego performed fire stunts and dances out in a field, with music piped in through P.A. system.
Behind them, a larger-than-life sculpture of a motorcycle, built entirely from pallet wood by Cirque de Fuego co-founder Chris Cleary and sprinkled with Dustin's and Jim's ashes, changed colors under the dance club lights.
Great raucous applause erupted when for its grand finale Circque de Fuego set the motorcycle sculpture on fire.
The wooden effigy "was just stunning," Bolduc said. "It was an absolutely perfect way to send Dustin out in a blaze of glory."
Moments later, thanks to Apgar family friend Mitchell Weinberger, fireworks lit up the sky, carrying with them more of Dustin's and Jim's ashes.
On the ground, as the flames from the wooden motorcycle sculpture grew higher and higher they reflected off a white wooden "31" in the distance, Dustin Apgar's racing number, which was planted atop the largest pile of bonfire fuel this reporter has ever seen.
"My uncle Ernie Russell and cousin Evan helped me cut the field back for extra brush," Russell later explained, "and Trent Roleau (of Gateway Farm next door) brought half a dozen loads of dry slab from wood he's milled himself from his farm."
It took a while to get the bonfire going, as a team of people had to walk its perimeter and set small fires in a dozen or so spots, but once it caught, the fire was so bright and tall and hot that it seemed to constitute a universe unto itself.
As spectacular as the pyrotechnics were, Russell's favorite part of the day was getting to know people from other parts of Apgar's life.
"I lost one of my best friends but I gained a dozen new ones," he said. "Having to get on a plane or in your car and travel across the U.S. is never an easy task to do for a funeral or celebration of life, but fortunately it helped bring closure, I think."
Apgar will be missed for so much more than his daring, Bolduc said.
"Dustin lived for adrenalin, but he also loved to share that feeling with others," she said. "He was a fantastic teacher when it came to riding motorcycles. He had an infectious energy and joy that drew people to him (and) he would make every fan feel special by taking photos, letting them sit on his bike, signing every autograph, especially the kids."
He was also a devoted father to his son, Dustin Jr., she said. "He loved to play with him, fly rockets, swim and jump on the trampoline."
Bolduc has started a GoFundMe campaign to help Apgar's life partner, Kim Laporte, with Dustin Jr.'s long-term autism care. For more information, visit tinyurl.com/y6f2dhhc.
By all accounts Dustin Apgar died doing something he loved, something he said felt healing.
In response to a question from Moto America magazine last November, he put it this way.
"I love that I've become part of the sky."
Reach Christopher Ross at [email protected].
More News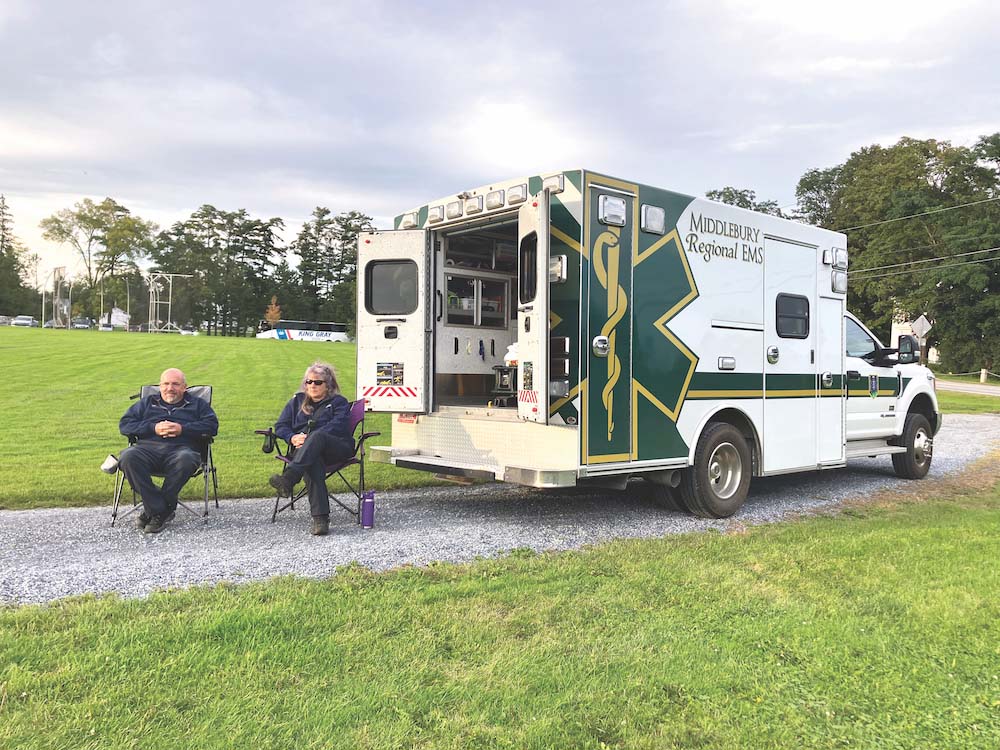 Middlebury Regional Emergency Medical Services wants to eliminate its annual Town Meeting … (read more)
Middlebury police are investigating the death of a Middlebury College junior and say the p … (read more)
In the course of her almost 101 years on Earth, Vergennes resident Margaret Clifford, bett … (read more)