Former Red Sox draftee enjoying life after baseball
Without Legion and Bill Hageman I probably never would have played professional baseball.
— Tyler Pelland
CRAFTSBURY — For six years Monkton native and former Mount Abraham Union High School and Addison County American Legion standout pitcher Tyler Pelland played professional baseball.
Although the Boston Red Sox drafted the left-hander in 2002, he spent most of his baseball career in the Cincinnati Reds organization. He reached the highest rung of the minor leagues in 2007 — excelling that year — and 2008 before serious shoulder problems derailed his chance of playing Major League Baseball.
But Pelland, 37, rarely thinks about baseball these days. He and his partner of seven years, Anners Johnson, are raising twin girls, soon to be 5, in Johnson's hometown of Craftsbury, where they are now building a house.
Pelland admits, however, he soon will be focusing on the sport again: The twins, Winter and Scarlett, have signed up to play T-Ball this fall, and he will coach.
"I've been out of the sports scene for so long, as I sit here and think about it with kids approaching 5 years old, I guess I'll be getting back into that," he said.
He added the twins also play soccer, and they ski almost as well as he does: "We'll see what this winter brings as far as keeping up with them."
Pelland truly does follow baseball. He did know another Vermont pitcher was recently drafted, but was unaware that athlete — Owen Kellington, who like Pelland threw a 90-plus-mph fastball and a big curve in high school — just graduated from U-32, about 30 miles south of Craftsbury.
Maybe that's because Pelland has focused not only on family, but also on carving out a thriving post-baseball career — he is a licensed consulting forester, an occupation that allows him to do enjoy another passion, the great outdoors.
The contract he first signed with the Red Sox included funding for college if he left the sport. In the spring of 2009 he went to Paul Smith's College in the heart of New York's Adirondack State Park to study forestry.
"I decided with my love for the outdoors a forestry path would probably be a happy one," Pelland said.
After Pelland's 2012 graduation, he was offered a full-time forestry job with Ben Campbell at an office in Bristol. Pelland had worked for Campbell during college summers.
Consulting forestry is a complex job that most often involves advising landowners with woodlands in Vermont's current use program.
To get a current-use tax break, owners are required to manage their woodlands. That's where foresters' expertise typically comes in, Pelland said, by helping develop comprehensive plans to meet both landowner and public-good objectives.
"You're dealing with manipulating forest vegetation, which has to do with ecology and wildlife habitat and sylviculture, soils, water quality, and all this other stuff," he said. "We inventory the property and develop management plans … basically use forestry science to help landowners reach their goals."
ON TO CRAFTSBURY
Pelland worked for Campbell for about four years that he called essential for his education. In 2014 he met Anners Johnson online and eventually moved north to Craftsbury, working for a few years out of a Newport branch office of LandVest.
Pelland fielded a couple obvious questions about life in Craftsbury. No, he does not play men's league baseball. Yes, he does know famous town resident and former Red Sox and Montreal Expo pitcher Bill Lee.
"I run into him frequently, living in a small town," Pelland said. "Spaceman. They didn't call him that for no reason."
In May 2020, when Pelland decided to build a house for his young family, he also chose to become his own boss, figuring he could make a little money during construction. It didn't quite work out the way he expected. 
"I thought it would take a little while to start developing full-time work," Pelland said. "And it actually took off pretty quickly. The phone has been ringing quite a bit, and it's been a juggling act the past year."
Fortunately, Pelland has expert help with the building project. His father, Bill Pelland, regularly makes the drive up from Monkton to lend a hand and also consulted on the design that his son and Johnson drew up.
"He's a retired carpenter. He's 70 now. He's been helping me through this house-building process," said Pelland, who describes his own previous construction experience as "building a few sheds and some basic repairs. Without my father and his knowledge I probably wouldn't have attempted it."
The couple is not doing all the work: Pelland's former Mount Abe catcher Zach Laurie is doing the foundation, and Pelland and Anners are also contracting out the wiring and plumbing.
EARLY BASEBALL
Pelland is not in regular touch with too many former teammates, but remembers Mount Abe fondly.
"You really develop a strong relationship with a lot of the players you play with. You might not keep tabs on them years down the road. But especially I remember when you have good teams, in the last few years of baseball there, we took it pretty seriously," Pelland said. "It was fun to win. I think that competitive part of it was satisfying."
The best parts were "just generally developing good friendships, and the skills to problem solve and communicate," he said. "Communication is the key to success with any sport, and as you learn later in life it's pretty key in all aspects."
Legion ball brought a wider net of friends — and gratitude for guidance and extra help from Legion Coach Bill Hageman, now deceased.
"Without Legion and Bill Hageman I probably never would have played professional baseball," Pelland said. "He really knew his stuff when it came to pitching mechanics."
During Pelland's last year of Legion ball he had to wrestle with the decision of whether to sign with the Red Sox — he was picked in the ninth round just before the Eagles won their second straight championship in 2002 — or accept an athletic scholarship from Clemson University.
"That was an overwhelming decision at that time," he said.
Pelland didn't want to disappoint Clemson Coach Jack Leggett, but the potential for injury during the three years he would have to commit to staying in college tipped the balance for Pelland, as did the chance his stock might fall at Clemson.
"It was a childhood dream I wasn't about to take a chance on," he said. "You go to Clemson, you're a small fish in a big pond. What if things don't really pan out? There was a lot of doubt. And then there was injury fear. And that three years was a lot of time to get hurt."
PRO CAREER
After he signed a professional contract in 2003, he went to Boston's Single-A Rookie League team in Florida. But not for too long. In July Pelland was traded.
The Sox sent Pelland and fellow pitching prospect Phil Dumatrait to Cincinnati for relief pitcher Scott Williamson, a former National League Rookie of the Year.
It was an abrupt introduction into the sports world.
"That was kind of upsetting … I had just made some good friends in Boston's organization, and it seemed like I was just getting comfortable with things, and now you're 18, 19, and headed to a different organization," he said. "Less than a year into it you're changing teams, which was really an eye-opener into the business side of sports."
One thought helped him accept the change: "I was having some success in the rookie league and someone else wanted me. I had value."
At first the Reds developed Pelland as a starting pitcher, but eventually they groomed him as a reliever, a change he grew to embrace.
"Out of the bullpen I could have better stuff for a shorter period of time. I enjoyed pitching out of the bullpen. There was more action. You played more," he said.
He found success as a reliever, combining a low-90s fastball with a newly developed slider.
His career peaked when he was called up to Triple A Louisville in 2007, when Pelland struck out 27 batters and walked just seven in 23.2 innings, with two saves, one win, and an ERA of 3.04.
"I was starting to have some confidence I might pitch in Cincinnati," he said.
But his shoulder was also starting to hurt, and with a possible call-up to the Reds in the cards Pelland was reluctant to address a possible underlying injury.
"There were a couple months before it was over I was eating a lot of Advil," he said. "With working out and Advil I was able to keep my stuff together for a couple innings at a time."
In 2008 he knew he couldn't continue when in his last professional game he could only throw about 82 mph, 10 mph slower than a year before.
He soon learned he had a torn rotator cuff, a partially torn bicep tendon, and a torn labrum.
"The whole joint was worn out. I don't know if it was poor mechanics over a period, or overuse. Or when I was trying to change mechanics when I was walking too many people. I try not to think about the what-ifs. But what if when it was to the point when it was starting to get sore and I was starting to take Advil months ago, if I had taken some time off?" Pelland said.
"But I felt like I was so close that if I could get up to Cincinnati and pitch a little bit and then say something, that it might be financially better for me."
He soon had full shoulder reconstruction surgery and went to Florida for rehab, something rarely successful for pitchers after such major shoulder surgery.
"I had a trainer down there, and he said, 'You know, there's a chance,'" Pelland said.
Ultimately, Pelland decided the odds were not in favor of his baseball career.
"Deer season came around. It was November, and I said this was probably a good time to go home and take my mind off things. And I went home and I didn't look back," he said.
Pelland said his shoulder now "holds together well" and he has no trouble, for example, doing the tasks involved in building his home.
Still, the immediate aftermath of a shattered dream challenged Pelland. He found solace in the forest.
"It was somewhat of a dark time. I was kind of depressed about should I have hung around and rehabbed more? But really the outdoors and the woods was a cure-all for all that. I could go hunting or hiking and not even think about baseball," he said.
By now his forestry career, Anners and his children have long since erased lingering traces of regret about baseball.
"With my kids I don't even think about it, other than coaching T-ball this fall is kind of fun," Pelland said.
"They make me a pretty happy person. With her combined with the kids I couldn't ask for any more right now. I'm pretty grateful."
Read more about the highlights of Pelland's baseball career here.
More News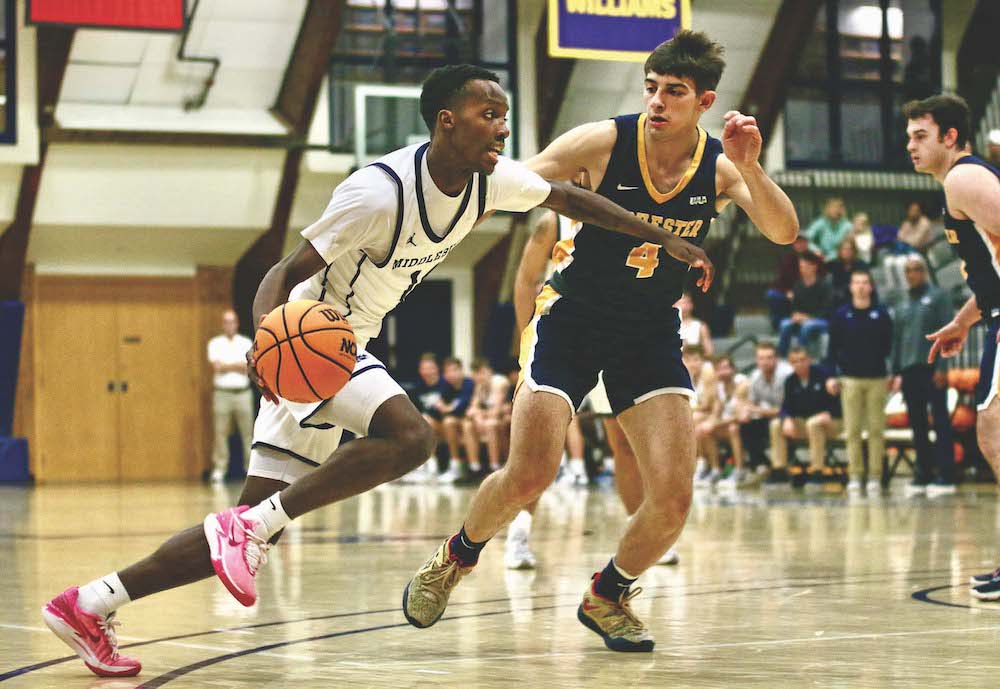 The Middlebury College men's basketball team dropped a pair of home games to teams in the … (read more)
The Middlebury College women's basketball team split a pair of games this past weekend at … (read more)
The Middlebury College women's hockey team lost one game and settled for a tie in another … (read more)