Culinary collective serves flavor & hope
So many Mexican ladies have been hiding, and now they get to go out and show what they have to offer.
— Maria Martinez
MIDDLEBURY — "El Sabor" translated from Spanish means "flavor."
But it's a word that has taken on many more definitions for 14 Central American women, many of them the trailing spouses of migrant farm workers, now living in Addison County. Thirteen of them hail from Mexico, one is from Guatemala.
To them, "El Sabor" also represents hope, entrepreneurship, togetherness, creativity and hard work — all of it hopefully leading to a bigger piece of the American dream.
Simply put, "Viva el Sabor" is a women-led collective dedicated to introducing the food and culture of Mexico and Central America to Vermont and promoting community and economic justice for its members, according to Elizabeth Ready, former executive director of John Graham Housing & Services, and now a helper for the collective.
The talented members of Viva El Sabor will step out of the shadows of the county's agricultural landscape to make their first big splash at a fiesta on Middlebury's Marble Works green on Saturday, June 26, from 5-9 p.m., during which they'll serve up a cornucopia of authentic homemade Mexican delicacies to the public.
But all involved hope the fiesta leads to un negocio — a full-fledged business, from which Viva el Sabor could lovingly make and package its food for wider distribution through locals stores.
"So far, they have identified goals of creating a commercial kitchen space, navigating permits and regulations, and marketing their products as first steps," Ready explained. "(The nonprofit) Little Village Enterprises — with its mission to promote greater food and housing security for people in Addison County -— is a natural ally and plans to make some key investments and help leverage community partnerships to help Viva el Sabor succeed."
Vermont Coffee Company founder Paul Ralston founded Little Village Enterprises to help create good jobs close to home.
The Addison Independent recently sat down with Ready and four members of the fledgling Viva el Sabor collective. Gloria Estela Gonzalez Zenteno, Middlebury College professor of Luso-Hispanic Studies, is a mentor to the group, and provided Spanish-English translation during the interview.
Alejandra Perez
Alejandra Perez arrived in the U.S. 12 years ago with her husband, who works at a farm in Addison.
She's eager to return to Mexico.
"It requires a lot of courage; it's hard to leave your comfort zone," she said.
Perez quickly learned the reality of being a trailing spouse form Central America.
"When I arrived in Vermont, one is faced with the reality that there's work for men, but not for women," said Perez, who lacked a Social Security number and rudimentary English.
Oh, and it's also hard to hold down a conventional job caring for newborn twins.
So she made some work for herself, using culinary skills developed from an early age, under the guidance of her papa — who ran a small Mexican restaurant in North Carolina — and other family members passing along generational recipes.
She found an eager clientele, largely comprised of fellow migrant farm workers yearning for a taste of home. And we're not talking about the stuff in cans found on local supermarket shelves. We're talking about authentic mole — a dark, sweet and savory sauce featuring more than 50 ingredients, lovingly simmered for hours in a big pot on the stove. Pozole, a spicy stew. Chilaquiles. Gorditas. Flautas. Carne Asada. Tamales. Barbacoa. Tres Leches cake.
Typically, according to Perez, migrant farm workers get a ride from their employer to the supermarket every few weeks after payday, to stock up on provisions. The pickings are slim in Vermont stores when it comes to international — in this case, Central American — supplies.
"That's where I saw the need," Perez said of her budding business venture. "When I was selling them food, I often found people who had been without food for days, because their pantry was empty — they didn't have a driver's license or a car, and depended on their employers for food."
There are an estimated 1,500 migrant workers toiling on Vermont farms, so Perez found huge demand for her delicacies. It's allowed her to supplement her husband's income and thus build a better life for the family.
Perez found a driver to make twice-per-month supply runs to the gastronomy melting pot of New York City, and planted her own garden of vegetables, herbs and spices essential to her dishes. She got the seeds from Mexico.
And she spread the word: "Call me if you need food."
And they did.
She enjoyed the interactions with people, the thrill of entrepreneurship. She was finally able to employ the marketing skills she'd learned while in college.
After a while, it wasn't just her fellow Central Americans, it was longtime Vermonters — a good many members of the Middlebury College community. They visited her at her modest home at the Addison farm, where she'd give them a to-go bag, or serve them on-site.
"More and more people came," she said of the customers.
Her husband and the twins grew a little weary of all the dinner guests.
"My husband finally said, 'Why not just put a tarp down outside and serve them out there?'" she laughed.
When Perez wasn't serving food at home, she was delivering it to other farms.
"I've gone through three cars doing that," she said matter-of-factly.
Her reputation landed her a cooking class gig at the Burlington Food Co-op.
"I memorized a presentation in English," she said proudly.
Perez sees the El Sabor collective as a wonderful next step in spreading hers and her colleagues' tasty wares beyond the confines of Vermont's farms.
"I'm really happy and excited about it," she said. "We are very strong and we are very self-reliant, but I'm grateful for support when we can get it."
Maria Martinez
Maria Martinez has been in the U.S. for 17 years. Her husband also works at a Whiting farm. Together, they have three children, all U.S. citizens.
"It was worth coming here," she said, exuding gratitude.
Like Perez, Martinez initially found no work as a trailing spouse. But after awhile, she found a demand for cleaning services and authentic Mexican food. Unlike Perez, who does all her cooking in her own kitchen, Martinez has primarily cooked in the kitchens of the homes where her services are in demand.
Martinez has also hired a delivery service to bring her ingredients for her authentic Mexican dishes.
Her specialty is baked goods — in particular, a devastating Tres Leches cake. But she's equally adept at tamales, gorditas, barbacoa, masa and, of course, mole. Every family tends to have its own mole recipe.
Martinez is excited about the great potential of El Sabor, and she's eager to work in a big kitchen while learning how to package the food for wider distribution.
"So many Mexican ladies have been hiding, and now they get to go out and show what they have to offer," she said. "More than the money that I'm going to earn, what I want is to learn new skills. That's what I'm really excited about."
There are now three generations of the Martinez family in Addison County, and Maria and her husband are helping the younger members get a taste of the American dream, too. Her husband is helping their son build a basic home on land that also hosts two cows and some chickens. Maria stopped cooking for a few years in order to provide daycare to her granddaughter.
"We brought our children from so far away, and now it is our obligation to help them raise their children to have a better future," she said, with emotion in her voice.
El Sabor now is part of her family's ticket to that future.
"Thank God I'm doing this project," she said.
Magdalena Deloya
Magdalena Deloya will be the first in the family to get legal residency here.
She's from the Mexican state of Guerrero, which means "warrior."
"It conveys what we are," she said proudly. "We fight by working."
And Deloya has done a lot of that — including at Middlebury's Open Door Clinic (ODC), where she's been a valued translator in the clinic's outreach to migrant workers. Deloya played a major role in the ODC's coronavirus vaccinations clinics earlier this year. An astounding 98% of the state's migrant worker population received a COVID-19 vaccine. Vermont, as a whole, is at 80% — the best in the union.
"It's been a wonderful job, and I get to help a lot of people who don't speak English," she said.
Her other job these days is making supply runs to New Jersey to get folks like Martinez and Perez the ingredients they need to cook. But Deloya is no slouch in the kitchen. Her specialties include barbacoa, pulled-pork tacos and posole.
"I want to bring a little bit of Guerrero to Vermont," she proclaimed, "and I know I can be a voice for the group."
She called El Sabor "a large and strong movement, and I want to be a part of it.
"I want this opportunity for us to… rise together."
Aleida Hernandez
From the Vera Cruz area of Mexico, Aleida Hernandez has always wanted to become a chef.
But life got in the way.
She married at a very early age, having two children during her teens. Her marriage sadly ended in divorce. She yearned for a better life, and Indiana was her first stop stateside. There, she worked at factories earning menial wages, and ultimately moved to Vermont, where she was told there were better job opportunities and a lot of kindness.
Like other Viva El Sabor members, Hernandez saw the local demand for authentic Mexican food, and believed she could help fill that void.
"I've always been interested in cooking. My mother would say, 'Either you clean, or you cook,' and I'm a very bad cleaner," she joked.
The cooking came naturally, in large part because of her grandmother's recipes. In particular a mole with ingredients that were painstakingly crushed with a mortar and pestle made of volcanic rock.
"She had a commitment to flavor and quality," Hernandez said of her grandma.
Not all of her Vermont experiences have been good. She and other Mexican nationals were subjected to what she called "humiliations and racism" at one farm at which she worked, prompting involvement by the organization Migrant Justice.
"They educated me about my rights," Hernandez said, "and now I'm selling food."
She's very excited about the potential of El Sabor.
"It's an opportunity for us to learn, grow and earn better money," Hernandez said.
The June 26 fiesta will take place under a tent at the Marble Works. Diners will purchase tickets for $5 each and then circulate in a tasting venue among tables bearing the diverse array of authentic dishes. A live Mariachi band, Mariachi Tapati de Alvaro Paulino, will perform.
Many local businesses and entrepreneurs are helping out. Marble Works is donating the space. American Flatbread Middlebury Hearth is offering a cash bar and Chef Samantha Langevinis is helping with food safety and presentation. Fire and Ice Restaurant is providing catering equipment. Middlebury College is lending the tables and chairs.
Chef Woody Danforth and the Patricia Hannaford Career Center and the Champlain Valley United Universalist Church are providing their cooking spaces for food preparation. Little Village Enterprises is sponsoring the food and the band so all proceeds go directly to the cooks. And a small cadre of volunteers and allies are helping with set up, logistics and clean up.
More News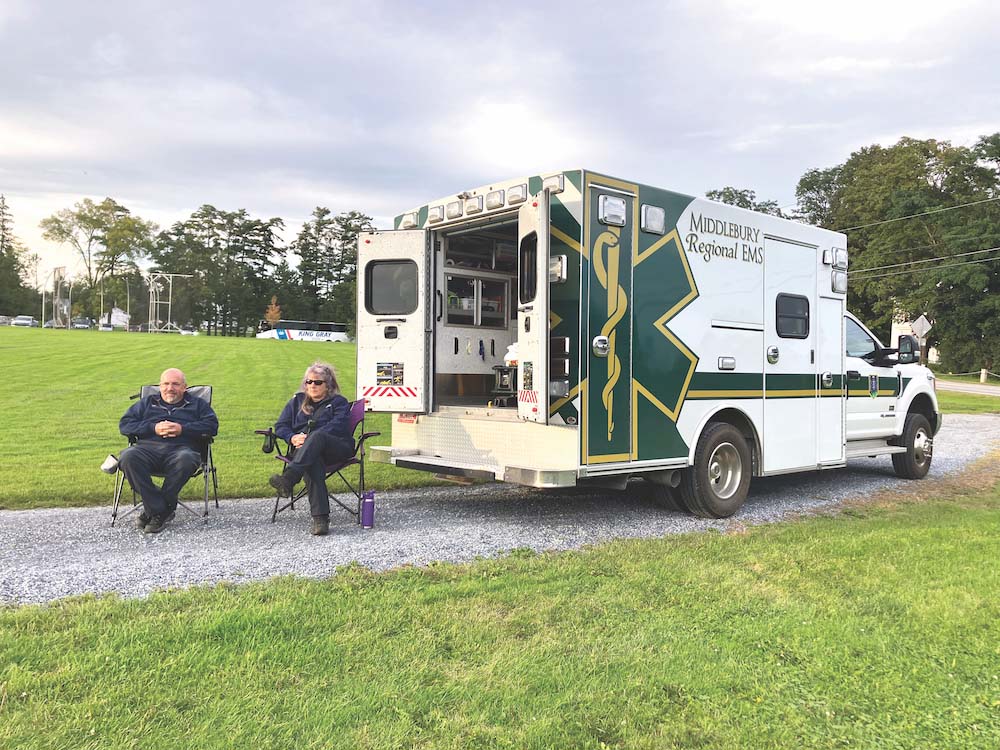 Middlebury Regional Emergency Medical Services wants to eliminate its annual Town Meeting … (read more)
Middlebury police are investigating the death of a Middlebury College junior and say the p … (read more)
In the course of her almost 101 years on Earth, Vergennes resident Margaret Clifford, bett … (read more)