Mary's Restaurant owners pass the torch
BRISTOL — This past Sunday night, after a 38-year run, Mary's at Baldwin Creek served its last meal.
"It is with heavy hearts that we announce our bittersweet decision to officially step out of the restaurant-inn business and into much anticipated retirement," wrote Doug Mack and Linda Harmon in a social media announcement earlier this month. "It's a strange time in the world to be doing so … but the time has come for us to move on and enjoy a new adventure."
Mary's became known for pioneering Vermont's farm-to-table movement, its seasonally changing menus, its contributions to the community and Chef Doug's cream of garlic soup.
Harmon and Mack are selling the 12.6-acre property just north of the junction of Routes 116 and 17 — which includes a farmhouse, cottage and barn, along with a small vineyard and gardens — to a family from California, who will bring their own vision for the restaurant and inn.
Though they had always envisioned a big party in the barn, with a band and dancing — and someone else doing the catering — Harmon, Mack and their staff celebrated their last weekend in business doing what they do best: cooking and serving food. Employee A. Jay Dubberly shared his thoughts on the last weekend here.
On Monday morning the Independent sat down with Doug and Linda and their daughter Laura (who owns and operates lulu Ice Cream in Vergennes) to talk about the old days and what's next.
The following interview has been lightly edited for length and clarity and includes a few comments from a separate interview with Starksboro residents Marcia and Rob Liotard, loyal customers of the restaurant for 15 years.
1983
Doug: We'd just come back from traveling around the country for six months in a Volkswagen van, trying to figure out where we wanted to be. I was the bar manager at the Sirloin Saloon in Shelburne and we were looking for someplace to buy. A friend I'd made at the bar who knew we were looking around said, "You know you ought to check out that place Mary's in Bristol."
Linda: And we thought, "Where the hell is Bristol?" (Laughter.) So we looked quickly at a map and said, "Oh: half-hour to the lake, half-hour to Burlington, half-hour to skiing," which was one of the reasons we were here. So that's how we ended up in Bristol … on Main Street, where Emerald Rose Grows is now.
We were there for 11 years. It was originally a vegetarian restaurant. When we took over we put in a full bar and started moving into farm-to-table cuisine.
Doug: Not vegetarian.
Linda: (Though the term farm-to-table hadn't gained currency back then.) We started buying from farmers because they were our age, and they were starting out and needed a place to sell.
Doug: It was a very exciting time because there were young farmers in their 20s, 30s, 40s who were very excited about selling food to restaurants.
Linda: And still are.
Doug: They were as passionate about growing it and selling it as I was about using it, which was really a very cool thing as a chef. They would say, "What do you want us to grow?" or "What do you want us to do?" It really just started this hub of Vermont local food things in (the early 80s). It was kind of "Country Before Country Was Cool."
Linda: But (Main Street) was only a 50-seat restaurant, so we began looking for a bigger place. We looked in Burlington and Middlebury and Waitsfield, but we couldn't find anything we liked. Eventually we realized we didn't like anything because if we went to Middlebury we'd be a Middlebury restaurant; if we went to Burlington we would lose all of our Middlebury clientele; and if we went to Waitsfield we'd be kind of the ski groupie place.
Doug: Plus it was a very eclectic spot we had on Main Street. It was hard to create that vibe someplace else, and we weren't sure what the new vibe would be. (When we heard about this property being for sale) I thought, "Oh my god, it's too big, it's too old," and the more we talked about it the more I was afraid to come down here because I was afraid we were going to fall in love with it. But Linda always in the back of her mind wanted to have an inn, and this building would facilitate all of those things, as well as expanding the Farm to Table with all the land, so we could actually have some gardens. I think Seven Days once said … "Vermont Fresh isn't fresh enough for Doug Mack. He's got to grow his own food."
Linda: It took a lot of work (to transform this place) because you had to upgrade everything from residential to commercial. We had to go through Act 250 — this was my pet peeve — the same steps that Wal-Mart would have to go through.
Doug: At the same time, people told us we were out of our minds. "You're moving out of Main Street, you're moving out of town, and you're moving to the country," not that Bristol was this booming metropolis. "Are you sure you want to do this?"
Linda: But we finally got through it, and here we are.
FAMILY AFFAIR
Linda: I will say nothing. (Laughter.)
Laura: I was a perfect angel.
Linda: She was very hard to control, Christopher.
Laura: I'm definitely a perfect combination of my parents. I'm weird and quirky like my dad, and I'm sometimes very bossy like my mom, but I'm also very strong-willed. So I was a 6-year-old washing dishes and telling the adults (what to do).
Doug: As a parent, I would say the best thing about it was that we spent more time with our children than most people do, because it was either lock them up in the house or have them work here. And they would do a little bit of both when they were little. But, having said that, they've worked with us their whole lives and they still like us. And we still spend more time together than I think families—
Laura: Should?
Doug: —should or do. (Laughter.) Laura goes to Italy with us on our Tuscan tours. And our daughter Martha who lives in Winooski — she spent the whole COVID with Laura in Vergennes, so we were all together during COVID, even. It's hard to get rid of these kids. And now we're moving in with them. (Laughter.)
Laura: I do work a lot, too.
RUNNING AMOK
Laura: I was very good at learning what I can and cannot do as a restaurant kid and how to find loopholes in that. I'm a very social person, so when we moved out here (to Route 116) I would get in trouble a lot for talking to customers. Linda said, "Laura, people come out here to escape their children, they don't want to talk to children — don't talk to the customers." So I would just bike up and down the driveway and then pull my bike up really close to their (car) doors and force them to start a conversation so I could say, "I didn't start the conversation — they wanted to talk to me." I was very good at that sort of thing.
Doug: On Main Street we lived above the restaurant, so customers would go, "Oh, Laura just broke something upstairs, maybe you want to run up and see what's going on." (Laughter.) Linda would disappear at nine o'clock sharp every night because she had to go upstairs to be with the kids, and there would be this (pounds rapidly on the table) — you always heard what was going on up there. They've always had a presence in the operation. We couldn't hide them at all.
Linda: I remember vividly getting a call for reservations — "Hello, it's Mrs. Doubtfire." (Laughter.) And I'm like, "Mm, all right now, just you go away" — click. And lo and behold a half an hour later, in strolls the two of them, all dressed up like Mrs. Doubtfire. And the place was really busy, and all these people were around and I just wanted to strangle them and I'm like, "Hello, Mrs. Doubtfire — RIGHT THIS WAY." (Laughter.) "You sit over in the corner, and don't say anything."
Laura: I was eight. At that point we were just free-range, so we would raid my mother's closet and dress up and think we were very cool people going out to dinner. Or sitting at the bar at brunch — that was like the coolest thing because it would be packed at brunch and I would get a giant stack of pancakes and I felt like I was in with the in-crowd that I could get a bar stool.
COMMUNITY
Laura: For my parents it's a daily occurrence, interacting with community members, doing things, whether it's donations for a silent auction or Linda would drive during COVID to Betty Mason's house (in Starksboro) and drop off a meal that we would puree because she couldn't eat things. It's the little things that I don't think a lot of other people who are totally immersed in their own lives really think about. It just seems like second nature to them.
Linda: A lot of what we've done for 38 years is not necessarily a businessperson's money-making plan. It's more, Hm, what makes us happy? So from the very first year we opened up Mary's on Christmas Day and served a free dinner. It was just Doug and I, and by the time the day was over and it was nighttime, we were like, "Well, OK, that was interesting and fun, but if we're going to have a family, we can't do this on Christmas Day." So for the next decade we did this Christmas Eve. But the (Main Street) place was small and we knew there was a bigger need, so we started doing it at the elementary school — the lunch ladies at the elementary school were great.
Doug: Then it took on a life of its own.
Linda: And when we came here we were like, "We can do it right here." Maybe 10 to 12 years ago we switched it from Christmas Eve to the Sunday before Christmas. Why? People wanted to volunteer for dinner, but only the real die-hards wanted to do it on Christmas Eve or Christmas Day. There's been lots of community volunteerism — Rob Liotard has been in the kitchen for a decade.
Doug: I'm pretty fussy about who's in the kitchen.
Linda: There was a lawyer who was in for dinner last night who was like, "What am I going to do? I always do dishes on Christmas Eve." So everybody has their little part to play, and it's been great. There's musicians that come, volunteers and singers…
And then we participated in the Vermont Everyone Eats program, which I thought was a really good program. And people were so appreciative. They would come every weekend and pick up their food.
Doug: And bring us cookies.
Laura: It was fun for us, too, like a social outing. Even handing out food and checking them in was like, "Oooh, I get to see you again — how was your week? I don't see very many people nowadays in COVID! Tell me more!"
(In a separate interview with the Independent, Marcia and Rob Liotard had this to say about Mary's connection to the community:
Marcia: We've counted up more than 20 events and activities we done that Mary's was involved in. Feast of our Farmers, Christmas Eve dinners, we did those right up until 2019.
Rob: They've been so much involved with the community, more than just running a business. I'm a part of Addison County Habitat (for Humanity), and they had a dinner for us one time, where a large portion of the proceeds were donated to Habitat. Mary's is an institution. They've always been very supportive of community, which is amazing, considering a restaurant is a hard business to have kept going for 38 years.)
THE MENU
Doug: We always had seasonally changing menus. Every quarter everything changed, except for the garlic soup. When I was younger I kind of thought it was like having a recording contract and having to come up with new songs quarterly. It was always, "Where are you going to get (ingredients) from? How are you going to get (them) here?" But it was also the education of whoever you're cooking with, and then everybody in the dining room. You had to have it on the menu where things came from, so the staff had to know, "OK, that's a farm that's eight miles down the road," or "This came from Boyden Farm and they're in Cambridge" and "This is the cut of meat it is" and "These are the vegetables that we're growing" or where we're buying them. It was a lot of work. Just pricing a new menu every quarter.
Linda: A lot of people mentioned that for years they would always be here for Sneak Preview, which was two days where everything on the menu was $10. It really was designed for two purposes. One, so the community could come in, check out the menu at a very reduced price. And two, so we could ask them for feedback. They were not allowed to say, "This was great." We were looking for: If you're going to steal this and take it home, how are you going to tweak it to make it better? Oh, the color doesn't look good on the plate? OK, so we'll look at that. We allowed them to choose two entrees on the menu to plate together. Not because they thought they went together, but just so they could try out two things and give us feedback on them. That's been going on for decades.
Doug: Which also led into a bigger promotion that we did, Feast of Our Farms, where we would invite all of our farm partners, they would be out in the barn, we would make things from that farm, and then the farmers would serve it to the public. All of a sudden it's putting a face on farming, and the farmers loved it. The last couple years we did it we had the biggest tent you've ever seen. It was like the Astrodome, and there were so many people out there — 300 people would come.
The farmers had that extra satisfaction of seeing the whole process. Starting from seed, you grow it, you pick it, and then here it is on a plate, and people are going, "This is really great."
(With all this emphasis on sourcing local food,) we used to take the kids to birthday parties and we would say, "Oh, Martha, you should try this cheese," and she was like, "What farm is it from?" (Laughter.)
THINKING FAST
Doug: I have a very fussy review staff in-house.
Linda: "Discriminating." (Laughter.)
Doug: Discriminating. And one of the things about being your own boss is that if something's not going well, you better change it really fast. It wasn't like we could call somebody up and say, "You know, this isn't really working well, can we change the menu?" It was like, "This is gone."
I remember one time we were doing brunch and we were doing the jalapeño sorbet. We would always have a tasting before the shift. Staff can't sell it if they've never tasted it.
Linda: Everybody, staff always would eat from the menu before the shift started.
Doug: So we're all sitting around at Main Street enjoying this jalapeño sorbet, when Linda spits it out and —
Linda: We weren't enjoying the jalapeño — (laughter)
Doug: —and she said, "You can't serve this!"
Linda: I couldn't even talk! (Laugher.)
Laura: We've learned over the years that Linda has a very low spice tolerance.
Doug: The failures were few and far between, but they never made it to the table. I can't remember anything that came through Sneak Preview where we thought "That's a dud."
Laura: In this industry there's never anything we would say is an "epic fail" because the people who run it are really good problem solvers. It's never, "We're going to crash and burn" or "I give up." It's like with the sorbet — "What are we going to do instead of that?"
We had a wine dinner where we were supposed to have these duck cigars, and they came undone in the fire. So we took the extra filling we had and did little points of fried wonton and were like, "Ah, it's deconstructed spring roll," and everyone loved it. People still to this day talk about, "Oh, do you remember that duck cigar thing," and I'm like, "Well, it didn't look like a cigar." (Laughter.) But it was so good…
I'm very fortunate that I grew up with people who are problem solvers in an industry that requires us to think on our feet. There's a reason there's such resilience in the hospitality industry. We roll with the punches. It's a rollercoaster, nothing goes perfectly as planned, but how can we correct what's happening?
(pause)
I wrote my whole college essay on that, now that I'm thinking of it. (Laughter.)
COOKING CLASSES
Doug: It was really great because we were still, again, educating the public about farm-to-table. We had greenhouses out in the front yard. They would start out there. We'd pick things that we were going to cook. I limited it to 12 people, usually, but I did 22 once. It was, you know, getting to meet the chef. My staff would help me with it. We would do appetizers, desserts, and a lunch, with wine at the end. It was a four-hour event. Very intimate. You got to ask questions and we talked a lot. The idea was to really give people an idea of where food comes from.
I was also the founding president of Vermont Fresh Network, and I was on the board for eight years so it was very easy for me to teach people. It was also good because it created a marketplace for the public as well, so it enhanced everyone's buying experience.
(Marcia and Rob Liotard had this to say about Chef Doug's cooking classes:
Rob: Doug gave them once or twice a year. The cooking classes were fun because they were purposefully kept small. The students prepared everything, including a meal at the end of the day.
Marcia: There was quite a variety of themes for the classes. Rob brought home recipes to use and he still uses them.
Rob: Like thyme roasted chicken with roasted beet salad. And chocolate mousse using olive oil instead of cream or milk.)
PASSING THE TORCH
Linda: The property (not the business) is being sold — we're closing June 11. They're coming from California with that local food (vision) too. They'll have a new concept. They're going to add a couple of overnight rooms and decrease the size of the restaurant. And they have two young boys to either put to work or lock up.
Doug: They're really nice. They've got experience. We love their business model. Right from the get-go we were impressed with them as businesspeople. They definitely know what they're getting into.
Linda: So for us this is a very good passing of the torch.
Doug: And they feel the same way.
GARLIC SOUP
Independent: So … the garlic soup. (Laughter.)
Doug: We serve it here.
Linda: I've heard about it.
Doug: It started on Main Street. Kind of a whim.
Linda: Then people just started coming in, going, "I just drove here from Enosburg Falls for the garlic soup." And I'd be like, "Who said we were going to have garlic soup?" (laughter) "Well you had it the last time — it was the best." People literally made it a thing. Not us. We never said, "Oh, this is going to become our trademark."
Laura: About 10 years ago, Doug had us review the new seasonal menu, and we're looking at it and both Linda and I are going, "Where's the garlic soup" and he says, "I'm tired of making it!" (Laughter.) "We're not putting it on this season!" And Linda and I were like, "You can't do that. People will be pissed. There's going to be a coup on our hands." So he has a love/hate relationship with it. But I've never seen anyone work with as much cream ever in my life.
Doug: Especially this (past) weekend. I came in and Linda said, "We need 15 gallons for the first seating" or something. But that was the thing about the seasonally changing menu. People would say, "Well, what are you known for? What's your niche? What do people drive there to get?"
Linda: Changing menus. Plus cream of garlic soup.
Doug: It gave us a hook. But you're not getting the recipe. (Laughter.)
WINDING DOWN
Linda: One thing about COVID was that we got to experience this property as a family, not as a business. You'd wake up and you'd be able to go, "God, it's beautiful here. It's so wonderful to live here." We were doing takeout only, so there weren't people around. It was just us. We were easing into retirement, not knowing that that's what we were doing.
Doug: At one point we said, "Well, how can we afford to live here without doing the restaurant?" (Laughter.) "And live in our cottage and maintain this big house?"
Linda: And that didn't make sense.
RETIREMENT
Linda: We will be selling garlic soup out of lulu. You can buy it cold out of the refrigerator.
Doug: Grab and go.
Linda: That was never in our retirement plan … until last week. (Laugher.) But Laura put her foot down and said, "Well, I don't want the ice cream shop to smell like garlic, so you can only cook it at night" or whatever. But people can come pick it up. Get an ice cream cone and some garlic soup.
Laura: In my defense there's a running joke in the kitchen that the soup always boils over. Always. Soup's done when you hear it sizzling because it's pouring over the side of the pot.
Doug: It does smell good.
Laura: And I'm just — I have a very clean production area, and I don't need boiling-over soup to be happening there. So that was my only qualm with "I'll just make it at lulu!" I was like, "You'd better be very careful and very clean when you're doing this." So I will make it happen. I have cream at the ready. I've worked with Monument Farm so it's just like passing the torch over in that direction.
Linda: Doug may be doing some breadmaking, and again that might be out of lulu.
Doug: We're going to move our freshly bought wood-fired pizza oven to the patio at (our) Battery Hill (house in Vergennes). I'm trying to set up an outdoor kitchen, so I can do steamed bread. Basically it's made in enamel pans and you bake it in a pan with the top off and it finishes. Both gluten-free and whole-grain breads.
Also, I'm the creator of Slum Dog Millionaire (curried-peanut ice cream), which is (lulu's) niche-cult ice cream flavor. So I have a presence there as well.
And we'll still be doing our Tuscan tours as we have for the past 12 years. We have another life in Italy.
LOOKING BACK
Doug: I'm very proud of the fact that I maintained a relationship with Linda for 38 years. (Laughter.) And the love of my children. And that we didn't go out of business, that we are going out on our own terms, and that we made a difference in the food scene in Vermont. It was never a normal restaurant.
Linda: As George Jaeger said last night, "This is more than a restaurant."
Laura: Yeah, I couldn't do a final goodbye because he was just like … crying.
Linda: "More than a restaurant. It's family." The staff is family … people come in … (starts to cry) Oh no…
Laura: Suck it up, Linda! (Laughter.)
Linda: They think it's their own living room, dining room. They've always thought that it was their place.
Doug: We had kids who grew up here and who got married here. We've gone through a lot of generations. George Jaeger, who's 95, a genius, still remembers everything. Drives out, has a martini, goes home. When his wife was sick he would come here for comfort. He would go, "Doug, I know you don't have it on the menu but could you make me some pasta?" Because it was a thing that would make him feel better. That was kind of a thing that he and I shared. I could tell when he was not well because his wife was in the hospital. As a chef, to be able to do that for someone, through food, was really like the ultimate compliment to me, where it just felt like I was a magician every time I could put a smile on somebody's face.
That's what food should do. Food is more than food. Food is more than nourishment. To satisfy people that way — or to turn a really bad experience into a really good experience — that's the magic we loved to create.
Reach Christopher Ross at [email protected].
More News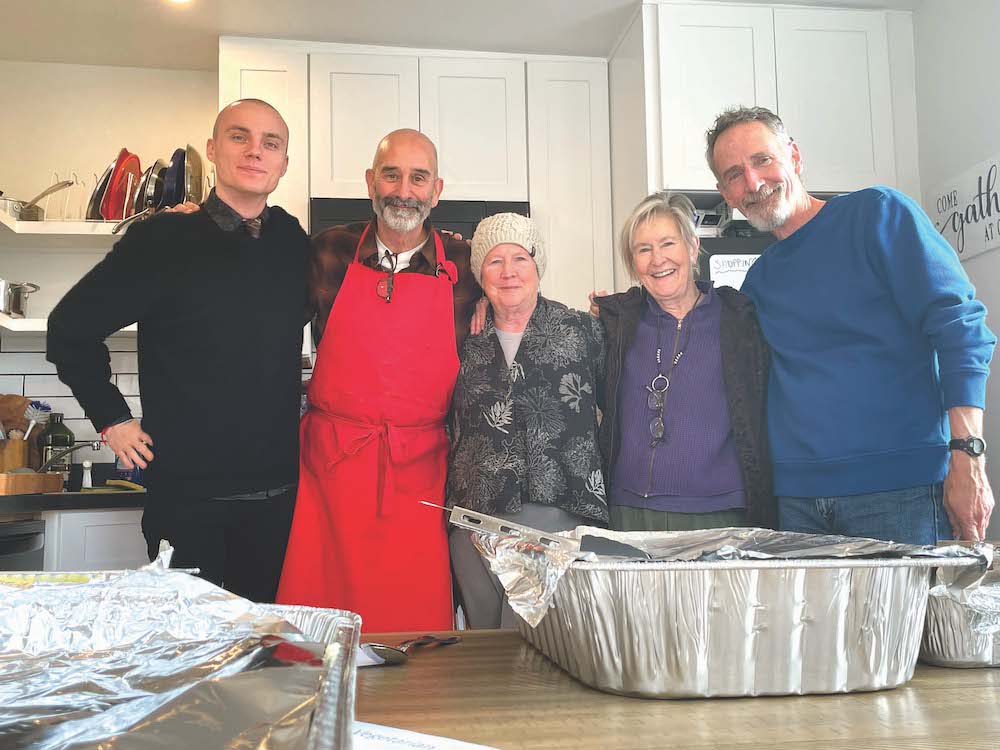 This past Thanksgiving, Nov. 23, saw almost 60 people converge upon the 1,400-square-foot … (read more)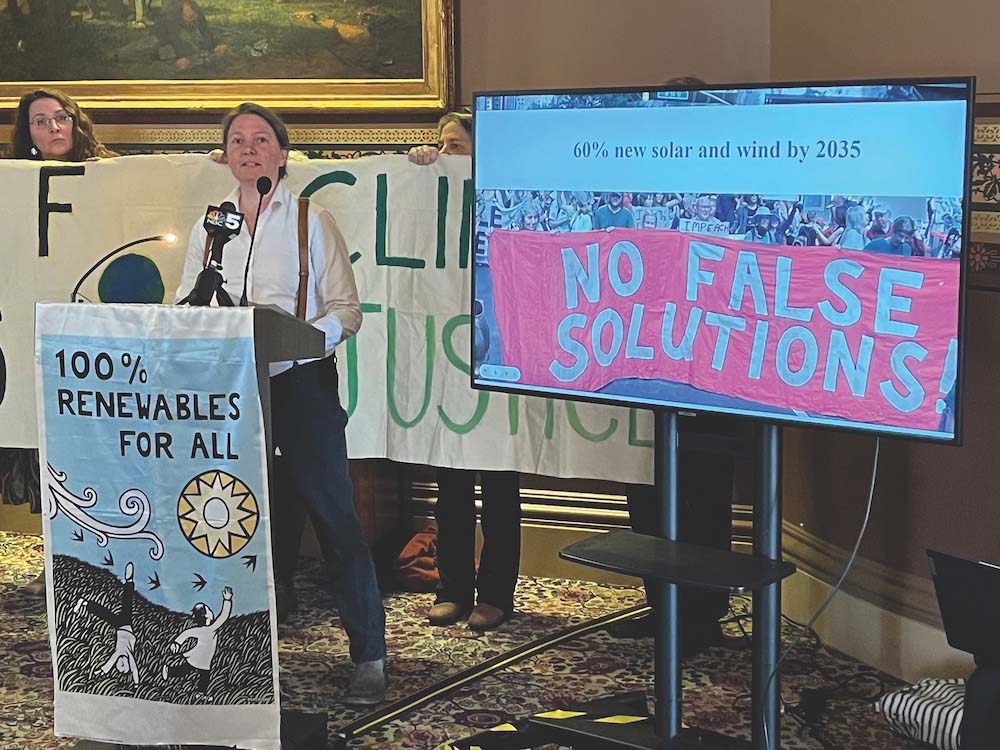 Two state lawmakers are urging Addison County folks not to ease up on efforts to battle cl … (read more)
Hunters during the 16-day deer rifle season that concluded on Sunday brought what was, acc … (read more)