Eagle softball slows Tigers
BRISTOL — Two high school softball teams playing well collided on Tuesday, when Middlebury, winners of four of five, visited Mount Abraham, winners of eight straight.
Make it nine for Mount Abe.
The Eagles' four-run rally in the bottom of the third and the three-hit pitching of sophomore Eve McCormick proved to be decisive in their 5-1 victory.
Mount Abe, a team that on Tuesday started just one senior (center fielder Karissa Livingston), improved to 13-2 and closed in on the No. 2 seed in Division II as the team seeks its fourth straight title.
Coach Donnie McCormick acknowledged he was not sure what kind of season his team would have given its youth and inexperience (freshman Maddie Hayden starts at second base and sophomore Lucy Parker at shortstop, for example), and that he has been pleasantly surprised.
"I really didn't know what to expect, but, man, they're just exceeding (expectations)," McCormick "We're getting a lot of contributions out of young players. If we can continue that, we'll be solid in the playoffs."
The Tigers dropped to 8-6, but remained in sixth place in D-II and apparently have clinched a first-round home playoff game. They picked up big wins over third-place Enosburg and D-III title contender Fairfax late last week.
First-year Coach Bob Cameron has been pleased with his team's play and resilience.
He said pitchers Olivia Audet and Emma Deering have thrown well, and the team has been hitting. And, he said, the Tigers have improved in the field.
"One of the big things is our defense has gotten better. There's a lot less errors, a lot less mistakes, a lot less physical errors," Cameron said. "That's helped a lot."
But a couple small miscues led to the Eagles taking the lead on Tuesday, 1-0 in the second inning. With two out McCormick and junior first baseman Natalie Chase singled. Courtesy runner Patty McNerney and Chase moved up on an Audet wild pitch, and McNerney scored on a passed ball.
The Tigers knotted the score in the third. Shortstop Grace Paquette reached leading off on McCormick's throwing error, and then stole second. Paquette moved to third on a passed ball and scored on third baseman Riley Farrell's RBI groundout.
The Eagles then scored four times on five hits off Audet in the fourth. Parker led off with a double and moved to third on Hayden's infield hit. Hayden stole second, and both runners scored when left fielder Bella Powell drilled a single. Third base infielder Payton Vincent and McCormick followed with RBI singles to make it 5-1.
Cameron then called Deering to the mound, and Chase singled to load the bases. But Deering fanned the next two batters and didn't allow a hit in the following three innings in an excellent relief effort.
Meanwhile, McCormick was also mowing down the Tigers. She walked one and struck out 10. Junior Olivia McCray broke up McCormick's no-hit bid by singling with two out in the fifth.
The Tigers kept battling and mounted a threat in the seventh, when Audet and Deering hit back-to-back singles leading off. The rally ended, but not until after Sienna Rubright's bunt rolled an inch foul and Olivia McCray's two-out liner to left landed a few feet on the wrong side of the foul line.
"A couple breaks here and there and it could have been a different game," Cameron said. "And Eve McCormick pitched a good game. They've had a great season. They're a tough team."
Cameron remains optimistic about his team moving forward.
"5-1 ballgame against these guys, you can't be displeased with that," Cameron said. "They battled good. I'm proud of them."
McCormick also praised the Tigers.
"They've won some big games, and they've put themselves in a nice spot for the playoffs," McCormick said.
As for his Eagles, he said depth in the batting order, solid defense and good pitching has made for a successful formula. Now McCormick hopes a win at Milton on Thursday will give Mount Abe home field through the D-II semifinal round.
"The key is to get that second seed," he said. "If we're here, we're going to be solid."
More News
Tiger boys' cross-country team held off runners from Burr & Burton, VUHS and Mount Abe in … (read more)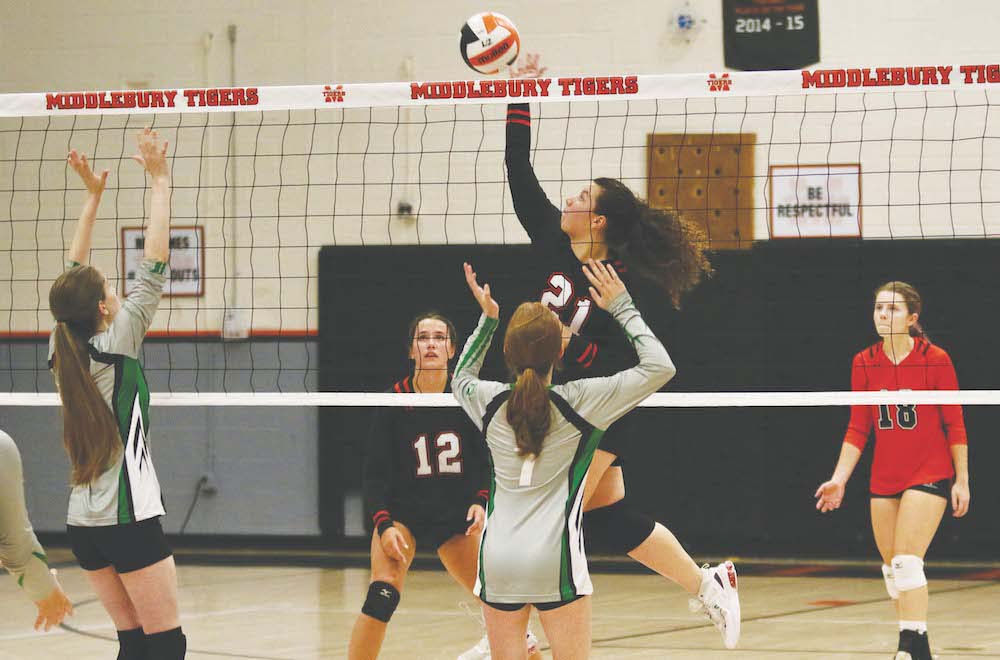 The first-year Middlebury Union High School girls' varsity volleyball team continued its r … (read more)
I gave Bill Lee a call last week, hoping he was at his home in Craftsbury and we might arr … (read more)