High school athletes made the most of pandemic-shortened winter season
ADDISON COUNTY — This winter's high school sports mirrored the fall season.
It began with uncertainty. Would the pandemic allow the athletes to play? A post-holiday surge of infections threatened athletes' hopes, just as a late-summer peak in 2020 challenged the fall season.
But state officials finally approved a shortened season, as they had in the fall. And again athletes were largely just happy to be back in action, regardless of the results.
Along the way teams produced high drama, comebacks and overtime lead changes. Some teams maybe failed to meet expectations, while others took steps forward, probably like most seasons, but definitely much like the fall.
And in the end, one girls' hockey team — in this case Middlebury ice hockey, not Mount Abraham field hockey — triumphed, while two Vergennes teams that had great seasons experienced heartbreak, just as had happened in the fall.
As a wise man once said, "It was déjà vu all over again." Even Red Sox fans miss you, Yogi.
GIRLS' BASKETBALL
The least drama came in girls' basketball games. All of them I saw proved to be one-sided, with the exception of the Vergennes girls' semifinal, the second half of which I watched on my phone during the longest and least newsworthy Vergennes City Council meetings in years (not that dull is always a bad thing up there). I was never so happy about Zoom.
Earlier in the season, Mount Abe won just once, after being hurt by graduation losses two years in a row. But the Eagles will bring many players back next winter and will improve. Many of them can take consolation they have won titles in field hockey, softball or lacrosse: Coach Connie LaRose could have started a team of state champions.
The MUHS and Otter Valley girls' teams offered similar résumés and results. Both were young, coming off down seasons, started slowly, and came on strong.
The Tigers cruised in a head-to-head matchup with OV, but even though they earned a Division II home game they lost in the first round. The Otters prevailed in their first-round D-III home game. Both will fare well next winter.
Meanwhile, the 11-2 Commodores had the program's best season since 2008. All 11 team members, including eight seniors, contributed.
Notably, senior forward Kate Gosliga scored a game-high 22 points in their loss to Lake Region in the D-III final, and junior Felicia Poirier put up a line of 11 points, 10 rebounds, four assists and five blocks as VUHS upset undefeated host Windsor, 37-31, in the semifinal round.
But the entire team deserves credit for the kind of defense that held 10 of 13 opponents to fewer than 40 points.
The similarity? Many of the team's athletes had also lost three straight times in D-III soccer finals, including this past fall.
One thing the Commodores should keep in mind is that in each of those seasons there were 14 other teams that would have loved to trade places with them.
BOYS' BASKETBALL
In boys' hoop the Eagles and the Otters never really got rolling, although the Eagles will always remember winning at MUHS, a game in which senior Quincy Cook dunked after stealing the ball at midcourt. The Tigers compiled another winning regular-season record, but maybe didn't quite reach their potential, understandable in a short season.
Then there were the Commodores, a program that had not won a game since 2018 and lost its first three games this season, and also a team with just three seniors it its rotation. 
Then the Commodores closed the regular season by winning three of four, including back-to-back overtime victories in their final two games.
The second one came at rival Mount Abe in the kind of game that just begged for fans. The Eagles rallied to force overtime when senior Koby LaRose hit two free throws and then stole the ball to feed classmate Griff Paradee for the tying layup.
Late in overtime, Eagle senior Miles Peterson hit a pretty floater in the lane to put his team up by one with 10 seconds left.
But VUHS freshman Tyler Bergmans, who averaged 19 points and 13 rebounds, had the final answer. He drove coast-to-coast, drew a foul, and sank both free throws with a scant few seconds to go, and the Commodores won by one.
VUHS cruised in a first-round home playoff game. Next up was No. 1 Green Mountain Union, and the Commodores led by three with 10 seconds to go. But then a Chieftain three-pointer tied it, and VUHS couldn't pull the overtime rabbit out of the hat this time. The Chieftains went on to win the D-III title.
And that's just what had happened to the Commodore boys' soccer team in the fall. VUHS was upset at home, 1-0, in a D-III quarterfinal by a fluke goal with 11 seconds to go. And the winner, Peoples, went on to claim the title. It was eerily reminiscent.
Let's just say I hope for better luck for the VUHS baseball team this spring.
NORDIC SKIING
"Great days for both," wrote MUHS Nordic Coach Keith Wilkerson.
Wilkerson was summing up in an email how the Tiger boys' and girls' teams did in the one-day championship meets in Craftsbury, where both finished creditable thirds.
Their performances, Wilkerson noted, were impressive for a couple reasons.
First, the skiers on the girls' team were all first- or second-year skiers except for Phoebe Hussey and Astrid Olsen. Joining Hussey and Olsen in scoring for the Tigers in girls' classic and freestyle races were Lia Robinson, Ari Graham-Gurland and Naomi Brightman.
The second reason, Wilkerson said, was that several of the top boys' skiers were returning from injury.
The top five finishers on the boys' team were Elvis McIntosh, Jack Christner, Lucas Palcsik, Zach Wilkerson, and Baxter Harrington in both races.
Also of note: Mount Abe independent skiers Neil Guy and Joe Graziadei each posted top-10 finishes.
DANCE
The Tiger dance team scored among the top several groups in the state in its limited virtual competitions, in which their performances were recorded at MUHS and sent off to be judged.
They saved their best for last in their top discipline, Hip-Hop, finishing tied for second in the state championship competition, but settling for third in a tiebreaker. The Tigers also took fourth in jazz.
HOCKEY
Both MUHS hockey teams enjoyed their seasons, even with frustrating COVID-enforced late-season breaks after playing opponents that tested positive after games.
The boys' hockey team at its best moved the puck quickly and purposefully, forechecked hard and backchecked faithfully, and defended carefully. They won two playoff games, and outshot their top-seeded opponents in a semifinal setback. It was another in a series of strong seasons.
The first game I saw this winter was the Tiger girls' hockey team opener, a 4-0 win over Missisquoi on Feb. 13.
Afterward I chatted with Coach Matt Brush. We thought that they would play in the D-I postseason. I said they probably weren't good enough to win the D-I title, given their youth (three eighth-graders) and lack of numbers (not counting four goalies, only nine skaters, enough for only two forward lines and three defenders). I've played hockey. You get tired fast.
Prophetically, he said they might be good enough to win a D-II title. On March 24, the Tigers outlasted South Burlington, 2-1, to claim that crown, after hockey coaches got together and rejuggled — fairly — the postseason divisional alignment.
Senior Audrey Schnoor got the goal and the assist on 8th-grader Channing Brush's third-period game-winner; both were named all-stars.
Coach Brush said the puck might have deflected off the team's third of four D-II all-stars, freshman Ella Tucker, on the way in. The fourth all-star, senior goalie Abby Hodsden, stopped 25 of 26 shots in the final.
The Tigers were eloquent after the win as they focused on the contributions from and chemistry felt by all 13 players on the roster.
Schnoor summed up: "I'm so happy this is the team that I won the state championship with. I love everyone on the team, and I think that makes a difference."
More News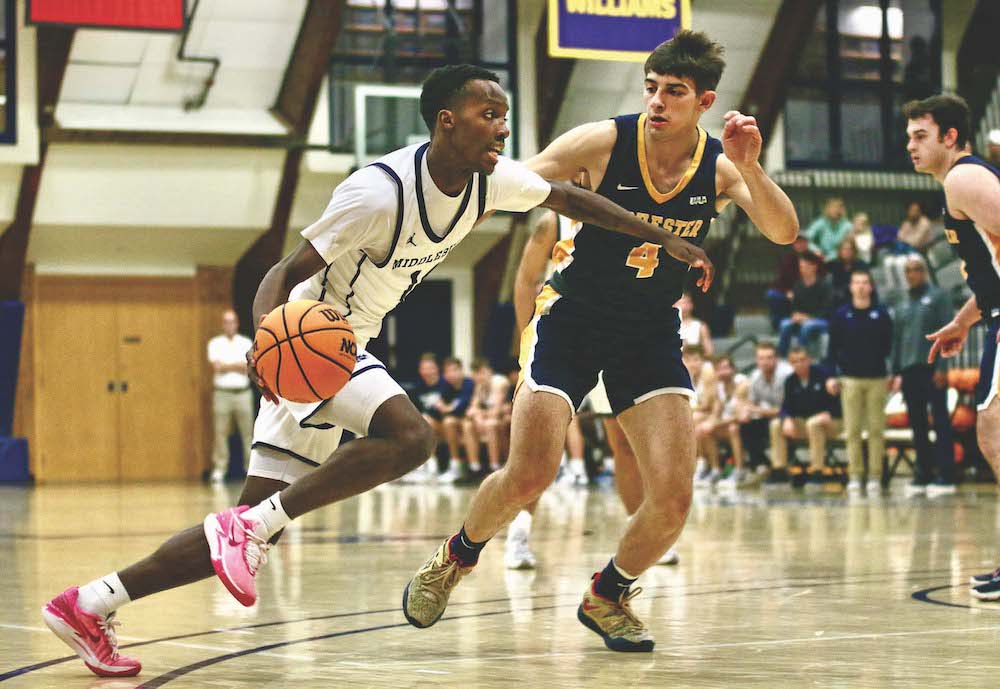 The Middlebury College men's basketball team dropped a pair of home games to teams in the … (read more)
The Middlebury College women's basketball team split a pair of games this past weekend at … (read more)
The Middlebury College women's hockey team lost one game and settled for a tie in another … (read more)