Girls' hoop teams pick up victories
ADDISON COUNTY — Vergennes, Middlebury and Otter Valley all posted wins in high school girls' basketball play during the past week.
The Tigers also hosted OV, and Mount Abraham entertained Colchester (see stories in this section).
The Eagles were also set to take on U-32 on Wednesday after deadline for this edition.
The regular season concludes this week, and the Vermont Principals' Association will announce playoff pairings early next week.
COMMODORES
Visiting Division I Burlington on March 5 dealt the VUHS girls their first loss, 59-38. The score was tied at 10-10 after one period, but the Seahorses outscored the Commodores, 20-3, in a pivotal second quarter. Kale Torwini tossed in 22 for BHS. Kyra Bradford scored seven to lead VUHS.
On Monday, the Commodores bounced back to defeat visiting Missisquoi, 44-36. VUHS improved to 7-1 and apparently locked down the No. 3 seed in Division III.
The Commodores could move up in the standings with a win at MUHS in Thursday's regular-season finale if it is combined with a loss by either or both of the two undefeated teams ahead of them — Lake Region and Windsor.
Against Missisquoi on Monday, VUHS took a 17-point first-half lead and held off a T-Bird rally after the break.
Kate Gosliga scored 12 points to pace the Commodores, and Sydney Jewell (nine points) and Jordan Jewell (seven) also contributed in the scoring column. Mikayla Langlois scored 12 for MVU.
TIGERS
The Tiger girls on March 5 evened their record to 3-3 by defeating visiting Missisquoi, 54-40. The Tigers trailed at the break, 23-20, but outscored the T-Birds in the second half by 33-17. Four Tigers reached double figures: Ele Sellers scored 13 points; Sophie Larocque, 12; and Ivy Doran and Hannah Turner, 10 apiece.
OTTERS
The OV girls erupted for 48 first-half points on March 5 on the way to a 70-33 victory at Mill River. Eleven Otters scored, led by Alice Keith (13 points), Mallory Lufkin and Anna Lee (12 each), Ryleigh LaPorte (nine) and Marissa Connors (seven). The Otters improved to 2-5 heading into the Monday game at MUHS.
More News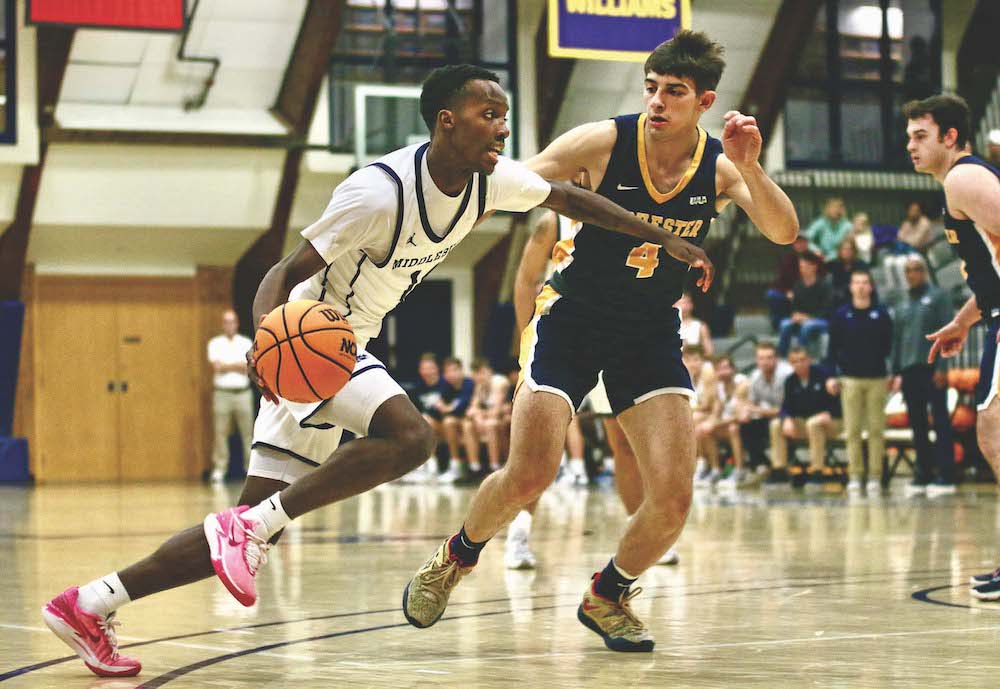 The Middlebury College men's basketball team dropped a pair of home games to teams in the … (read more)
The Middlebury College women's basketball team split a pair of games this past weekend at … (read more)
The Middlebury College women's hockey team lost one game and settled for a tie in another … (read more)