Two girls' hoop teams net victories
ADDISON COUNTY — In the past week in high school girls' basketball actions, Vergennes, Middlebury and Otter Valley all won at least once, but Mount Abraham came up short in its only game.
COMMODORES
On Feb. 25 the VUHS girls edged visiting Colchester, 49-45. Key in the VUHS win was an 18-for-25 performance from the free-throw line, led by Kate Gosliga, who sank 12 of 14. Gosliga scored 18 in all, while Felicia Poirier added eight and Hannah Kelly chipped in seven. The Division I Lakers, led by Nicole Norse's 13 points, fell to 2-3. 
On Tuesday the Commodores improved to 6-0 with a 50-39 victory at Hazen. Gosliga poured in 31 points to lead the attack, and Ema Gernander added seven. Natalie Geoffroy scored 11 for Hazen. 
TIGERS
In a tight game on Feb. 25, visiting Mount Mansfield outlasted the Tiger girls, 51-46, despite 19 points and six three-pointers from MUHS forward Ele Sellers. Hannah Turner (11 points) and Cady Pitner (10) also hit double figures for the 1-2 Tigers. Meadow Worthley scored 16 to lead three in double figures for the 4-1 Cougars.
On Tuesday, the Tigers evened their record at 2-2 by topping host Harwood, 45-39. The Tigers outscored the Highlanders by 30-17 in the second half. Sellers (14 points) and Turner (13) again paced the attack, and Ivy Doran added 11. Ashley Proteau scored 13 for Harwood.
EAGLES
The Eagle girls had been set to host Enosburg on Thursday, but that game was canceled. The Eagles' Tuesday game at South Burlington was also called off.
Instead, the Eagles hosted Rutland on Monday, and the visiting D-I Ravens claimed a 49-31 victory. Makieya Hendrickson's 15 points led three Ravens in double figures. Maia Jensen (10 points) and Cami Masse (nine) paced the Eagles, who dropped to 1-4.
In another schedule adjustment, the Eagles will host Colchester at 7 p.m. on Friday.
OTTERS
On Saturday, host Mount St. Joseph (3-2) got 20 points from Tiana Gallipo, including six threes, in a 58-38 victory over the OV girls. Alice Keith paced OV with 11 points, seven rebounds and six steals, and Anna Lee hit three threes to score nine.
On Tuesday, visiting Woodstock earned a forfeit win over the 1-5 Otters. According to the Rutland Herald, the forfeit was "for reasons related to the 'mask rule.'"
More News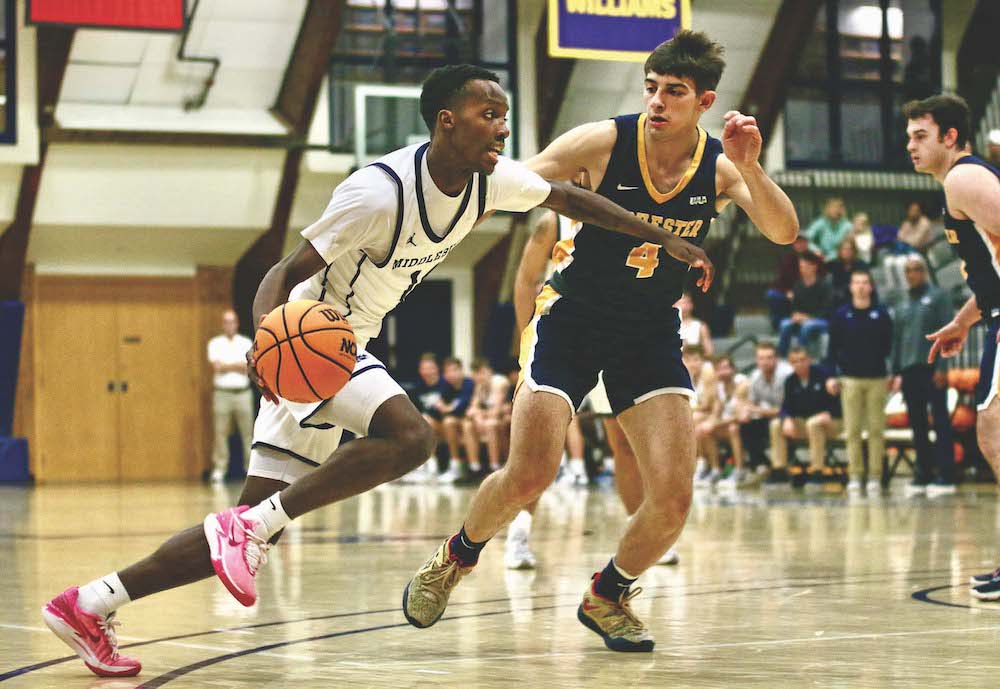 The Middlebury College men's basketball team dropped a pair of home games to teams in the … (read more)
The Middlebury College women's basketball team split a pair of games this past weekend at … (read more)
The Middlebury College women's hockey team lost one game and settled for a tie in another … (read more)