State lays out ambitious food systems plan
In the early days of the pandemic, with grocery store shelves not as full as we've come to expect and many Vermonters feeling uncomfortable going to these stores, we all came to realize just how essential Vermont farmers and food workers are."— Ellen Kahler
VERMONT — When the pandemic forced the Vermont General Assembly to leave Montpelier last March, Rep. Carolyn Partridge, D-Windham, who chairs the House Committee on Agriculture and Forestry, didn't bother to take her good shoes with her, or the committee's jade plant. But she did make sure she had her copy of the farm and food system plan that had been submitted to the Legislature that January.
"Who knew that it would be nearly a year later, and we're still not back in Room 32 (of the Statehouse)," Partridge said this week during a press conference held by the Vermont Sustainable Jobs Fund to announce the release of the final version of the plan she took home 11 months ago.
The "Vermont Agriculture and Food Systems Strategic Plan 2021-2030" is a 202-page document developed over 18 months with input from more than 1,500 Vermonters and from focus groups with more than 120 members of the state's farming and food industries.
That the plan was developed and finalized during a global pandemic was lost on no one.
"Last spring we witnessed the fragility of our national food supply chain, as milk was dumped, vegetables were plowed under, meat processing plants were temporarily shut down and restaurants were closed," said Ellen Kahler, executive director of the Vermont Sustainable Jobs Fund, at Monday's press conference. "In the early days of the pandemic, with grocery store shelves not as full as we've come to expect and many Vermonters feeling uncomfortable going to these stores, we all came to realize just how essential Vermont farmers and food workers are."
COVID-19 has also brought into focus the challenges and flaws of the current farm and food landscape.
"Our open working landscape and the jobs that are connected to it and our ability to have healthy local food year-round are at risk from industry-level consolidation, the number of farms without a clear succession plan to the next generation, trade wars, federal milk and farm policy and more," Kahler said. "It's important to remember that quality farmland in Vermont is a finite resource, and demographic changes and climate change-induced migration are putting farmland at risk. In addition, many farm families struggle to make ends meet because of national policies that do not pay them for the true cost of production."
Food insecurity has also increased, Kahler said, and the past 10 months have helped many people recognize that Black, indigenous and people of color are disproportionately affected by health and economic policies, even as they've played critical roles as frontline and essential workers.
THE PLAN
The Vermont Agriculture and Food System Strategic Plan can be viewed and downloaded at vtfarmtoplate.com/plan.
It lays out 15 strategic goals to achieve by 2030 to increase sustainable economic development, improve the environment and working landscape, increase access to healthy food for all Vermonters, and improve racial equity.
The foundation for those goals is a set of 54 product, market and issue briefs written by 149 experts, including farmers, food business owners, producer associations, Vermont Agency of Agriculture Food and Markets (VAAFM) officials and others.
A brief on apples, for instance, provides an overview of current conditions (the state has lost more than half its apple acreage since 2017, but the price per bushel has almost tripled over that time period), then lists five problem areas, four opportunities and five recommendations, including "VAAFM should work with Vermont's federal delegation to urge sensible reform to immigration and labor rules that affect fruit and vegetable growers."
The dairy industry gets the most attention in this section: An eight-page brief with subsections on scale bifurcation, consumer trends, forage-based production systems, value-added processing and alternative milk-pricing strategies.
The brief notes that with the exception of Essex County, every county in Vermont has lost at least 10% of its dairy farms since 2009. At 35%, Addison County suffered the third-highest loss in the state.
Recommendations for the industry include:
•  reinvigorating farmer cohort learning groups by funding a position that can coordinate meetings between diverse farmers.
•  establishing a formal mentorship program that will pay successful, retiring dairy farmers to work one-on-one with young farmers to help them navigate the challenges of being a new farmer.
•  giving incentives to new farmers.
•  maintaining or increasing the current processing capacity.
•  providing energy-efficiency incentives.
Secretary of Agriculture Anson Tebbetts praised the strategic plan as "impressive."
"It's all in one document," he said at the press conference. "Sometimes (the information) is really revealing. Sometimes it's a little discouraging. But it's real, it's been vetted by the people that have been working in the field. This is not a government-dictated report. A lot of this information was compiled by people working in those sectors, which is very important because the best ideas and the best research always comes from the bottom up."
Many of the solutions proposed in the plan would have an impact on more than one industry or goal, the plan's authors point out. And it focuses, too, on the economic concerns of workers.
"The plan lays out steps for providing livable wages and improving workplace conditions for all food systems employees by developing policies, shared workforce programs, market incentive programs and relative technical assistance for farm and food businesses," said Jake Claro, director of the Vermont Farm to Plate Network.
NEW DECADE, NEW PLAN
In 2009 the Vermont Legislature tasked the Vermont Sustainable Jobs Fund with administering the Farm to Plate Investment Program to create a farming and food system strategic plan that could be revised and updated as needed.
The new report released this week reflects some of the data collected during the first 10 years of the program. Between 2009 and 2019:
•  Vermont's food system economic output increased by 48%, from $7.5 billion to $11.3 billion.
•  more than 64,000 Vermonters were directly employed by more than 11,500 farms and food-related businesses, and the food system added 6,560 net new jobs.
•  local food purchases rose from $114 million (5%) to $310 million (13.9%) of the total $2.2 billion spent on food in the state annually.
And in 2017, Vermont farms sold $781 million worth of products.
Gov. Scott reauthorized the program in 2019, which led to the report released this week.
GETTING STARTED
"It is a 10-year plan but I would not want to leave the impression that we're going to wait until the end of the decade to tick off some of these issues," Tebbetts said. "We're going to get to work right away. We're going to try to address as many of them as possible."
Tebbetts pointed to a recent proposal by Gov. Scott to spend $3.6 million in the Working Lands Enterprise Fund, some of which could help with issues related to meat processing in the state. And some of the $20 million for the Vermont Housing & Conservation Board could help with land access and some of the issues new farmers struggle with, Tebbetts said.
But it's not just about ensuring the economic health of food producers and distributors.
"There is universal agreement that support for food and farm businesses must be coupled with funding and policy to enable low-income consumers to access this local food," the 2021-2030 strategic plan says. "Recommended actions to this end include funding for the charitable food system to purchase local products (e.g., Vermonters Feeding Vermonters), programs that supplement 3SquaresVT (e.g. Crop Cash), models such as produce prescription programs, and more."
Planners estimate that additional federal and state funding, as well as philanthropic investment will be needed to achieve the plan's ambitious goals: approximately $9.7 million in one-time funding and $23.3 million in recurring funding.
"This level of funding will ensure sufficient land access and conservation, climate resilience, food security, infrastructure investments, regional market development, and workforce development to meet the growing needs of the sector."
The Independent will examine the Vermont Agriculture & Food Systems Strategic Plan 2021-2030 in more depth in future articles.
Reach Christopher Ross at [email protected].
More News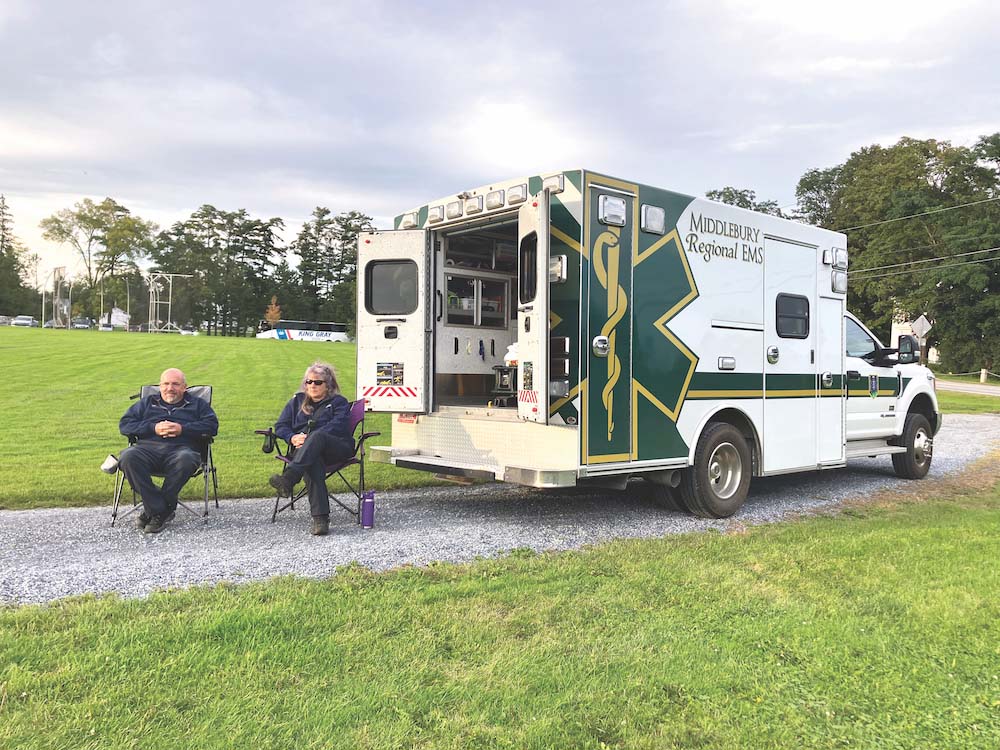 Middlebury Regional Emergency Medical Services wants to eliminate its annual Town Meeting … (read more)
Middlebury police are investigating the death of a Middlebury College junior and say the p … (read more)
Vergennes resident Margaret Clifford offers nearly a century of recollections, from losing … (read more)