New chocolate shop owner has a sweet start
Chocolate sales are one of those things during the pandemic that have gone up.
— Dawn Wagner
VERGENNES — Midwinter during a pandemic might not seem like the best time to take over a retail business.
But for several reasons chocolate stores can be an exception, especially when the new owner has both experience and a plan to spark sales.
At least that's the tale Dawn Wagner tells about Vergennes shop Daily Chocolate on Green Street.
Wagner agreed to take over from former owner Jen Roberts almost two years ago. It was a friendly and loosely structured arrangement that became final in December, and Roberts worked and consulted with Wagner throughout the month during what proved to be a holiday boom.
Wagner said she'd come to the shop in the morning and see her new cash register — a lynchpin of her new online ordering system — had printed out a stream of order slips reaching the floor.
"I had five people in here basically full-time all of December," Wagner said. "We were cranking."
Order slips one day last week came from Texas, California and Michigan.
Wagner is a 1995 Vergennes Union High School graduate who first started her confection career with Lake Champlain Chocolates as a University of Vermont undergraduate. She began working for Roberts after she and husband Jeremy Holm moved back to Vergennes in 2015, and her responsibilities gradually increased.
"I was here more frequently in the past year-and-a-half, and by that point Jen and I had become fast friends," Wagner said.
There were connections between the two. In high school Eben Markowski was one of Wagner's best friends, and Markowski's sister-in-law Fleury Mahoney founded Daily Chocolate in 2008. Roberts is married to Eben's brother Judd.
"We collectively feel like it stayed in the family," Wagner said.
While she's introducing a new marketing plan, tracking and ordering systems, and some new products, Wagner said the essence of Daily Chocolate will be retained.
"This company has been in business for 14 years. It's been growing, and it's been in the black. There's no reason for me to come in and change what's working. I'm just going to make some improvements," she said. "And I've been working here for four years. So I've already been making the chocolate you've been eating."
Wagner's central move has been expanding direct marketing of Daily Chocolate's products through its own website, rather than through third parties, while promoting heavily through social media. At the same time, Wagner has simplified the ordering process.
"The big thing is I re-launched the website and went full e-commerce. It was absolutely unreal being online. People have made the shift, and they're loving shopping local, and they've loving shopping small businesses when they can," she said. "And they appreciate being able to do it online and have it be easy and fast and accurate. So going online was massive, massive for us."
As for the time of the year, Wagner said the chocolate business gets boosts from not only Christmas, but also Valentine's Day and Easter.
"It's been great. I took over at the busiest time of the year," Wagner said. "I am blessed. I get those three right off the bat."
And chocolate's status as a comfort food in stressful times hasn't hurt Daily Chocolate and other similar shops, either.
"Chocolate sales are one of those things during the pandemic that have gone up," Wagner said.
ENTER STAGE LEFT
How did Wagner and Holm meet and end up back in Vergennes? And why chocolate?
Wagner grew up in Clifton Park, N.Y., but her family had relatives in the area and often visited. They moved here in time for her to attend VUHS, and then UVM. There, Wagner became heavily involved with the theater department and interned with Vermont Stage, the brainchild of Middlebury resident Blake Robeson. 
Wagner also developed a love of chocolate, but became a professional stage manager and moved to Brooklyn after her 1999 UVM graduation. As well as working regularly in the theater, both in NYC and around the country, she sold chocolates out of her kitchen and worked for awhile making truffles for a Manhattan company.
She collaborated regularly with the company that "incubated Hamilton," for example, before getting a regular six-year gig with the Radio City Music Hall as an associate production manager.
Holm, an actor whose credits include regular roles in the hit TV shows "House of Cards" and "Mr. Robot," also lived in Brooklyn.
But they met in Tennessee, where she was stage-managing a production and Holm was acting.
Holm arrived in Nashville and talked with his company manager on the way in from the airport: Holm was told, "You're going to love your stage manager."
He did. They eventually married and now have 10- and 8-year-old daughters who attend Vergennes Union Elementary School.
They moved to New Jersey, but after six years became a bit weary of life in the NYC metroplex.
"After 20 years down there we were just kind of maxed," Wagner said.
She said they'd considered moving to Vermont, and with their daughters hitting school age they weren't happy with the local options. Then came a tipping point.
In 2015 Wagner was cut off "one last time" by a rude New Jersey driver.
"I was like, 'I'm done,'" she said. "We're done."
They headed to Vergennes, where her mother still lives, for a visit, became intrigued by the annual Carvenale event in the Vergennes Opera House (which Wagner has stage-managed since), and soon after found a place to rent on Main Street.
"Being in the city and having everything so walkable, which we did for 20 years, is still so great," Wagner said. "The girls are old enough now, they come here on their own after school together."
"We put them to work," Holm added.
"They like to put on stickers and twist ties," Wagner said.
And then came the Daily Chocolate opportunity, fulfilling what Wagner called a long-held dream.
"I think it's a great decision," she said. "It's definitely been my bucket list time for more than a decade. I am feeling optimistic."
More News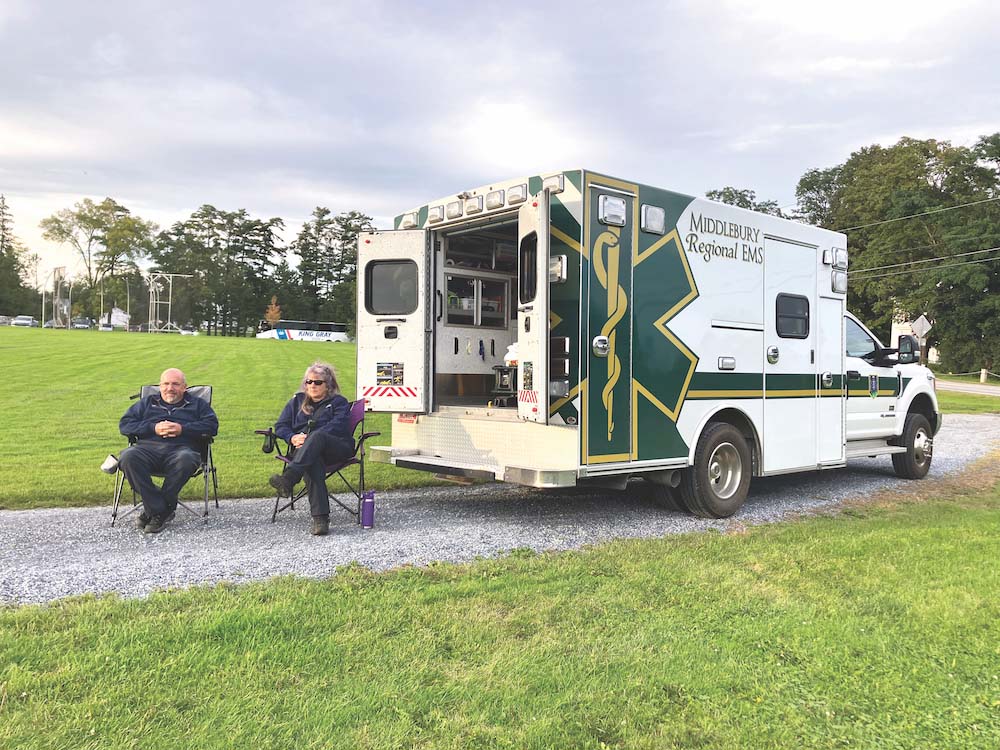 Middlebury Regional Emergency Medical Services wants to eliminate its annual Town Meeting … (read more)
Middlebury police are investigating the death of a Middlebury College junior and say the p … (read more)
Vergennes resident Margaret Clifford offers nearly a century of recollections, from losing … (read more)