A new generation of candidates in Brandon
The selectboard isn't representative of the town," she said. "There hasn't been a woman on the board since 2014, and there have only been four women on the board in the last 30 years.
— Lindsey Berk
BRANDON — There are three challengers for two one-year seats on the Brandon selectboard this Town Meeting Day, and they're all under 40.
Allie Breyer and Lindsey Berk are running together as a slate of two candidates for the two seats, and Mike Markowski is challenging for either seat. Brando selectboard Chair Seth Hopkins and Vice Chair Doug Bailey currently occupy those one-year seats. Hopkins is running for re-election, but Bailey is not.
LINDSEY BERK
Berk, 37, is the Executive Director of ACORN, the Addison County Relocalization Network. The nonprofit's mission is to promote the growth and health of local food and agriculture in the Champlain Valley.
Berk moved to Brandon in 2019 with her husband, Matt, after the couple spent two years traveling out west and running a small travel business called Origins of Food, offering educational food tours to reconnect folks with where their food comes. Prior to that, the couple lived in Vergennes.
She serves as a member of Brandon's Restorative Justice committee, and sits on the Addison County Hunger Council.
Berk holds a BA in advertising with minors in Spanish and business from Penn State University. She said she is running for selectboard because she has heard from her neighbors and community leaders that it's time for a change on the Brandon selectboard."
"The selectboard isn't representative of the town," she said. "There hasn't been a woman on the board since 2014, and there have only been four women on the board in the last 30 years."
Maria Ammatuna was elected to a three-year term in March 2014, but resigned in January 2015.
"We need fresh perspective and voices," Berk said. "A representative democracy, at every level of government, is more important than ever. Brandon needs civil servants who have their fingers on the pulse with the desires and challenges of the millennial generation, the largest generation of young families with disposable income."
Attracting more young families to Brandon is one of Berk's top priorities. She said with the booming real estate market, Brandon has an opportunity to really grow and shine, post-pandemic.
"We could be more proactive with marketing Brandon without big investment," she said, adding that using social media and a community-led grassroots campaign to attract more visitors and residents alike would be essential.
Berk also said she wants to work to improve broadband service in Brandon, acknowledging that the Otter Creek Community Broadband District recently established here is a great project and wants to see more initiatives like it. Ultimately, she'd like to see broadband as a public utility.
"Some folks are dependent on one service provider that is increasing rates and limiting bandwidth in the middle of a pandemic, just when we've seen how crucial Internet is to our modern lifestyle," she said.
But there is a deeper issue in town government that Berk says residents are telling her needs improvement.
"I've been meeting with community leaders from various offices and boards, and residents, and they all talk about the need for better communication, better representation, and a fresh perspective," she said. "Some people don't feel like their concerns are addressed or appreciated."
Berk said while Brandon's neighborliness and generosity are well known, more coordination could help people even more.
"You need to have ongoing communication from all groups," she said. "We have all these stakeholders from groups and boards to meet once a month. We have some energetic people in this town, but there's no cohesiveness. They're all working in their little silos."
Berk was asked why she and Breyer chose to run together.
"We share similar values and ambitions and we know we work well together," Berk said. "We realized we're stronger together."
The two women have been friends for about a year.
ALLIE BREYER
Allie Breyer, 31, is the communication coordinator and injury prevention specialist for the Vermont Department of Health. She also serves on the communications team for the state's COVID-19 response.
Breyer has a BA in Global Studies from the University of Minnesota and a Master's in Public Administration from the University of Oregon. She also moved to Brandon in 2019 and lives with her partner, Michael Shank, on a small farm.
Breyer serves on the Brandon Planning Commission, is a Brandon Library volunteer, and volunteers with Mentor Connector as well.
Breyer and Berk share a platform, which focus on these priorities: attracting new families, improving broadband, addressing local food insecurity and ushering in a new generation of civic leaders.
Breyer also said that a change is needed in Brandon.
"The story of Brandon is one of rebuilding and resilience, and we've come a long way," she said. "But I'm also hearing about a desire for our town to progress further. I think people are hoping there will be stronger communication between the community groups, organizations and boards."
Breyer said she's also hearing that representation could be improved on the board.
"It's important to have people who look like our community representing us," she said.
Breyer also said that as a Department of Health employee, she believes the post-pandemic recovery is a priority.
"This pandemic has illuminated the weakest spots in our society," she said. "It has shown us how fragile we are. Just surviving paycheck to paycheck, local businesses struggling to stay open… It's a huge challenge to figure our how to practically engage the business and community groups and social service organizations to ensure we meet people's needs."
It's those networks and partnerships that build community, Breyer said.
She was asked if she thought her being from outside the area would be a challenge to Brandon voters.
"I think what may help is having lived all over the country. I moved to Vermont (as a deliberate choice) and I hope I die in Vermont," she said. "Brandon has such amazing social capital and a strong service perspective and that's in line with my values."
MIKE MARKOWSKI
Markowski, 35, works construction in the family business, Markowski Excavating, in Florence. He and his wife Jessica have three children.
Markowski graduated from Otter Valley Union High School and received his Associate's Degree in Diesel Technology from the University of Northwestern Ohio.
For the past three years, Markowski has served on the town's Prudential Board. He is the assistant fire warden and is a former member of the Brandon Fire Department, where he served as a lieutenant.
Asked why he chose to run for selectboard, Markowski said it was his time.
"I've got a lot of growing interest in Brandon," he said, adding that he moved to town six years ago. "I like to see progress and everything done with the Route 7 update, and everything done to involve the community and I would love to be more a part of that."
Markowski said his trade and his background give him the knowledge to understand the public works aspect of town governance.
"I know and understand infrastructure and I know that's a lot of what the board does," he said.
Like Breyer and Berk, Markowski also said he would like to see more young families move to Brandon.
"Right now, there's a lot of potential for the younger crowd and families to move here and be part of the town," he said.
Markowski also said that he will talk to anyone and is one to tell it like it is.
"I'm probably the more open and honest person you'll ever meet," he said. "Sometimes a person goes on the board with a personal agenda and that's not what I'm about. I'm not going to blow in and do what's best for me. I want to do the best thing for the town and the townspeople."
Ultimately, Markowski said he's excited to work for a better Brandon.
"I'll be an exciting venture for me," he said. "I'm not going to say I like the town politics, but I like the challenge of a new beginning. It'll be good to work hand in hand with the town and work to make it a better place."
More News
Blasting ledge could begin on Monday in Vergennes as work on the $25 million Vergennes Gra … (read more)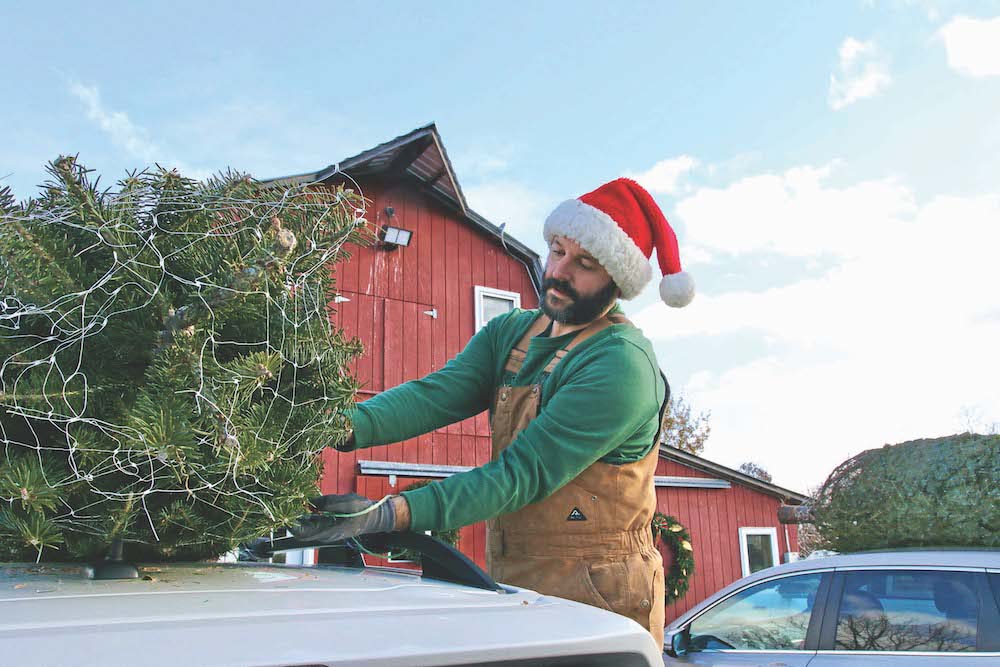 With the holiday season underway, county Christmas tree farms have begun welcoming visitor … (read more)
As the Middlebury Snowbowl prepares for opening day this Saturday, Dec. 9, loyal skiers an … (read more)