'Butter Boom' emerges as a bright spot for Vt. dairy
Butter has been an interesting story this year because people have done a lot of comfort baking and started making a lot more food at home.
— Laura Ginsburg, Vermont Agency of Agriculture
VERMONT — 2020 has been a tough year for Vermont dairy producers. The pandemic has spurred heavy losses across the industry. Prices have been so low, there's even been milk dumping. Some dairy farmers have shut their barn doors for good.
But with more people staying home since March, butter makers say Vermonters are buying their product for home use in greater quantities than in years past. The sales uptick is a bright spot in what's otherwise been a brutal stretch for Vermont's banner industry.
Early in the pandemic, butter makers faced the same obstacles as other dairy producers: Sales to schools, hospitals, and — most importantly — restaurants dropped sharply as those establishments shut their doors or filled fewer wholesale orders.
Restaurant and institutional sales are still down, state agriculture officials said, but a renewed interest in home cooking and locally sourced products has helped butter rebound.
"Butter has been an interesting story this year because people have done a lot of comfort baking and started making a lot more food at home," said Laura Ginsburg, agricultural development section chief for Vermont's Agency of Agriculture. "For butter makers in Vermont, their markets have come back and have come back well."
Butter makes up a small chunk of Vermont's dairy industry. There are seven licensed butter makers in the state, according to E.B. Flory, dairy section chief of the Vermont Agency of Agriculture. Four of those producers use their own milk. The remaining three obtain milk from Vermont-based farms.
They range in size from dairy giant Cabot, which sources from hundreds of farms across New England, to tiny artisanal producers with just a few cows.
Stina Kutzer owns Gammelgården Creamery, a five-cow dairy farm in Pownal that makes cultured butter and buttermilk along with a popular low-fat Scandinavian yogurt. Before the pandemic, the creamery sold much of its product to Williams College. That changed when the college went all-remote in March.
Gammelgården shifted to distributing mainly to co-ops in southern Vermont and began shipping orders for the first time. The creamery doesn't produce anywhere near the quantity of butter made by large-scale manufacturers like Cabot, but Gammelgården's butter is flying off shelves, Kutzer said.
"We sell out of butter and buttermilk every week," Kutzer said of business this fall. "We have been pretty busy when I thought we'd be sunk."
The creamery has more than doubled butter output since last year, Kutzer said, when she used to hand-produce about 5 pounds of butter per week. That number is up to 12 pounds each week this fall, she estimated.
Kutzer believes the increased demand can be attributed not only to people cooking and baking more at home, but also to an appreciation for local ingredients.
"Cultured butter is really tasty, and I think if you're baking, you appreciate that more than you would if you're eating out," she said.
ATTITUDES CHANGE ABOUT BUTTER
In addition to artisan farms like Gammelgården, large producers like Cabot reported upticks in retail butter sales this fall, despite restaurant and other institutional sales remaining down.
"Butter has certainly had a resurgence," said Amber Sheridan, corporate communications director for Agrimark Family Dairy Farms, which owns the Cabot brand.
Dips in Cabot's wholesale numbers to restaurants haven't been fully canceled out by higher retail demand, Sheridan said. Still, "retail sales of grocery butter are certainly really strong," she said. "We've seen a nice increase over previous years in that area."
Butter is booming not just in Vermont, but nationwide. Butter production is up more than 5% this fall compared to last year, according to the U.S. Department of Agriculture. Beyond people cooking and baking more at home, that increase may also be attributable to several years of changing health attitudes about whole-fat dairy products, according to Ginsburg.
"Butter's notoriety as being bad for you has changed over the past couple of years," she said. "The pendulum has started to swing back towards real cow butter, or butter made from milk, as being the better choice over margarine or other substitutes."
Vermont dairy farms that don't make butter themselves, but supply cream to small producers that do, also reported spikes in demand for the heavy cream that gets churned into butter.
Monument Farms in Weybridge, which provides heavy cream to Waitsfield butter maker Ploughgate Creamery, has hardly been able to keep up with demand for that cream, according to plant manager Jon Rooney.
"A lot of our cream had gone to restaurants in the past, and those sales are certainly off," Rooney said. "But we somehow still seem to be tight on cream, so I shudder to think what it'll be like when restaurants do kick back into full gear."
Ginsburg said that a concern heading into the new year remains helping producers market and sell butter, and other dairy products, in a constantly changing market like the one Kutzer experienced in March — one where restaurant and other institutional sales are likely to keep shifting, depending on state COVID orders and wholesale buyers' needs.
For now, Kutzer said she has been pleasantly surprised by the demand for her small-batch butter after several tough years for her farm.
"We've been in business for a little over 10 years, and at the beginning local foods really seemed to take off," Kutzer said.  "Then a few years ago, it seemed to really plateau. Now it seems like there's a resurgence of appreciation for local foods and small producer foods, which I think the pandemic has created."
More News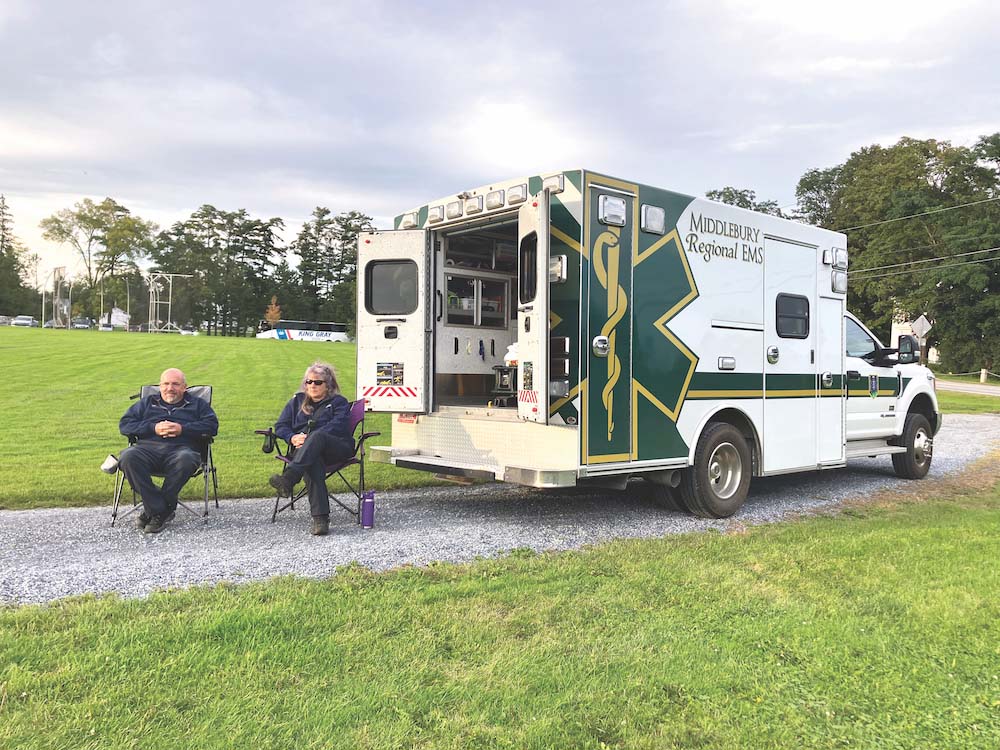 Middlebury Regional Emergency Medical Services wants to eliminate its annual Town Meeting … (read more)
Middlebury police are investigating the death of a Middlebury College junior and say the p … (read more)
Vergennes resident Margaret Clifford offers nearly a century of recollections, from losing … (read more)