City committee backs police advisory panel
VERGENNES — The Vergennes committee formed to study whether the city should create a permanent citizen board to help oversee the Vergennes Police Department has made a preliminary recommendation in favor of such a panel.
On Tuesday the city council gave the committee until at least Dec. 8 to complete its work. 
In a letter to the council signed by committee chairman Bryan Goodkowsky, the committee wrote, "As a Committee, we agree that some form of citizen review/advisory body will be beneficial to the City of Vergennes.
"It is our initial request that once City Council returns to quorum, that we be permitted sufficient time to explore all the questions that our committee was charged to study. This will permit us the ability to submit a fuller report based on thorough study and deliberation."
The committee would also like the extra time to survey residents on policing issues.
"We wish to reiterate our belief, a professionally administered community survey will help inform the further discussion on citizen review in Vergennes," the letter stated. 
"If a professionally administered survey is not feasible, the committee should be empowered to develop and conduct their own survey recognizing that eliciting public input through an imperfect survey is better than no survey at all."
The issue of the survey has become muddled because City Manager Dan Hofman also weeks ago put out a Request for Proposals for a wider racial equity study. Hofman recently told the Independent he believed at least in part such a study could be useful in fulfilling the exploratory committee's mission.
"The equity study would interview all city employees, including police. It would interview the community," he said at Tuesday's meeting. "It would analyze all aspects and assess what is needed going forward including, but not limited to, training." 
The eight-member committee has also lost members, in part due to opposition by some residents to its mission. Member Alicia Grangent told the council on Tuesday it needs at least three, and possibly four, volunteers to return to full strength. 
On Tuesday Councilor Dickie Austin moved to allow the committee more time, reinstate its membership back to eight, and give it "more direct involvement in the equity study proposal from the committee."
A six-member council with three new councilors on Tuesday backed the committee. 
"The city council put their faith in this committee to do this work. It seems reasonable to let them finish," said Councilor David Austin.
Mayor Lynn Donnelly said those interested in serving on a committee that might meet weekly should contact her at [email protected] by Monday or before.
The committee letter stated what its members hoped for: "It is also our hope that we be returned to a membership of eight representing diverse viewpoints and life experiences."  
Donnelly said a path forward had been outlined. 
"I think we need to get a full committee, just like we needed to get a full council, and try to move forward in a positive way. And if we have four other people who would like to join following this it would be great," she said. "And I want to say my husband was on it, and he felt this committee did a fabulous job, and he really, really enjoyed it."
In other business on Tuesday, councilors: 
•  Delayed until their next meeting decisions on choosing a deputy mayor and on how to proceed with a Main Street sidewalk project. Hofman is recommending the city walk away from a $250,000 grant and do it in-house for a fraction of the cost, but councilors want more information to make sure the estimates are for projects of similar quality, or that the city would not be penalized for abandoning a grant.
•  Chose Councilors Lowell Bertrand, Ian Huizenga and Jill Murray-Killon to sit down with Ferrisburgh officials and try to work out an understanding on the boundaries between the two communities. 
•  Appointed Kimberly Trombley to the planning commission and Amy Yeun and Jason Mullin to the development review board.
•  Authorized an on-budget $48,000 pick-up truck and plow purchase for the public works department. 
•  Picked Councilors David Austin and Murray-Killon to look into whether a rooster ordinance was necessary, with Austin noting it could be a rewrite of the existing chicken ordinance. Donnelly noted dozens of residents have complained about noisy roosters.
•  Leaned during a discussion toward returning to in-person meetings, possibly in the Vergennes Opera House, but only if residents could continue to access meetings online.
More News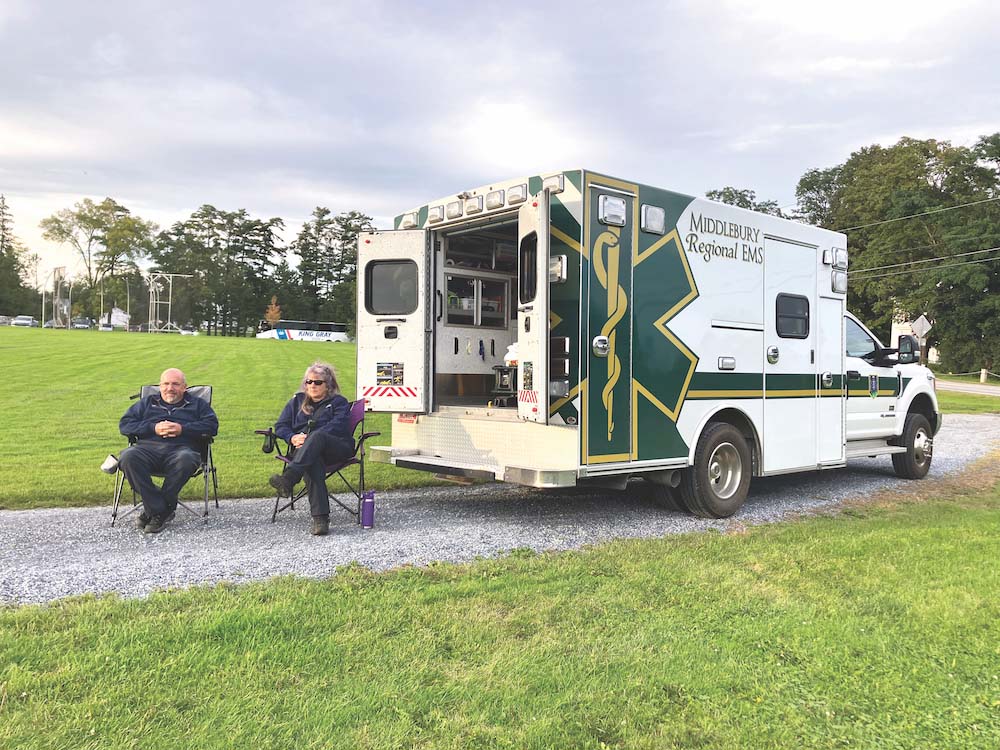 Middlebury Regional Emergency Medical Services wants to eliminate its annual Town Meeting … (read more)
Middlebury police are investigating the death of a Middlebury College junior and say the p … (read more)
In the course of her almost 101 years on Earth, Vergennes resident Margaret Clifford, bett … (read more)