Milk With Dignity sees results
I am a father of four who is looking forward to working hard so my family has everything and so my kids can study and have a career.
— Lenin Ventura, migrant farmworker
ADDISON COUNTY — Migrant dairy worker Lenin Ventura spent his first four years in Vermont laboring and living under poor conditions.
On one dairy farm, "we used to live in a small home where there was only one bathroom for six people, and there were problems with the heat," he said in a phone interview Tuesday. 
Ventura, 42, spoke in Spanish, which was translated by Marita Canedo of the group Migrant Justice.
"We were not paid by the hour but by a set amount, so extra hours were not paid and there were many hours worked without pay," he said.
Workers found it difficult to obtain the protective equipment they needed, but they made do because they were afraid of losing their jobs, he said.
Such stories are all too common among Vermont's roughly 1,500 migrant farmworkers, who are systematically excluded from many worker and housing rights protections, according to Migrant Justice, a Vermont-based organization that promotes human rights and economic justice for the immigrant farmworker community.
According to a 2018 survey conducted by Migrant Justice in collaboration with the Tufts School of Public Health, most of Vermont's migrant farmworkers lack training, protection and access to health care:
•  Though 78% of workers reported having been kicked or otherwise injured by cows, only 34% had access to first aid on the job.
•  In an industry where 93% of workers have suffered illnesses and injuries related to working with chemicals like acid, chlorine and formaldehyde, only 18% had access to personal protective equipment.
•  And though more than three-quarters of workers had reported suffering harm from machinery or repetitive stress injuries, only 6% reported they had received sufficient health and safety training.
As he grew frustrated with his own working conditions, Ventura began sharing his struggles with his cousin, who worked on a farm that participated in the Milk with Dignity Program. Eventually his cousin would help him get a job there, too.
"I felt the difference immediately," Ventura said.
So did his coworker, 19-year-old Cesar Ramos, who also participated in Tuesday's interview, with Canedo translating.
As soon as he started working at a Program farm, "immediately the standards commission contacted me and explained to me my rights," Ramos said.
Worker rights are a key part of the Milk with Dignity Program, which was launched three years ago by Migrant Justice to address persistent labor abuses in the dairy industry. The program works by calling on corporations to take responsibility for the conditions in their supply chains, through binding worker-designed programs with clear enforcement mechanisms.
Participating buyers, like Ben & Jerry's Ice Cream, which was the first to sign up for the program, sign legally binding agreements with Migrant Justice to preferentially purchase milk — at a premium — from participating farms. The premiums have allowed the program to invest more than $1 million to make farmworkers' lives better.
Participating farms agree to implement the Milk with Dignity Code of Conduct, to allow Migrant Justice to conduct worker education, and to allow the program to monitor and investigate code compliance.
Earlier this month the program released its first biennial report, documenting the program's successes while acknowledging there is still much work to be done.
The "difference" Ventura and Ramos felt might have had something to do with the more than $1 million the Milk with Dignity Program has invested in farmworker rights over the past two years:
•  $200,000 passed through directly to workers.
•  $800,000 for improvements to working and housing conditions.
•  $525,000 in raises to meet the program's minimum wage.
•  Paid vacation and sick leave.
•  Personal protective equipment and other changes to increase worker safety.
But the program doesn't just benefit immigrant farmworkers. It's also been good for farms.
Matt Maxwell, who owns a dairy in Newport, has been enrolled since the beginning.
"Farmworkers in the past have found themselves marginalized in negative ways, low wages and substandard housing being the main culprits," Maxwell said at an Oct. 3 Milk with Dignity press conference in Burlington. "In a lot of ways, my farm was no different and for many years our employees, while always treated well, were paid a low hourly wage and at times expected to live in below-average housing. This was not something that my family did intentionally, but were simply adhering to the industry standard."
FARM LIFE IS NOT EASY
Agricultural jobs are labor intensive and involved long hours, Maxwell continued.
"The Milk with Dignity Program allows us to pay the people that do these very important jobs an acceptable wage. Since joining Milk with Dignity our farm has maintained an 85% employee retention rate. Less turnover has led to higher morale and greater workplace continuity."
Maxwell's was one of 64 farms in Vermont and New York that participated in the program last year. The 262 qualifying workers those farms employed represented a slight increase over the previous year, and organizers are hoping to expand the program even more.
For the past year, Migrant Justice has set its sights on supermarket chain Hannaford, coupling its public invitations with a series of protests calling attention to what it has said are "documented abuses in its dairy supply chain."
Ventura feels gratitude for the work these activists are doing, he said — and he's very grateful to his cousin for helping him get a job at a Program dairy.
Still, life on the farm isn't easy.
Ventura and Ramos work 12 hours a day, six days a week, plus a six-hour shift on the seventh day.
Every 15 days they get one day off.
They do this in support of their families back in Mexico.
"I am a father of four who is looking forward to working hard so my family has everything and so my kids can study and have a career," Ventura said.
Ramos is also sending money home. Someday he dreams of opening his own business.
Both hope that more people will take the time to learn about the Milk with Dignity Program and about the lives of immigrant farmworkers in Vermont.
"Even if we are undocumented it does not mean we are not willing to work hard," Ventura said. "We are not criminals. We have a willingness to work hard and do right."
The Milk with Dignity biennial report is available online at https://tinyurl.com/y5jxnrn7.
Reach Christopher Ross at [email protected].
More News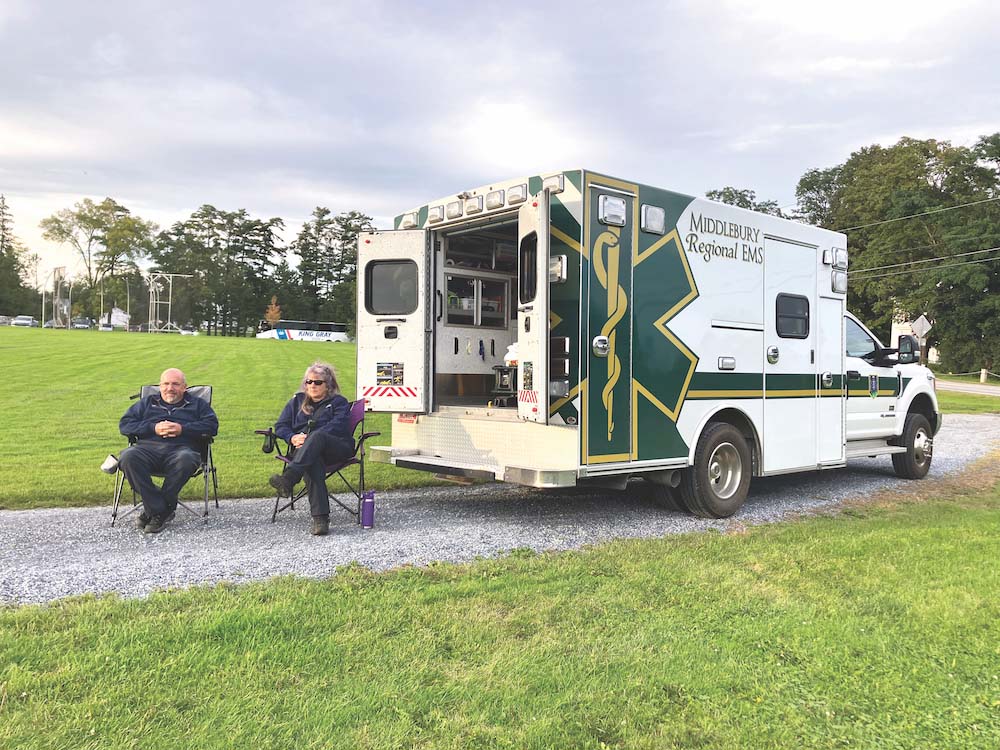 Middlebury Regional Emergency Medical Services wants to eliminate its annual Town Meeting … (read more)
Middlebury police are investigating the death of a Middlebury College junior and say the p … (read more)
In the course of her almost 101 years on Earth, Vergennes resident Margaret Clifford, bett … (read more)