K-6 will soon go full-time in ANWSD
The thing that makes it challenging is that students in grades 7 through 12 change classrooms throughout the day, while our younger students are pretty much in self-contained classrooms.
— Superintendent Sheila Soule
VERGENNES — Addison Northwest School District's two elementary schools next week will take the first steps in what will be — if all continues to go well — a three-week phase-in to return all ANWSD pupils from kindergarten to grade 6 back to fulltime, in-school learning.
It is also possible, but by no means set in stone, that by later this year the district's older students — and those in neighboring districts — could join them in a return to five-day, in-school schedules, according to ANWSD Superintendent Sheila Soule.
But the first task, Soule said, is to make sure the transition goes well for younger ANWSD students. 
"We're just right now trying to continue a successful return for our elementary-age students," Soule said. "Then I think we could look to 7 through 12 next to see what is practical and possible." 
Throughout the three-week transition to bring K-6 students back to Vergennes Union Elementary and Ferrisburgh Central schools five days a week, Soule said district officials would monitor "benchmarks" for the district's ability to do so successfully.
She outlined those benchmarks in a Sept. 22 district-wide message to student families and guardians announcing the elementary level transition:
•  "Adequate staffing." She explained this week that if teachers started showing flu and/or cold symptoms that often crop up at this time of the year they would have to stay home until they were sure it is not COVID-19. If too many teachers had to stay out the district might not be able to accommodate all its students at once, she said.
•  "Well-established practices and routines." Soule clarified this benchmark refers to ongoing cooperation and with requirements for wearing of face coverings, social distancing, reporting of symptoms, temperature-taking and other measures to detect COVID-19 and prevent its spread. 
•  "The Vermont Health Department suggests that our infection rates are safe for us to bring more students back." Currently the district knows of no infected students or employees, Soule said, but even the small number of outbreaks that have occurred around Vermont show the risk. 
Those measures will be used to measure not only the ongoing ability of the district to transition its elementary students to full-time in-person, but also if that effort is successful, then to evaluate whether ANWSD can do the same at some point with its older students. 
"We'll be watching those same benchmarks," Soule said. "Those wouldn't be different for high school than they are for elementary age students."
The three phases for ANWSD's elementary transition are as follows:
•  During the week of Oct. 5-8, grades K-2 will attend daily except for Wednesday, while grades 3-6 will remain on the hybrid schedule, in which the students are split into two cohorts, each of which attends two days a week. In ANWSD, as is the case in the county's other districts, no students have attended in person on Wednesdays.
•  During the week of Oct. 12-15 all students attend Monday, Tuesday and Thursday. There is no school that Friday, and Wednesday will remain a remote-learning day.
•  During the week beginning Oct 19 and moving forward, all K-6 will attend daily. 
Soule noted in her email, "This plan is subject to change if between now and Oct. 5 we do not meet the three benchmarks I mentioned above."
OLDER STUDENTS
The switch for middle- and high-school students is not so simple, Soule said. Unlike in elementary school, students are less segregated, and more likely, per research, to pass along an infection. At upper levels students take classes in multiple rooms with multiple teachers. 
"The thing that makes it challenging is that students in grades 7 through 12 change classrooms throughout the day, while our younger students are pretty much in self-contained classrooms," Soule said.
Soule said ANWSD and the Mount Abraham and Addison Central districts also have to be mindful that each sends students to Hannaford Career Center, and that a coordinated approach around a "natural break in the schedule" might be best to allow preparations for the change.
"For those reasons we want to work collaboratively with Mount Abe and Middlebury, so that the career center isn't impacted by some sort of staggered approach to this," Soule said.
Factors such as how a full-time return of all students might affect school buses, mealtimes and opening hours also offer an argument for phasing in the transition at the upper levels, she said.
"Probably a phased approach, maybe middle and then high school would make sense," Soule said. "It's hard to know exactly what the impact would be. How long does it take them to get into the building? How long does it take them to get their lunch? All of those things. So it's better for us, I think, if we do it a little more gradually."
Even with all those considerations, it is possible such a transition could happen sooner, rather than later. Soule noted, for example, one natural break occurs in early November, when local schools' first quarter comes to a close. 
"I don't necessarily have a date in mind, but I would say the quarter date was floated around as a possibility, and that's around the first of November. Which makes sense at this point, because we'll be until the week of Oct. 19 transitioning elementary, and it makes sense to me not to do those things at the same time, and see what effect these changes bring about in terms of all of those other things I talked about, then benchmarks we're watching," she said. 
"But if there's no impact, then we might consider what we could do for the older students."
And Soule did note there has been good news so far this school year. 
"We're at zero, the number of positive cases, and hopefully that continues," she said, adding, "I haven't heard of students not being cooperative. I haven't heard of faculty not being cooperative. So I think things are going pretty well."
ACSD is also planning a return to full in-person learning for its youngest kids; read about that plan here.
More News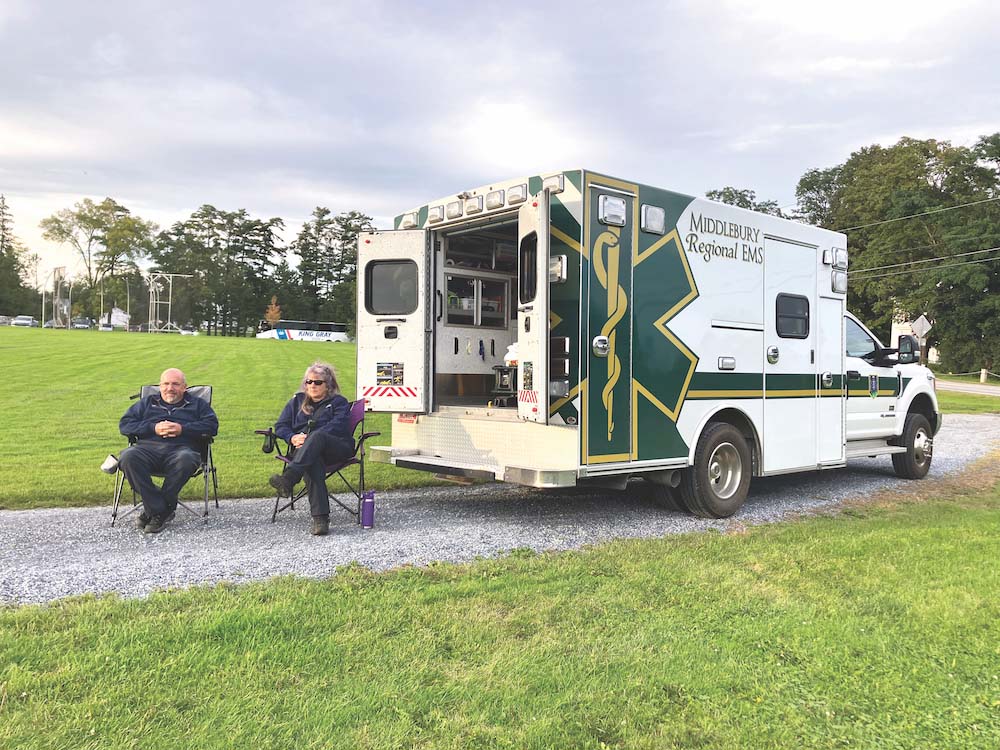 Middlebury Regional Emergency Medical Services wants to eliminate its annual Town Meeting … (read more)
Middlebury police are investigating the death of a Middlebury College junior and say the p … (read more)
In the course of her almost 101 years on Earth, Vergennes resident Margaret Clifford, bett … (read more)