College sanctions more students
MIDDLEBURY — Middlebury College sanctioned 22 students this weekend after determining that they had violated COVID-19 conduct policies.
All of the students had their on-campus housing privileges revoked and they are no longer allowed to visit, study or take courses on campus.
"This is disappointing news in the context of the overall high level of compliance our students have demonstrated to this point, which has allowed us to advance to Phase 2 of our reopening," wrote Dean of Students Derek Doucet in an announcement posted to the college website Monday morning. "We are gratified that the vast majority of our campus community has closely followed our policies, and is currently maintaining the conscientious and responsible behaviors that resulted in a successful Phase 1."
College officials would not go into detail about the violations, citing privacy issues.
"I can tell you that these were very difficult decisions to make, but there is nothing more important than the health and safety of our community," Doucet said.
On Thursday Middlebury began transitioning to Phase 2 of its fall reopening plan, in which students are permitted to leave campus and patronize local businesses.
Up to that point in the fall semester, the college had already disciplined a total of 22 students for COVID-19 conduct violations, five of whom were removed from campus.
Adding in this weekend's sanctions, a total of 44 students have been disciplined and 27 have been removed from campus, according to the newly created COVID-19 Conduct Dashboard.
The state of Vermont has requested that all institutions of higher education provide weekly COVID-19-related disciplinary statistics, including the number of substantiated policy violations, students disciplined and students removed from campus.
Middlebury now posts that information on its website, right below its COVID-19 Reporting Dashboard, https://tinyurl.com/yxw8tbl3.
Members of the public may report suspected COVID-19-related conduct violations in the college community by filling out a form at https://tinyurl.com/y6xv7rna.
College officials have been adamant that such violations, if substantiated, would be taken very seriously.
"The bar for removal from campus and/or suspension will be far lower than in a typical year, and I don't say that lightly," Doucet told the Middlebury selectboard on July 28. "The stakes are too high, and introducing elevated levels of risk to the community won't be tolerated…. We won't wait for infection to result from a behavior to respond forcefully."
Students removed from campus because of COVID-19 violations are ordinarily eligible to return in the following semester, he said Monday.
Meanwhile, Middlebury continues to conduct targeted dynamic testing of students and employees.
Since students began arriving on Aug. 18, the college has conducted more than 5,800 tests. Two students tested positive before classes began, were immediately isolated and have since recovered.
There are currently no active cases of COVID-19 on campus and there is no one in quarantine.
Editor's note: This story was updated on Sept. 23 to include new data from the college's Conduct Dashboard.
Reach Christopher Ross at [email protected].
More News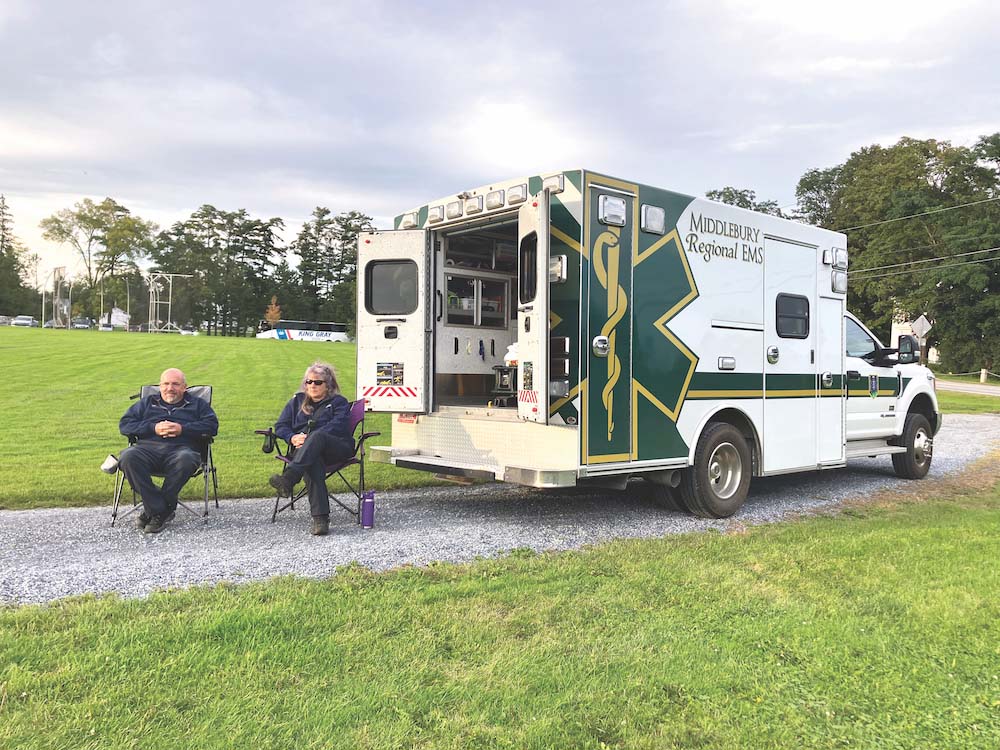 Middlebury Regional Emergency Medical Services wants to eliminate its annual Town Meeting … (read more)
Middlebury police are investigating the death of a Middlebury College junior and say the p … (read more)
In the course of her almost 101 years on Earth, Vergennes resident Margaret Clifford, bett … (read more)