Matthew Dickerson: Catching trout in tough conditions
I was working on an article about a couple Vermont trout streams for a national fly fishing magazine. The story required some photos, which meant I needed another angler to go fishing with me and be the subject of those photos. Since I also wanted some trout in my photos, I wanted a really good angler — somebody I could count on to land fish even in the tough low-water fishing conditions. 
Brian Cadoret was the obvious choice.
We've known each other close to 20 years. We met through the New Haven River Anglers Association, and over the time we've both been involved (and Brian has served as president) we have talked together at numerous meetings, banquets, and picnics. We've also fished together. 
Brian is a legendary pike fisherman. His online moniker is VT PIKE BUM. That pretty much captures it. But to say that he also knows what he's doing in a trout stream would be an understatement. He's a multi-time winner of the Otter Creek Classic, an annual catch-and-release fly-fishing tournament for trout held each April in Otter Creek and its tributaries. Though it isn't his full-time job, he spends a lot of days each year on the water as a professional guide. 
In fact, Brian is such a good fly fisher that despite my need for some compelling fish photos for the magazine story, I decided to handicap him by making him fish with a fly I had tied. It was hot off my fly-tying vise: a bright green and silver fly that I created to imitate a grasshopper. I used lots of foam on the body to make it float. And the floating part seemed to work pretty well. Unfortunately, it looked as much like a beetle as it did a grasshopper. So I decided it was a generic terrestrial attractor pattern (though with no evidence at the time I gave it to Brian that it would actually attract anything). 
The conditions were indeed tough. We were working a small river, with some of the lowest water levels either of us had ever seen on that river, thanks to the exceptionally dry summer. Not only was the water low, but since Brian had been out with a client that morning we were meeting right in the middle of the day under bright sunshine. I figured between the sun and the low water, the fish would be especially skittish. 
Nonetheless, Brian took the challenge good-naturedly. He tied on my as-yet-unnamed green terrestrial, and then added a small purple nymph on another piece of tippet a couple feet below my fly. This two-fly approach is popular combination known as a "hopper-dropper" setup. In theory, the imitation hopper stays atop the water as a dry fly, looking like a grasshopper that blew into the water from a nearby field, while the other denser nymph fly stays submerged, drifting along the bottom or suspended in the middle of the current beneath the floating hopper. 
We left the cars in the dirt lot where we met and headed to the river. Brian started fishing. I started high on the bank snapping photos from above, and then worked my way down for some water level shots. In order to find some deeper water, we had headed to some "pocket water" — a stretch of the river with a steeper gradient where the water tumbles in and around boulders as it drops from one pool (or "pocket") to the next. 
Forty yards upriver from where we started, the first fish struck. A fat, very dark wild brook trout snatched Brian's fly off the surface, and suddenly Brian was playing the fish as it shot off downstream, forcing him to maneuver around the boulders to follow it. He played the fish almost to my feet, where to my satisfaction I found it had actually gone after the fly I had tied. 
While Brian kept the fish cool and wet in the water, I snapped some photos. "You caught the first every trout on that fly," I told him. "You get to name it."
Brian thought for a bit. "The Dickerson Dandy," he replied.
I looked at the fly again. It didn't really look like much of anything, and it had only caught one trout. At least he hadn't called it the Dickerson Grasshopper. Still, I had second thoughts. "I'm thinking maybe 'September Special,'" I said, pondering whether I could renege on my offer to let him name it.
We fished some more. Brian hooked another brook trout, but this one took his purple nymph below the current. He soon caught a third: a smaller rainbow trout that also took the nymph. I got photos of both of the new fish. By then I was getting the urge to put down the camera and pick up the fly rod. I swapped my camera for Brian's rod and soon landed another rainbow trout.
We walked back to the car, put the camera away altogether, and I set up my rod, tying on my other Dickerson Dandy with a red copper john below it, hopper-dropper style. Over about two and a half hours of fishing we somehow managed close to 10 trout. The first two were brookies and all the rest were small rainbows. Though my green generic terrestrial did get a few more looks, all the rest of the fish were caught on either Brian's purple nymph or my red copper john. A September Special it is, I thought.
More News
Tiger boys' cross-country team held off runners from Burr & Burton, VUHS and Mount Abe in … (read more)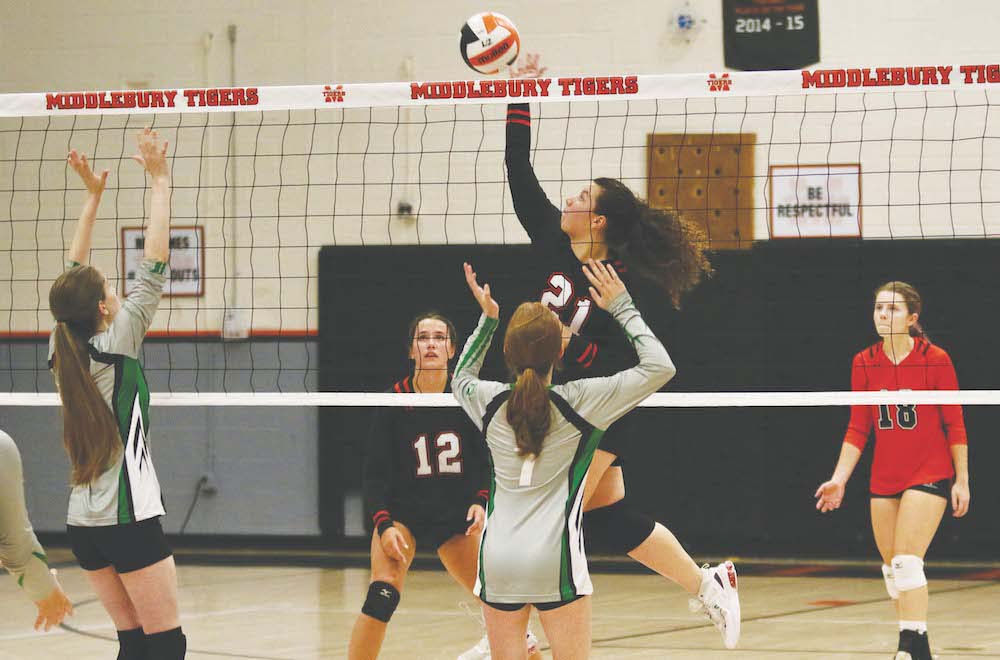 The first-year Middlebury Union High School girls' varsity volleyball team continued its r … (read more)
I gave Bill Lee a call last week, hoping he was at his home in Craftsbury and we might arr … (read more)