Vergennes council candidates make their pitches
This is the first of two stories in which we introduce readers to the 14 candidates for Vergennes City Council. Read the second here.
VERGENNES — On Tuesday, Sept. 22, and in mail-in balloting before then, Vergennes residents will pick four new Vergennes City Council members from possibly the most crowded field in city history. 
After the mayor and three councilors resigned between Aug. 1 and 10, 14 candidates filed to be on a ballot for a special election that the remaining three councilors and city officials set for Sept. 22.
The ballot includes both veterans of the city's public sector and a number of newcomers to the civic arena, all of whom say they care about and want to serve and improve the city.
Five candidates are running for a term that will expire in March of 2021: Mike Daniels, Mel Hawley, Ian Huizenga, David Small and Rainwalker Winterpainter. 
Five are running for a term that will expire in March of 2022: Dickie Austin, Beverly Biello, Ziggy Comeau, Jill Murray-Killon and Randy Ouellette. 
Four more filed paperwork for both seats: Justin Bassett, Julian Cesner, Michel "DJ" Djordjevic and Raymond Paul. 
If one or more of those four latter candidates wins both seats, they would have to choose between the two terms. The newly reconfigured council would then have to appoint one or more resident to fill any vacancies.
All were asked to supply a picture — not all chose to do so — and answer these three questions briefly: 
1. Please offer two or three sentences about your biography, work and qualifications for the position.
2. What issues do you believe are most critical and might have prompted you to run for a seat on the council?
3. Why should your fellow residents consider voting for you?
The Independent divided the field alphabetically for publication purposes. Austin, Bassett, Biello, Cesner, Comeau, Daniels and Djordjevic are featured in this issue.
Hawley, Huizenga, Ouellette, Murray-Killon, Paul, Small and Winterpainter will have their say this coming Thursday, Sept. 17.
Some responses were lightly edited for length.
DICKIE AUSTIN
1. Biography
I am a lifelong citizen of Vergennes who has spent the last 15 years managing restaurants, including Black Sheep Bistro and Park Squeeze on Main Street. This experience has taught me how to listen, be responsive, and problem-solve while working collaboratively with a team. 
2. Critical issues
I believe a successful city government requires a transparent and cooperative approach to problem solving. I'm committed to ensuring our infrastructure is sound enough to accommodate expanded housing and employment opportunities so our community may welcome new members of all kinds. 
3. Why vote for you?
I love Vergennes. I am ready to do the hard work to ensure a successful future. I hope to earn the trust and support of this special community in September.
BEVERLY BIELLO
1. Biography
I am a former CEO of an international ad agency and a self-employed consultant. My years of work experiences will provide the Council with fresh perspectives, calming stability, and levelheaded approaches that will benefit all people of Vergennes. Divisiveness occurs when a person or persons believe they are the only ones with the right answers. Conversely, great things happen when a diverse group brings a range of ideas to the table, then works together to find the best solutions. After years of leading teams of strong, extremely vocal, and highly opinionated people I've learned:
•  The best solutions come out of honest dialogue and a willingness to disagree without making it personal.
•  Always set goals upfront, then stay focused as you work together to achieve them.
•  Express your convictions, but always be willing to compromise for the greater good.
•  Positive change must be carefully planned and built on what is already working. Reactionary or panic change is often disruptive and short-lived.
2. Critical issues
In these times of national turmoil, uncertainty, and high stress, the need is greater than ever for a Council that can provide peace, order, and good governance, as well as a forward vision for Vergennes. We are a wonderfully unique and eclectic community with a small but diverse citizenry. As it has been and always will be, some people want to keep our city just the way it is, while others love it but see a need for change. We need a Council that will take a deep breath, put a steady hand on the tiller, and work together as a team to find the best path forward for everyone.
3. Why vote for you?
Vergennes is a very special place, and I want to help all residents enjoy what this great Little City has to offer. As Alderman, I will bring the Vergennes City Council: 1) a fresh, if slightly used, face; 2) 30 years of running the day-to-day operations of a large organization; 3) years of success in setting visionary goals then making them happen; and 4) three decades of supporting Vergennes, watching it evolve, and appreciating all that it has to offer, now and for the future.
JUSTIN BASSETT
1. Biography
I am a 44-year-old father of three boys, living in Vergennes since 2003. I was a self-employed carpenter/general contractor for 20-plus years, currently at Collins Aerospace. I served on the Vergennes planning commission. I was a volunteer parent coach for the Vergennes-area wrestling team as well as assisting a bit with the Vergennes Boy Scouts.
2. Critical issues
There are many things that our little city does great, but there is always room for improvement. I feel that as a resident that primarily commutes to work via walking, traffic and pedestrian safety are key issues. Although changes have been and are currently being made, pedestrians are still not safe in our city. Our city parks are not utilized and could offer more options for visitors. The connection of the police to the community can always be improved. There are so many more but I'll keep it short.
3. Why vote for you?
My fellow residents should vote for me because I'm just an average citizen that wants to see Vergennes succeed. My vested interest in this little city is my children and my community.
JULIAN CESNER
1. Biography
 Currently, I am a clinical counselor at a community mental health agency and I spent two years serving my country in AmeriCorps, collaborating with a wide range of government and nonprofit organizations to organize and complete projects of all types. I earned my Master of Science in Clinical Mental Health Counseling from Southern New Hampshire University in 2018 and my Bachelor of Arts from The Ohio State University in 2009. I have lived in Vergennes for nearly three years and am a transplant from Columbus, Ohio, by way of the Bronx, N.Y. 
2. Critical issues
A lack of transparency and collaboration in recent months have awoken in me a desire to serve my community's government with those ideals in mind. I will advocate for all youth and families to have access to prosocial recreational activities and support services. I will push to incorporate mental health support and trauma-informed policy into our community's policing practices.
3. Why vote for you?
Voters should consider me for City Council because my life experience has prepared me for this role and I am the right person to help guide our city in moving forward. The people of Vergennes have welcomed my family with open arms and I intend for that to be the experience for any person who wants to call Vergennes home. I will support the residents of Vergennes in being civic-minded and active participants in our city's governance and I am a person who will bridge gaps in our community.
ZIGGY COMEAU
1. Biography
I have lived in the city of Vergennes most of my life. I was on two terms on both the zoning board and planning commission, and after that two-and-a-half terms on the City Council.
2. Critical issues
My concerns include the people of Vergennes. How are they doing? And getting to know the programs to help the people if needed. My other concern is the function of the city of Vergennes. 
3. Why vote for you?
Now that I am semi-retired I will have time to be involved with the function of the City of Vergennes full-time if need be.
MIKE DANIELS
1. Biography
I was born and raised in Vergennes with strong family history ties to this city. I have lived my entire life here and am proud of my accomplishments and my contributions. Member of the Vergennes Fire Department for 50 years; serving in the capacity of Deputy Chief, Captain, Member at Large and firefighter. Married 49 years with two children and two grandchildren. Retired from the Army National Guard as First Sergeant with 21 years of service. Honored to serve as Mayor of Vergennes from 2007–2013 and 2017–2018. Served on the City Council before and after my tenure as Mayor.
2. Critical issues
I am disturbed by the accusations against our Chief of Police and police force. It also disturbs me to hear people say they feel mistreated and not feeling safe here in our city. 
It is unfortunate that we find ourselves in this present situation but I do believe if we all agree that we can't change the past, but learn from it and not make the same mistakes in the future we will rise above this with a positive outcome.
I enter this race with no specific agenda. All of my efforts exercised will be and are for the betterment of the City of Vergennes and its citizens.
3. Why vote for you?
I want to be one of seven decision makers who shape the future of our community. Ensure it's aligned with our values, and support the vision for the future. I pledge to work for all the citizens of this city with their best interest in mind; engaging residents and listening to their concerns. 
MICHEL DJORDJEVIC 
1. Biography
While in the army, I was deployed as a land manager and a force protection officer during Operation Joint Endeavor (Bosnia/Herzegovina/Croatia/Hungary). In this position, I was responsible for coordinating with multi-national forces and dealing with each group's unique culture, language, political agendas and religious beliefs. Prior to my experience in the military, I served my local community of Montclair, N.J., by working on the Montclair Volunteer Ambulance Unity as well as serving as a Deputy Police Officer from 1984 to 1990 while completing my degree in finance and Army ROTC at Montclair State University.
2. Critical issues
I am running at this time because here in Vergennes, we have had a call for change. However, change without consideration of the causes and the long-term effects is not necessarily positive change. We are at a point in this City where we are faced with many options and decisions that need to be made in order to move forward in a positive and healthy direction for all of our community. We need a balance between being open and inviting while maintaining the community's safety and encouraging a well-rounded community core of residents and visitors. Each issue that we currently face, whether it is in regards to the police department or creating an open and honest conversation about race and inclusivity, will be best served by creating an open dialogue to gather as much information and make informed decisions that would benefit the whole, rather than the individual.
3. Why vote for you?
As a small business owner and resident, I am committed to ensuring the success of everyone in this community. My wife, Amy, and I purchased the Strong House Inn.… Vergennes, as a community, people and location, was an overwhelming factor of why the Strong House Inn was the ideal property for us. My background in the military, as well as an education in business and community service has afforded me the confidence and knowledge required to be a voice of logic and reason in times of great confusion and angst. This is a time that calls for decisions to be made for the benefit of Vergennes as a whole, and to that end we need to pick a City Council that will allow the city of Vergennes to move forward together. I will bring a willingness to listen to all of the issues at hand and to then make decisions based on what is best for the community following healthy and professional conversations with the community members and my peers.… I may not have all the answers, but I will pledge to listen with an open mind, to make well-informed recommendations and decisions and to move in a direction that promotes us all.
More News
Blasting ledge could begin on Monday in Vergennes as work on the $25 million Vergennes Gra … (read more)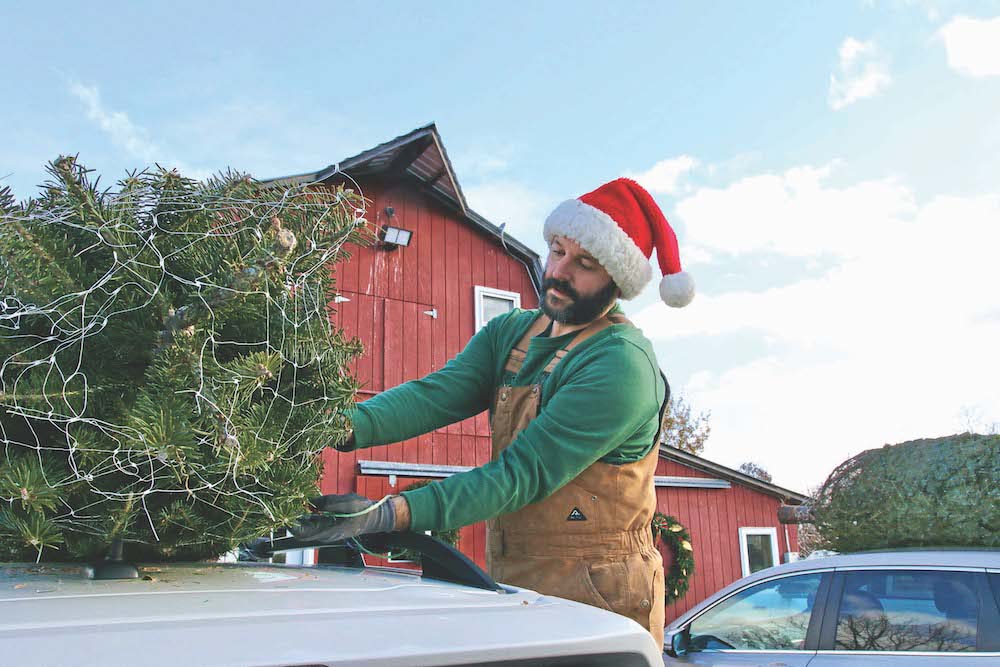 With the holiday season underway, county Christmas tree farms have begun welcoming visitor … (read more)
As the Middlebury Snowbowl prepares for opening day this Saturday, Dec. 9, loyal skiers an … (read more)