Protesters condemn Postal Service cuts
They've become part of our business. They were there for us when we needed them, so we will fight for them now.
— Brandon businesswoman Susan Stone
ADDISON COUNTY AND BRANDON — Anger over the precipitous decline in the quality of mail delivery from the U.S. Postal Service showed itself this past Saturday when protests popped up in front of at least three local post offices. Slogans on placards and posters were varied, but the message was the same:
USPS must restore its previous level of service to enable businesses to serve their customers, empower citizens to communicate unfettered and ensure that votes are delivered in a timely fashion for the November election.
"It is unbelievable that America could sink so low that the president is gutting the post office by firing dozens of senior staff, removing mailboxes from the streets and dismantling bulk mail sorting machines," Bristol resident Howard Jennings said at a rally at the Bristol post office, in a quote provided by Mary Adams-Smith. "That's not efficiency, it is blatant partisan politics, at the expense of our constitutionally mandated mail service." 
There were eight Mount Abraham Union High School students and 22 other residents from Bristol and neighboring towns holding signs and waving to cars near the Bristol post office along West Street late in the morning of Aug. 22. Around 30 people turned out for a similar demonstration at the Middlebury post office, and a small group protested in front of the Brandon post office. They were among a dozen demonstrations around Vermont and at lest 800 across the country that day.
The impetus for the demonstration was recent actions by the Trump administration that are pitched as money-saving measures, but which critics say threaten the survival of the USPS. Postmaster General Louis DeJoy recently reassigned the post office's two head executives of daily operations, reduced workers' hours and overtime, and got rid of mail sorting machines months before a general election in which millions are expected to vote by mail. 
President Trump stated on television that he doesn't want to encourage mail-in ballots, because it will help Democrats more than Republicans.
Some of the messages on the signs in Bristol responded to the statement: "Voter Suppression is Un-American" and "Trump Is Stealing Our Democracy." In Middlebury a sign blared, "Save Our USPS, Save Our VOTE, Save our DEMOCRACY." In Brandon: "Vote by mail, it's your right."
A protester in Brandon explained that voting is just one component of civil society that the USPS supports. The post office is a lifeline for the disabled and the retired by delivering medications and checks. It helps rural folks by keeping them in touch over vast distances in ways that the internet and social media cannot. And it helps businesses by getting out the message about their products — and by delivering those products.
BUSINESS AFFECTED
Samantha Stone is one half of the duo behind Swan & Stone Millinery hat makers in Brandon. She said she and her partner Nora Swan have always used USPS Priority Mail to ship their hats because of the free tracking and insurance offered.
"When the pandemic hit, our small hat business shifted from about 90% in-person, direct-sale business to a 100% online business," she said. "As a citizen of this country, I'm outraged at steps taken to try and cripple our postal service in obvious attempts to limit mail-in voting and manipulate the upcoming election, but as a small business owner, it's also very personal to me."
Stone said the employees at the Brandon post office have always been so helpful in mailing and tracking Swan & Stone products, especially since the pandemic began.
"Our local post office and their incredibly helpful employees are vital to our business," she said. "They've become part of our business. They were there for us when we needed them, so we will fight for them now."
GETTING THE WORD OUT
It's not just consumer product businesses that are being hurt by changes at the Postal Service. The slowing of the mail undermines the ability of newspapers to inform the public in a timely fashion about matters of broad public interest. 
Civics books point out that the post office is included in the U.S. Constitution because the founders knew that spreading the news about how public servants were doing their jobs was a vital component to ensuring a healthy democracy. 
Many Vermont newspapers immediately noticed the effects of changes DeJoy and his new USPS leadership implemented earlier this summer. 
At the Addison Independent, the circulation manager began fielding a rising number of calls from subscribers in Vermont complaining that their newspapers are arriving one, two, three or more days later than they used to.
When USPS officials were asked what was happening, they said that new directives did not allow postal employees to use commonsense methods to keep the mail moving — like waiting for a delivery truck that is delayed. Often in such situations the delivery truck is not delayed by the people or businesses who post their items, but because of internal issues introduced through other "efficiencies" in the post office.
Such delays are bad not just for dated news, but also for time-sensitive advertising fliers — not to mention mail-in ballots.
People at other weekly newspapers in Vermont said they experienced similar problems.
Greg Popa, publisher of the Stowe Reporter, said changes at the USPS over several years have meant that his mailed newspapers arrive to customers at least a day or two later than they used to.
"You'd think that weekly community newspaper publishers, big postal customers, would be treated better," he said.
Randy Holhut, co-acting operations manager of The Commons in Brattleboro, doesn't have a problem with in-town delivery of his newspaper, but editions mailed to Vernon, five miles away, can take three or four days to get there. Newspapers he gets from farther away, but still in Vermont, take at least that long.
"The Brattleboro P.O. does heroic work for us, getting our papers mailed out each week," Holhut said. "We presort the tubs by ZIP code to make it easier for the bulk mail processors. But our local post offices had been shorthanded before the new postmaster general arrived, and mail service in general is getting more and more erratic."
When asked about post office delays, Fred Rutberg, whose company publishes the Bennington Banner among other newspapers, was blunt.
"We don't use the USPS for delivery; until there is a change at the White House, I could not consider it," Rutberg said.
The publisher of the Journal Opinion in Bradford all but welcomed the question.
"We too have seen an increase in calls from subscribers about late delivery," Connie Sanville said. "Good to know what the real problem is since most post offices blame the newspaper or the press or whatever."
More recently, the Addison Independent has heard from subscribers that even editions delivered in town are late. Front office staff this week were greeted by an email from a Middlebury subscriber who wrote, "Our August 20th edition of the Addison Independent — which has ALWAYS been delivered on Friday — did not land in our mailbox until Saturday afternoon.  I hope you will poll subscribers to report delivery delays."
Gary Smith at the Bristol protest had a message he wished to deliver.
"Congress must act. It must pass legislation to ensure our rights to a free and fair election with full access to voting by mail and the success of the Postal Service more broadly."
More News
Blasting ledge could begin on Monday in Vergennes as work on the $25 million Vergennes Gra … (read more)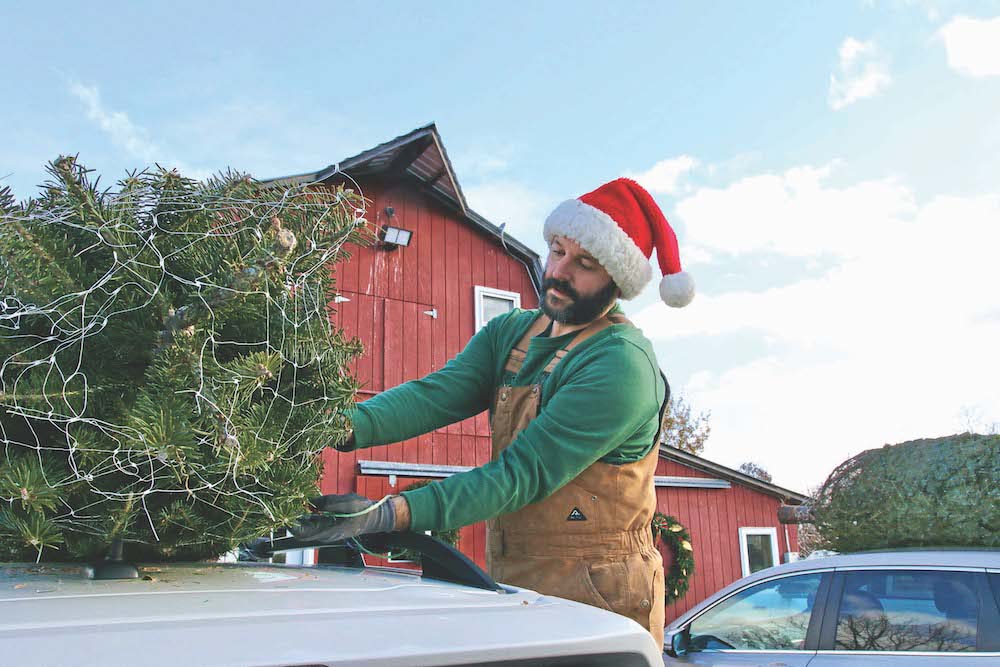 With the holiday season underway, county Christmas tree farms have begun welcoming visitor … (read more)
As the Middlebury Snowbowl prepares for opening day this Saturday, Dec. 9, loyal skiers an … (read more)