College details its plan for the return of students
The bar for removal from campus and/or suspension will be far lower than in a typical year … The stakes are too high, and introducing elevated levels of risk to the community won't be tolerated.
— Dean of Students Derek Doucet
MIDDLEBURY — Middlebury College President Laurie Patton is so confident in the work the college has done to prepare the campus for a safe reopening this fall that she is planning to step into the classroom herself and teach an in-person course.
"We believe that, if it is safe for the campus and wider community, colleges and universities have a mission and a responsibility to educate," Patton wrote in a July 21 letter to the college community. "Living and learning in a pandemic will shape our leaders of the future. The lessons we learn and the partnerships we form will influence our responses to or even prevent the next pandemic."
Patton in that same letter also outlined some of the information included in a new Return to Campus Guide, which was posted to the college website Friday night. Running to nearly 70 printed pages, the guide provides a highly detailed description of the college's phased approach to opening the campus for staff, students and faculty, as well as the protective protocols that have been instituted for the fall semester.
The first wave of Middlebury College students — residence life staff, peer health educators, orientation leaders and other student leaders — are scheduled to arrive on campus Aug. 18. New and international students, as well as student athletes, will follow on Aug. 26. The rest of the student body will arrive on Aug. 28.
On Tuesday night, Patton and other college officials presented their reopening plan during a meeting of the Middlebury selectboard, which was convened via Zoom, and answered questions from the community.
"In the landscape of higher education I believe deeply that our town-gown relationship is an extraordinary one, and in that spirit your questions and engagement over the last several months have been essential to our thinking and our approach in these incredibly difficult times," Patton told the meeting attendees.
HEALTH AND SAFETY
Middlebury College Director of Health Services Mark Peluso provided an overview of health and safety measures the college plans to implement, which include:
•  Phased arrival and pre-arrival quarantine.
•  Post-arrival quarantine and isolation housing.
•  Physical distancing and face covering requirements.
•  Mandatory testing upon arrival on campus (day 0 and day 7) and periodic random testing throughout the semester.
•  Health contracts and rigorous daily health screening.
•  Contact tracing procedures.
•  Hygiene protocols, personal protective equipment, cleaning and other sanitizing supplies.
•  Changes to reduce population density.
•  Restrictions to visitors, gatherings and travel.
The same protocols will apply for on- and off-campus students.
In response to a question about testing, Peluso explained that the college will employ RT-PCR (reverse transcription polymerase chain reaction) diagnostic testing, which he called "the gold standard right now for diagnosing COVID — very high sensitivity and specificity." The tests are expected to have a 24-hour turnaround time.
Peluso believes the college has the testing capacity it needs, he said, based on the capacity of the vendor it's using, but he has been in contact with other vendors just in case.
"If a student tests positive we're going to isolate them (on campus)," Peluso explained, in response to another question. "There will be a host of resources available to that student — medical, mental health, residential life support, dining. We can provide a lot of services." 
Peluso has met with Porter Medical Center officials to establish what roles and responsibilities each institution will have if a student tests positive, but he doesn't foresee having to send students to the hospital. 
"Is it possible? Yes. But the probability is very low given the age group and the resources we have in place."
STUDENT CONDUCT
College health protocols must be observed by all students, regardless of their enrollment status or their location on- or off-campus, said Dean of Students Derek Doucet, who provided an overview of how the college plans to monitor student behavior.
The health pledge students must sign places an emphasis on personal and shared responsibility, as well as on the Middlebury community as a whole, Doucet explained. It affirms that students must educate themselves and comply with health protocols. It also makes clear that there will be consequences for not doing so.
"The bar for removal from campus and/or suspension will be far lower than in a typical year, and I don't say that lightly," Doucet said. "The stakes are too high, and introducing elevated levels of risk to the community won't be tolerated."
Sanctions will be proportionate to the level of elevated risk a particular behavior has the potential to introduce to the community.
"We won't wait for infection to result from a behavior to respond forcefully," he said.
The college will require all students living off-campus to provide their local address information, and will survey off-campus students to determine what barriers to policy compliance might need to be addressed.
Every single off-campus student will also be required to have an in-person meeting with Doucet, a member of his staff, and President Patton, so that college policies can be personally conveyed to them.
During the semester, college staff will be conducting "in-town rounds" to check in with off-campus students.
"It's often said that the best predictor of future actions is past performance, and I want to close with a few thoughts about that idea," Doucet said. "Students have remained on campus since March. Most have been good neighbors, and there is no evidence that any contributed to the spread of the illness. The few students on campus through the spring who were unable to meet our expectations were quietly but immediately removed from campus. This is not something that the community saw, but it happened rapidly and effectively, I was personally involved, and I want to assure you that that's the approach we'll take this fall as well. We won't tolerate behaviors that introduce risks to the community, and we have good plans in place to address them."
Later, in response to a question about managing student behavior, Doucet emphasized the deterrent effect, which will become real and significant if the college is forced to send students home.
"But I also want to point out that there are significant incentives to student compliance. Students want to be back and they realize that their behavior will impact our ability to pull this off successfully. They want us to be able to advance through phases of reopening and be granted increasing freedom if the public health situation makes that appropriate."
HEALTH EDUCATION
Director of Health and Wellness Education Barbara McCall outlined the steps the college is taking to educate students and encourage them to take health policies seriously.
"In terms of what works, we have quite a history of success in health education in higher education," McCall said, citing the fact that binge drinking on college campuses is at an all-time low.
She also pointed out that the college's targeted health education is being rolled out in a realistic context that's been developed based on input from students.
"Yesterday we launched a COVID-19 health behaviors survey, and we've heard from about 20% of our students in the last 24 hours," she said. "We're asking them … how they feel they are susceptible to COVID-19 (and about what they believe) are the benefits of being able to return to Middlebury and (of) complying with our COVID-19 policies and expectations. We also want to hear about the barriers, so that we can help (remove them)."
According to survey responses so far, students are also concerned about parties and the risks they present.
McCall found one aspect of the survey results so far particularly striking.
Students were asked to rank from highest to lowest the benefits they thought were most important about complying with the college's health behavior protocols. Students ranked 'protecting others and the community' as number one; the ability to safely return and resume or begin their academic careers as number two; their own health and safety as third.
"Students ranked the community first," McCall said. "I don't know any better indicator than that."
POPULATION DENSITY
"I can certainly understand how the impression that we're packing students in would be very troubling (to community members), but … that's not our approach," Doucet said. 
About half the college's housing inventory consists of single-student rooms, he explained, "so already we have low housing density to begin with."
If the college opened tomorrow, it would expect a typical number of students on campus — somewhere around 2,450 to 2,500, Doucet said.
"But we project that we will continue to receive additional leave of absence (requests), remote study notifications, and unfortunately we're also anticipating that a substantial portion of our international students won't make it back to campus. So we're projecting a reduced campus density in any case."
The college has received a permit to renovate Adirondack House on College Street for student housing, college spokesperson Sarah Ray told the Independent this week, and there are five other campus buildings in the permitting process.
"The other advantage we have is that we have places like Bread Loaf to further reduce density (if necessary)," Doucet said.
WHAT IF
In response to a question about what conditions would be necessary for the college to reverse its decision to have in-person classes, Patton said it would probably come down to a combination of factors.
"What are we looking at in terms of availability of beds, what are we looking at in terms of student behavior, what are we looking at in terms of what is happening in the state."
A few factors by themselves might prompt college officials to press pause, Peluso said.
"In terms of singular decisions, if the governor or the CDC or the Department of Health said 'You need to go remote, the conditions are deteriorating quickly,' that would be an easy thing to do. Or if the virus became more virulent, more lethal or was affecting more people more quickly. Beyond that … I think if we had lots and lots of cases on campus and we felt like it was going to be hard to meet isolation or quarantine needs, or students weren't meeting the goals we set forth for them, I think we would be looking at backing into a more restrictive phase, such as the (arrival-phase) campus quarantine."
But college officials have acknowledged that even with its mitigation measures and everyone's compliance, it's impossible to completely eliminate the risk of infection on campus.
"It is likely that there will be cases of COVID-19 on campus during 2020–21," officials wrote in the Return to Campus Guide. "It is possible that students or employees may become ill and spread the disease to other people with whom they have had close contact, including family members, members of the broader Middlebury community, and others. Individuals will need to carefully consider their personal situations and make choices that are right for them."
The Middlebury College Return to Campus Guide is available on the college website: middlebury.edu/office/midd2021/return-campus-guide.
More News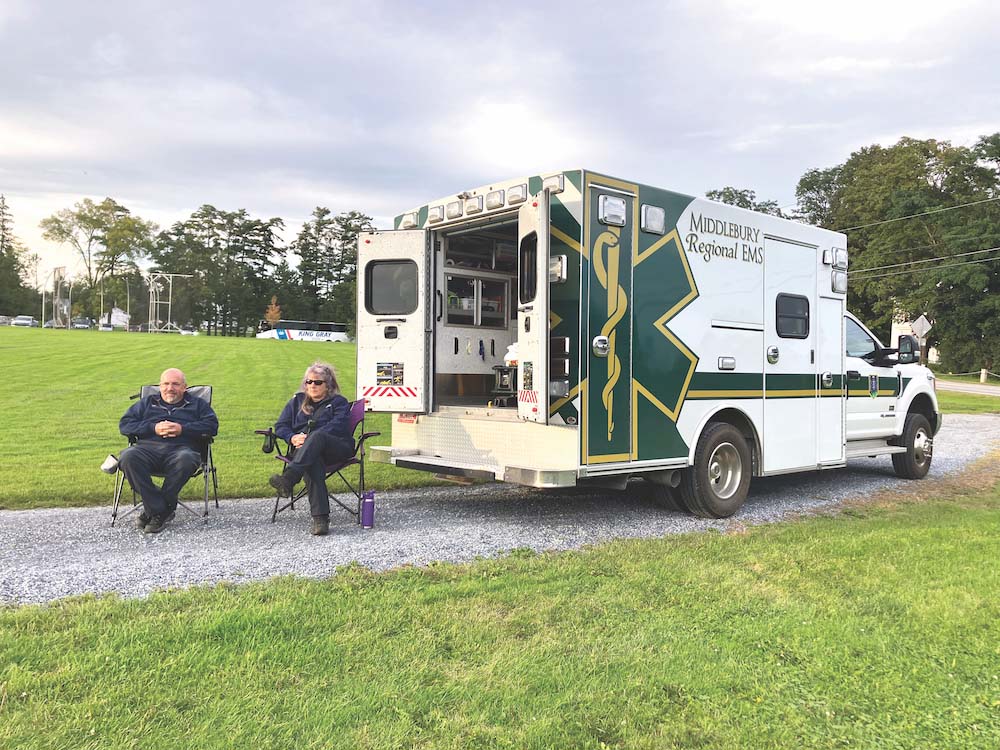 Middlebury Regional Emergency Medical Services wants to eliminate its annual Town Meeting … (read more)
Middlebury police are investigating the death of a Middlebury College junior and say the p … (read more)
In the course of her almost 101 years on Earth, Vergennes resident Margaret Clifford, bett … (read more)