College sports league cancels fall athletics
MIDDLEBURY — The presidents of the nine NESCAC colleges, including Middlebury College, this past Friday, July 10, issued a joint statement announcing the cancellation of all fall athletic conference competition. 
The announcement by the NCAA Division III league follows the Division I Ivy League's July 8 announcement that it had canceled all of its conference play for this fall. 
Two NESCAC schools, Bowdoin and Williams, had already decided not to participate in intercollegiate athletes for the rest of 2020. 
According to the NESCAC presidents' statement, their administrations "have been focused on the safe reopening of their campuses this fall," with plans centered on "the health and well-being of students, faculty, staff, and the broader community the foremost concern."
The statement continued to say this decision followed logically from those concerns:
"In keeping with public health guidance, each of our institutions has put in place physical distancing protocols, limits on travel on and off campus, and limits on the size of on-campus gatherings. Consistent with these policies, the NESCAC presidents have decided unanimously, though with great reluctance, that NESCAC conference competition for fall sports must be canceled for fall 2020."
The statement offered individual NESCAC schools some leeway: 
"Athletics remains an important part of the experience for our students. Conference members will continue to work together to seek creative ways to provide meaningful athletic opportunities for our students during the upcoming academic year. To that end, the presidents have agreed to modify some NESCAC rules to enable coaches and students to engage in practice and training opportunities outside the traditional season, in accordance with the rules of each member institution and local health directives."
In another joint statement released later on Friday afternoon, Middlebury College President Laurie Patton and Director of Athletics Erin Quinn said the college has no concrete plans along those lines at this point:  
"At this time, Middlebury does not have any competitions scheduled for the fall. And we continue to consult the U.S. Centers for Disease Control and Prevention, the Vermont Department of Health, and other authoritative sources on all public health issues and their potential bearing on Middlebury programming. If public health guidelines allow for any sort of limited competition at Middlebury, we will consider them at the appropriate time and only if it is safe to do so."
Patton and Quinn wrote they "understand that this is difficult news for many to hear," but hope the college's athletes can join those in other fields in adapting to difficult times: 
"Athletes join those in the creative arts, community engagement, and many other activities in being challenged to find new ways to do what they love to do in the Middlebury community. We are confident that we can forge those new paths."
They also pledged college officials will continue to communicate with the community at large:
"To our entire community, we will continue to keep you up to date on this issue and all others related to Middlebury's plans for the fall.
More News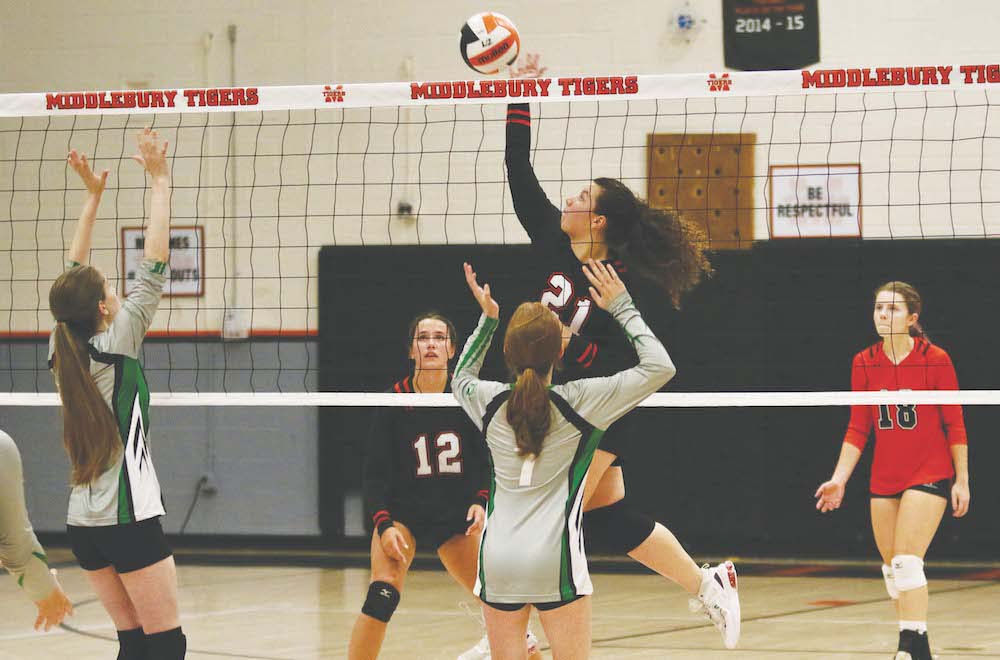 The first-year Middlebury Union High School girls' varsity volleyball team continued its r … (read more)
Soggy conditions didn't slow down Middlebury runners noticeably at a cross-country meet ho … (read more)
I gave Bill Lee a call last week, hoping he was at his home in Craftsbury and we might arr … (read more)