Dupoise reflects on 100 years of memories
I was paid 25 cents an hour and I worked six days per week, from 7 a.m. to 5 p.m. If it didn't rain, I'd take home $13.50 (a week). If it rained, you took home less.
— Francis Dupoise
NEW HAVEN — To speak with Francis Dupoise for any length of time is to get a history lesson — not only about Addison County, but about how to live a long, productive life.
Next week, he will join the county's impressive list of centenarians.
Dupoise was born on July 13, 1920. Two days later, New York Yankees slugger Babe Ruth would smack his 29th home run en route to a record 54 for the season. Sixteen days later, the first transcontinental airmail flight, from New York to San Francisco, took place. Woodrow Wilson was the U.S. president.
Dupoise's grandfather worked for the legendary Joseph Battell, and he can point to the quarry from which the granite was extracted to make the roman-arch bridge on Middlebury's Main Street that bears Battell's name.
Steve Dupoise, one of Francis's three children, gazed upon his dad with a mixture of love and admiration as the patriarch peeled back the layers of a century during a 50-minute interview on Monday with a "young" 58-year-old reporter.
Steve and his siblings had to do without their dad for most Thanksgiving dinners and a lot of weekends while he toiled at the old Polymers plastic company in Middlebury in order to provide them with a roof, shelter, clothing and food on the table.
It just meant they enjoyed him even more when they had him. He was — and is — the embodiment of the adage that success isn't always tied to a diploma; it's about hard work.
"Life creates your education, a lot of the time," Steve Dupoise said about his dad.
And what a life it's been for Francis Dupoise, one that has navigated through the Great Depression, World War II, and numerous changes to the world map.
Dupoise was a year old when his family moved to a farm off Route 23 in Weybridge in 1921. The world was rebounding from World War I but was headed toward the Great Depression. The Dupoise family — and pretty much everyone else — would deal with immense poverty during the 1930s. It was an era during which public schools were financed through tuitions assessed to students' families, as opposed to a property tax or income tax. The Dupoises simply didn't have enough money for Francis to attend classes beyond the eighth grade in the nearby, two-room schoolhouse.
He began working on the Weybridge town road crew. His main task: shoveling gravel into the back of a truck. And there was a lot of gravel to shovel, as there were few paved roads in Weybridge, or in any other Addison County community, for that matter. Route 23 would eventually become the first paved road in Weybridge, Dupoise recalled.
"I was paid 25 cents an hour and I worked six days per week, from 7 a.m. to 5 p.m.," he recalled. "If it didn't rain, I'd take home $13.50 (a week). If it rained, you took home less."
Given his background, it shouldn't come as a surprise he's always been fascinated by mechanical things — especially cars. Back then, the driving age was 18. When Dupoise asked his parents for permission to get his first vehicle, they established one basic condition.
"They said, 'You can have a car when you earn enough money to buy one,'" Dupoise recalled with a smile.
He kept banking his wages until he had the $50 to buy the apple of his eye: A 1929 Ford Model A roadster, with rumble seat. It was a convertible with a yellow and tan color scheme.
"It was a great little car," he said, with a gleam in his eye.
If a car could quicken his pulse, a truck was appointment viewing.
There were few trucks to be seen in the Middlebury area during the 1930s, according to Dupoise. So when local businessman Joe Brown acquired a chain-driven International truck to make milk deliveries, Francis made sure he ran to the side of the road whenever he heard it coming through Weybridge.
PLASTICS WORK
Shoveling gravel for Weybridge's roads wasn't Dupoise's cup of tea; he was an avid and accomplished carpenter. But it was seasonal work. By 1942, he'd married his sweetheart, Helen Cyr, whom he'd met as part of a social group that played cards each week. He and Helen were building a family, so steady work was essential. During the mid-1940s, he heard a plastics company was going to set down roots in Middlebury.
Dupoise inquired with business partners Al Drewes and Gil Shaw. He was encouraged to sign up for one of the jobs.
"I saw how long the list was, and I didn't think there was any point in putting my name on it," he recalled.
But a year later (in 1947), Drewes and Shaw paid him a visit and offered him a job at Polymers Inc., running one of the synthetic fiber machines. Dupoise agreed, but with the proviso he be given a few months off each year to do carpentry.
Polymers quickly became his year-round job, as carpentry work dried up. Dupoise became a dedicated, 38-year employee ascending the ranks to a foreman, then plant manager who worked on some of the heavy machinery so critical in Polymers' manufacturing process. In its heyday, Polymers employed scores of workers who produced millions of synthetic fibers for brushes, artificial Christmas trees and other utilitarian items.
"I did just about everything there," he said with a smile.
His depth of knowledge and mental acuity is nothing short of stunning, especially for a person of his age. Ask Dupoise about a now-defunct downtown Middlebury business, and he'll more often than not be able to tell you the address, the name of the person who ran it, when it closed its doors, and what replaced it. If you're having a conversation about a local farm and misremember the person who founded it, Dupoise will call you on it. And he'll be right, of course.
"Retirement" hasn't meant much to Francis Dupoise, because he's always kept himself on task.
He's helped his children and some of his grandchildren with home construction projects during his golden years, and even during his spare hours while he was still at Polymers.
But he did find time in later years to occasionally lay down his hammer, saw and wrench.
He and Helen fell in love with square dancing; they were among a clique of around 10 local couples who regularly attended the Rutland Square Dance Club.
The Dupoises also had a camper, and took two lengthy trips out West to admire the Pacific coast and other must-see sites.
Helen is now 94, though sadly must receive residential care for memory loss.
SECRETS TO LONGEVITY
Francis doesn't have any profound or revelatory theories on what has led to his remarkably long, productive and full life.
He's convinced that staying active and inquisitive have kept him happy, healthy and enthusiastic to climb out of bed every morning.
He's never been a smoker, and is only a social drinker.
"I've never had much use for alcohol," he said matter-of-factly.
Treat your body well, and it will pay you back with extra mileage and few repairs. Dupoise has only been to the "shop" twice: once for a couple of heart valve replacements, the another time for a hip replacement.
Asked about his favorite foods, he chuckles. "I've eaten my share of pie."
Yes, Francis will eat just about anything you'd care to put on his plate, with one exception.
Chicken.
He explained that his mom used to raise and cook poultry throughout his childhood. So the family dined on chicken, or a variation thereof, multiple times a week.
"I feel sick just smelling it cooking," he winced playfully.
He now lives in New Haven, with family members nearby who make sure he's able to live as independently as possible.
"I couldn't have asked for better," he said of his life.
Reporter John Flowers is at [email protected].
More News
Blasting ledge could begin on Monday in Vergennes as work on the $25 million Vergennes Gra … (read more)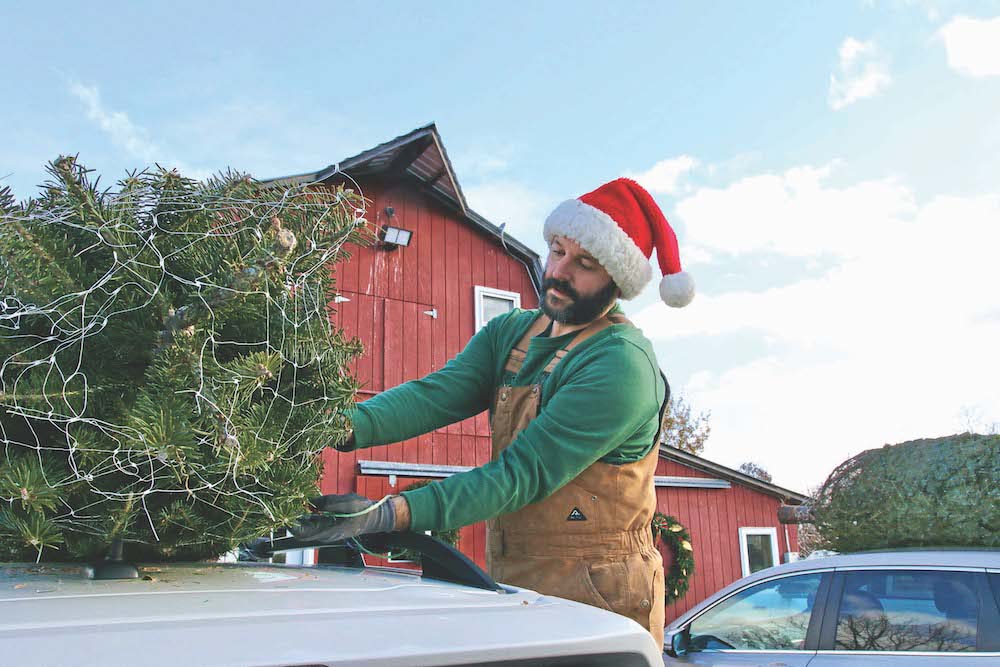 With the holiday season underway, county Christmas tree farms have begun welcoming visitor … (read more)
As the Middlebury Snowbowl prepares for opening day this Saturday, Dec. 9, loyal skiers an … (read more)