Postcards connect kids and elders
We're trying to find ways to connect students to people in the community who could use outreach or support. It's a nice way for young people go give back.
— Krista Siringo
BRISTOL, LINCOLN, NEW HAVEN — Volunteers in the Mount Abraham Unified School District have launched a program to connect local students to their fellow community members, especially elders and those in households without children in school.
The project, which evolved from an idea proposed by Bristol resident Sally Burrell during a recent (remote) school board Community Engagement Committee meeting, is called the "2 Way Postcard Initiative."
"Our hope is that students would send a pre-addressed and stamped postcard to a 'random' community member," explained Lincoln resident and school board member Rob Backlund in a social media post last week. "The recipient community member would then tear off the attached second postcard (already stamped) and return it to the student."
Burrell got the idea from the Tax Team in Middlebury, which sends out "double postcards" to its clients during tax season — one of which may be detached and returned. 
"I was thinking of people who might feel isolated (as a result of the 'Stay Home, Stay Safe' order)," Burrell said. "This also gives kids a chance to learn about an elder in their community."
Burrell has fashioned about 100 of the postcards so far, which are made from yellow card stock.
The project fits in perfectly with the mission of the Community Engagement Committee, said Krista Siringo, who chairs that committee. The COVID-19 pandemic has definitely spurred the team to move forward now, but it's the kind of project the community might have launched anyway.
"We're trying to find ways to connect students to people in the community who could use outreach or support," Siringo said. "It's a nice way for young people go give back."
In Bristol Siringo has been reaching out to the MAUSD community and to communities that serve elders to solicit participants for the program.
In Lincoln, outside the Lincoln General Store, Backlund has installed a "Little Red Box" where people can pick up pre-stamped and pre-addressed "2 Way Postcards." The box is labeled with instructions on how to fill out and send a postcard.
The last instruction, appropriately enough, is "Wash your hands."
Volunteers are also creating weekly writing "prompts," in case someone wants to participate but doesn't quite know how to begin a postcard note to someone they don't know.
In New Haven, Kim Callahan and fellow volunteers are working with the New Haven Congregational Church, the MAUSD Parent-Teacher Organization and the New Haven Mutual Aid group to launch the project in their town.
"Our postcards are done and we currently have about 40 names of seniors on our list," Callahan explained in an email last Friday. "We are also running a spring poster project so kids can share their artwork with community members on our Facebook page… All in all, there is plenty of excitement and we are looking forward to this initiative in a time of isolation and fear for so many." 
To coincide with the area schools' spring break, New Haven's Mutual Aid group is making free posterboard and markers available to kids to express their feelings about the arrival of spring. Pick up the are supplies on the porch of the New Haven Congregational Church at the town green.
The 5-Town group is hoping to keep the project going through at least May 15, Backlund said, "connecting our community one TEXT message at a time!" 
In the meantime they're looking for volunteers in Monkton and Starksboro to launch the project in those towns. For more information about the project, or to volunteer or nominate someone to receive a postcard, contact Krista Siringo at [email protected].
Reach Christopher Ross at [email protected].
More News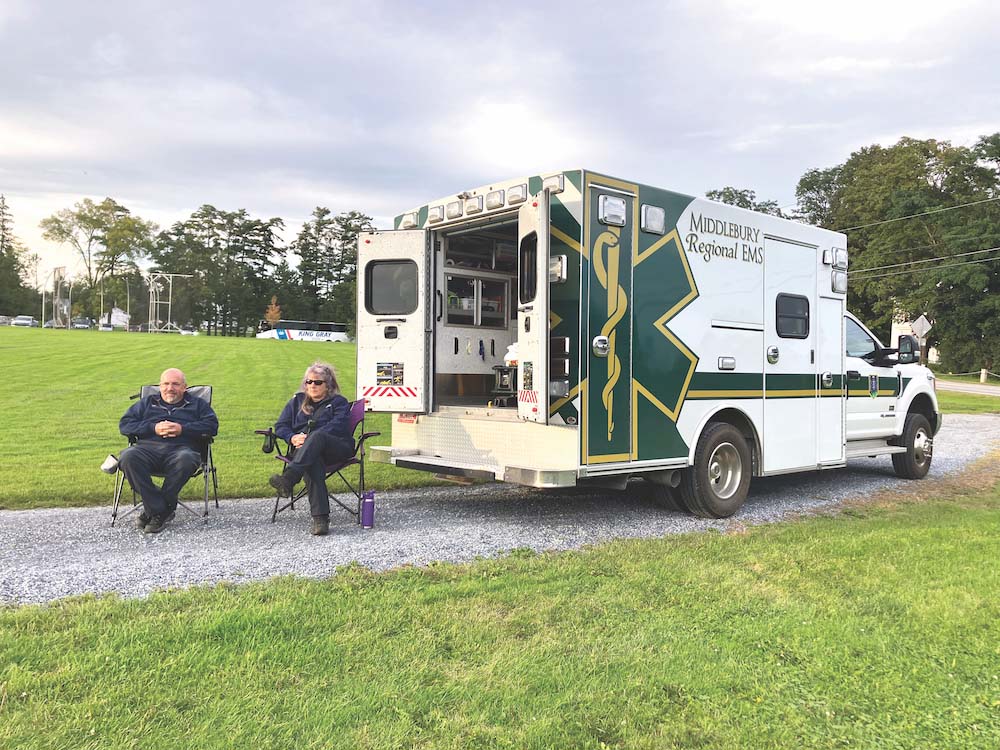 Middlebury Regional Emergency Medical Services wants to eliminate its annual Town Meeting … (read more)
Middlebury police are investigating the death of a Middlebury College junior and say the p … (read more)
Vergennes resident Margaret Clifford offers nearly a century of recollections, from losing … (read more)