Vergennes-area leaders discuss cash crunch, PPE, enforcement issues
VERGENNES — Twenty-two civic leaders from five Vergennes-area communities on Wednesday morning met virtually to discuss COVID-19 issues, including the towns' upcoming cash crunch, ongoing difficulties in obtaining personal protective equipment, and the challenge of enforcing the social distancing necessary to fight the coronavirus pandemic.
Officials from Vergennes, Ferrisburgh, Panton, Waltham and New Haven agreed that June 1 payments due to school districts could pose a problem to their communities. 
Many of the property taxes that fund their school operations are collected through monthly payments to banks, payments that in many cases are not being made by unemployed and under-employed homeowners. 
Officials such as Vergennes City Manager and Wednesday's Zoom meeting host Dan Hofman said towns might not be able to meet both their own payroll obligations and make June 1 installment payments that range from $800,000 in Panton to $1.4 million in Ferrisburgh.
"If we didn't have that school payment we'd be fine," Hofman said. "Maybe we could work something out with the schools."
Panton Selectboard Chairman Howard Hall echoed Hofman: "If you take all my cash, and I have to pay my whole bill, how do we keep going?"
Addison Northwest School District Board Chairman John Stroup said he had spoken to Rep. Diane Lanpher, D-Vergennes, who has a standing Wednesday morning obligation and could not attend the online meeting.
Stroup said Lanpher told him the Legislature is working on the issue, and in the meantime local school officials understand the problem.
"This is a statute," he said. "This isn't the school districts sitting with their hands out."
Stroup and Rep. Matt Birong, D-Vergennes, both suggested Community Development Block Grants through the Department of Commerce could help the towns. 
Stroup said a public hearing on how those grants could be used is scheduled for April 12, and federal funding would arrive in Vermont on April 24. 
Birong suggested short-term loans could serve as a bridge to grants, which he described as "pretty unrestricted cash."
He added, "No one is getting hit hard for late payments right now."
Ferrisburgh Town Clerk Pam Cousino and Hofman both said communities could rely on tax anticipation loans if necessary.
Hofman concluded the towns could in a pinch, "borrow money and keep each other informed."
PROTECTIVE EQUIPMENT
Hofman said he was still waiting for an out-of-state shipment of 2,000 masks that had been expected this past Friday; he described the masks as "in transit."
United Way of Addison County Executive Director Helena Van Voorst said she was struggling to find personal protective equipment (PPE) for United Way member agency Addison County Home Health and Hospice, which was providing in-home care to COVID-19 patients. 
Its caregivers were at serious risk, Van Vorst said. 
Vergennes Police Chief George Merkel said he could provide her with a source. Merkel also said his department was one of about a dozen that would be receiving PPE from the Vermont Department of Public Safety, and that private companies such as W.B. Mason and Foley are now delivering some PPE and hand sanitizer. 
Towns' PPE costs during the crisis will not be federally reimbursable, officials said.
DISTANCE ENFORCEMENT
Merkel said his department has responded to up to a dozen complaints about residents failing to comply with social-distancing recommendations, but he described citizens in the area as "mostly compliant."
The social-distancing order does not contain enforcement provisions, and police are limited in how they can handle non-cooperative citizens, according to Vergennes Mayor Jeff Fritz. 
"The police department is watching for people congregating and politely asking them to disperse," Fritz said. 
Fritz agreed with Merkel on the city's level of compliance.
"Main Street is very quiet. People are staying put," he said. 
Merkel said a Thursday conference call with Vermont Public Safety Commissioner Michael Schirling and other state police chiefs should "provide guidance" on how officers could enforce social distancing.
In other business, meeting attendees:
• Heard from Birong that the Legislature is focusing on the final quarter of the fiscal year, with the Education Fund "looking dire." Lawmakers are also hitting "the pause button" on evictions "other than extreme scenarios," he said. He agreed with questioners that at least some local road grants might not be forthcoming his summer. 
But Birong said order is beginning to emerge from chaos in Montpelier. "Everyone is doing a wonderful job," he said. "We're starting to plan ahead."
• Heard from Fritz, also a Boys & Girls Club of Greater Vergennes board member, that the club would be delivering 265 meals to young families and seniors in the Vergennes area on Wednesday, and the daily delivery numbers continue to grow. 
Fritz added the city's evening "clang and bang" car parade through downtown neighborhoods has continued to grow, with close to 30 vehicles on Sunday and Monday. 
• Heard from Stroup that ANWSD will continue to provide meals during the April break, but not through bus routes. Meals will be available to be picked up at Vergennes Union High School, he said. 
More News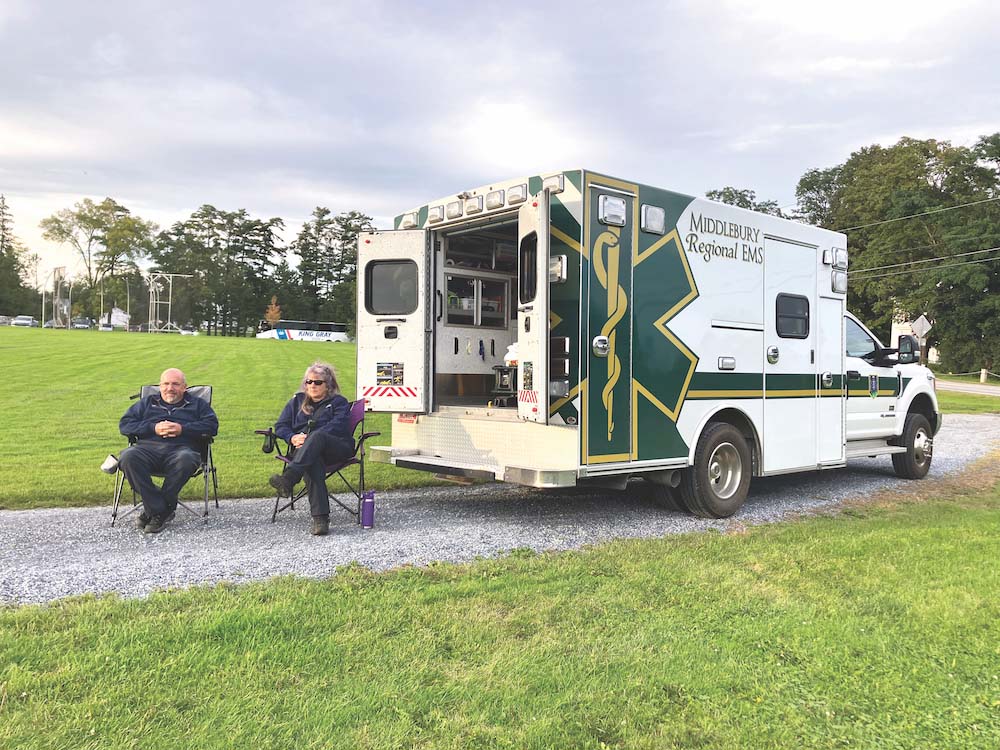 Middlebury Regional Emergency Medical Services wants to eliminate its annual Town Meeting … (read more)
Middlebury police are investigating the death of a Middlebury College junior and say the p … (read more)
In the course of her almost 101 years on Earth, Vergennes resident Margaret Clifford, bett … (read more)