North Branch kids keep their daily routines
The 'work' of school is intensely social.
— Tal Birdsey
RIPTON — The North Branch School may have suspended on-campus classes for a while, but its 28 students, now learning from home, still observe a daily school routine that connects them to their teachers and classmates.
"We try to replicate a school day," said North Branch founder and head teacher Tal Birdsey in a phone interview this past Thursday. "We start at 8:15, have a (meeting), and have work time. Our feeling is kids are going to need some structure."
Located in Ripton, North Branch is an independent school with grades 7–9. 
On March 12, in an effort to protect the school and local community during the coronavirus pandemic, the school sent its students home, where they will be connecting to the school remotely until further notice.
In an effort to maintain as much continuity as possible, the school has focused on making sure that students and teachers can see one another.
"We thought it's important that we see them, visually, so we opened our first Google Hangouts (that first week)," Birdsey explained. "Everyone logged on, and they were shouting and laughing and seeing each other at home and the cameras were going crooked every which way and you could hear people's dogs barking and see their little sisters and all that."
That social contact, Birdsey suggests, is essential.
"What has become clear to me again in a way I could never have known before is that for children, the 'work' of school is intensely social," he wrote in a follow-up email. "In our case, kids come to school to learn how to be humans in a community and to find their place in that community and the ways they can contribute to building that community… Much of the 'school work' in school — while certainly designed to build skills — is really secondary to this deep involvement in the making of the social fabric."
Technology-wise the transition has been a steep learning curve for Birdsey and his colleagues, science teacher Rose McVay and math teacher Steve Holmes. They've been using Google Classroom tools and were transitioning their video meetings to the Zoom platform this week.
"And we've already made about 50 changes to how (online learning) could work better," Birdsey said.
Sometimes they've gotten it just right.
"We've been studying civil rights all year, so I made a slideshow about the Birmingham Children's Crusade in 1963," Birdsey said. "The kids could see the slideshow on their screens and they could hear me talking, so I talked through the slideshow. After we talked about it and they asked questions, they all left the slideshow in our class session and went and watched a video in the afternoon. Then they logged in a response on Google Classrooms. It felt pretty seamless"
RAPID CHANGE
Students, too, are having to make significant adjustments, not only to their new school routines but also to the changing world around them.
"It snowed on Tuesday night, and there was a blanket of white outside my window when I awakened," wrote Giles Heileman, an eighth-grader from Ferrisburgh, during a remote Google Doc–based school meeting last week. "It melted very quickly though. It was sudden. One minute it was there, the next it was gone. It seems like everything that is happening has been happening so suddenly lately."
On March 11, the day before North Branch decided to move online, the Vermont Department of Health announced that a second person in the state was presumed to have COVID-19, the respiratory disease caused by the coronavirus. 
On March 19 health officials reported 22 cases in the state, and two COVID-19-related deaths. The same day, VTDigger reported that Vermont could have 16 times more infections than had been officially reported. By Wednesday, March 25, there were 123 COVID-19 cases in Vermont and eight deaths.
In Vermont and around the country, institutions, businesses and communities are shutting down and citizens are practicing social distancing with the hope of slowing the spread of the coronavirus.
Lincoln resident Isabelle Wyatt, an eight-grader at North Branch, has been trying to process it all.
"Yesterday afternoon after all the classes were done, I grabbed my field journal and went to take a walk down near the river behind my house," she wrote to the school community last week. "It was good to see that the natural world was still the same as ever. The river still flowed in the right direction, the birds still sang from the trees, the bulbs that had lain dormant over winter were starting to come up just like they always do. No amount of worry or fear or panic affects them and soon they will bloom just as they always have done. I guess this makes the fear seem smaller and less important, when you see something that is not affected by it or consumed by it. It gives me hope."
ROUTINES
Maintaining a regular schedule from his Middlebury home has been really helpful for seventh-grader Finn Myers, said his mother Caitlin Myers.
"It has given his days structure and meaning," she told the Independent. "Staying connected gives him a reason to get up and eat breakfast every morning."
And the school's tradition of holding a Quaker-style morning meeting, which it has successfully transitioned online, has given Finn a crucial outlet for sorting through and articulating his thoughts about what's happening in the world right now.
This is the first time that Finn and his parents and his three siblings, who attend Middlebury public schools, have attempted to "work from home," said Caitlyn Myers, a professor at Middlebury College who is currently on sabbatical.
"We're still trying to figure out how this will work, but we've been talking about how to be respectful of each other's spaces," she said on Friday. "It helps that our kids are older. Our youngest is 11."
The Addison Central School District suspended in-person classes on March 17.
"We've been really grateful for the communications from the (ACSD) teachers," Myers said. "I think they've been handling this situation with grace and care."
Myers added that she hopes the community will continue to support its schools in every way possible.
"The schools will play a really important role in helping us all get through this."
RITUALS
With field trips and gatherings of any kind suspended in Vermont for the foreseeable future, schools like North Branch are looking for creative ways to continue their traditions.
"Our ninth-graders in particular are devastated because they were just coming into the sweet spot of their three-year experience," Birdsey said. 
The school would ordinarily write and produce a play in the spring, and then ninth-graders would go on a three-day hike of the Long Trail. 
And of course everybody's thinking about graduation.
Though some students are still hoping that classes will resume on campus this spring, Birdsey and his colleagues have to plan as if that won't happen.
"I think we could carry (online classes) to June 10," he said. "That would be my ambition. And then somehow have a closing ceremony. I think that next fall — assuming we get through this thing with some semblance of normal — we should start the school year with a closing ceremony, so (this year's ninth-graders) and their families can have some way to feel like they've ended it. And I think it would also make a good starting point for next year."
Reach Christopher Ross at [email protected].
More News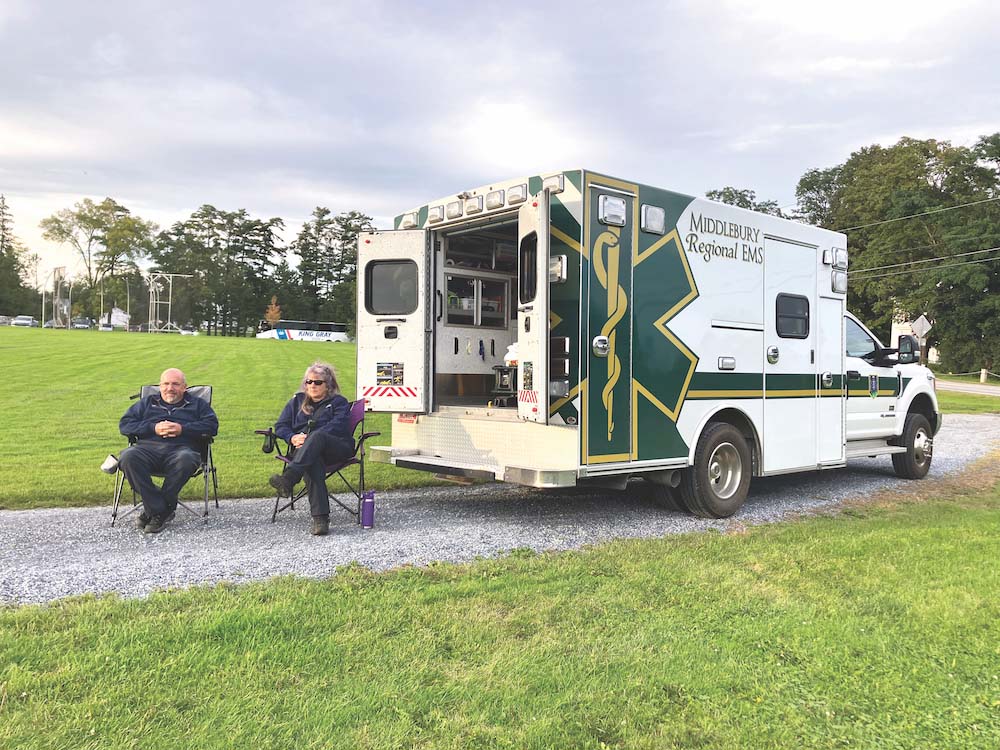 Middlebury Regional Emergency Medical Services wants to eliminate its annual Town Meeting … (read more)
Middlebury police are investigating the death of a Middlebury College junior and say the p … (read more)
In the course of her almost 101 years on Earth, Vergennes resident Margaret Clifford, bett … (read more)