High school hoop teams created lasting memories
ADDISON COUNTY — This winter was not one that ended with the area's high school basketball teams cutting down nets and earning banners to hang in their gyms.
But along the way the teams created memorable moments and made many a clutch individual or collective play. 
Three girls' teams — from Mount Abraham, Vergennes and Otter Valley — all posted strong winning streaks and won playoff games.
Others dealt with injury — such as the Middlebury boys, who also won a playoff game, and again the Eagle girls — but still fared well. 
Another, the MUHS girls, won five times with a team with just two seniors and one junior — and that's a step forward after a winless previous campaign, with likely more to come. 
The Mount Abe boys ended up with the same number of wins, eight, but played much better and more cohesively — six losses by six points or fewer, two to MUHS and one of those in overtime.
Here are some of the high points from my winter of court coverage, with one caveat: These observations cannot be complete. Frequent weather schedule changes and the fact many rivalry games were played on Wednesdays — too late for our Thursday deadline, and too early to be covered for our Monday paper — meant I missed several great games. I did not see the Eagle and Tiger boys square off in two nailbiters, or the Eagle girls avenge their loss at VUHS with an overtime win at home, for example.
But there was still much to remember. 
In the first game I covered, on Dec. 17, it rained indoors on the VUHS boys — the visiting Otters rained eight first-half three-pointers on the Commodores — including four by junior Dylan Gaboriault and three by junior Alex Philo — and then fended off a VUHS rally for a 62-20 victory.
The OV girls had an up-and-down campaign before winning five straight to reach the D-III quarterfinals. But night-in and night-out they could rely on senior Livia Bernhardt to provide points and rebounds. But they didn't usually come the way they did at MUHS on Dec. 18, when Bernhardt scored eight straight points during a 15-0 Otter run to put the game away in the first half. Bernhardt capped her personal surge with a three-point play on a strong drop-step move.
Another strong inside player, Commodore Kate Gosliga, tossed in 20 points, mostly in the second half, as the VUHS girls lost in overtime to one of Division II's top teams, Harwood, on Dec. 21. Many came when she was moved to the high post and nailed jumpers, but a sweet, full-speed finish in transition that tied the game early in the fourth quarter stood out. 
One personal highlight came on Jan. 7, when I won a gentleperson's wager with Eagle senior guard and ball-theft expert Chloe Johnston after the Mount Abe girls defeated U-32, 45-34. 
I talked to her after the game. Before we saw the stats, I told her she must have had 10 steals. She said no way. We were both happy I was right — it turned out she stole the ball 11 times when we checked the Eagle stats. The most memorable came under the Eagle basket, when some unfortunate and much bigger Raider made the mistake of bringing the ball down within Chloe's reach after a rebound. She snatched it away from her stunned opponent. Johnston reached double digits in steals several times this winter.
On Jan. 17, back at Mount Abe, Eagle senior all-star and three-year starter Liam Kelliher basically lived out every athlete's fantasy — making the game-winning basket with the clock ticking down. 
Locked in a 44-44 tie with scrappy OV, the Eagles called time out with just a few seconds left and drew up a play for Kelliher. They inbounded in front of the Eagle bench to the top of the key and then moved to ball to the far baseline, where Kelliher, with help from a Griff Paradee pick, took a couple dribbles and pulled up for a 12-foot jumper. It went through the net cleanly with 3.2 seconds to go, and the Eagles won. 
On Jan. 23 something happened for the first time in about a decade: The VUHS girls defeated Mount Abe, 35-25. Many Commodores had a hand in the win, but sophomore Felicia Poirier's 10 points, eight rebounds and especially her seven steals played a major role. The Commodores took a big lead, but the Eagles did make a late run. But Poirier twice ranged far to pick off passes in the paint during the final three minutes to seal the win. 
Sadly, that game was also notable because Eagle sophomore three-sport standout Grace Harvey, also a teammate of many VUHS students on the schools' cooperative girls' lacrosse team, went down with a serious knee injury. All continue to wish her well and look forward to seeing her back in action in the coming school year.
To their credit, the Eagle girls promptly went on a winning streak. On Feb. 4 they knocked off visiting MUHS. Their best stretch came late in the first quarter in which Johnston and sophomore Abby Reen combined for eight straight points. At 3:25, Reen drove and dished to Johnston for a three-pointer. A minute later Reen took it all the way to the hoop for two, and a minute after that Johnston slashed into the lane and found Reen behind the arc for another three. Good stuff. 
On Feb. 8 the host Eagle boys ratcheted up the defense and outscored the Commodores by 18-4 over the first 7:08 of the second period. Kelliher tossed in seven points and five other Eagles scored in the stretch. It included probably the best play of the winter. 
A fast-break pass went long for Kelliher, forcing him to jump over the baseline at full speed to save the ball. He turned in mid-air and found Eben Clifford near the right sideline. Clifford quickly relayed to Jackson Gepfert cutting down the lane for the transition hoop. I wish I had the video.
On Feb. 20 the VUHS girls had a huge second half to defeat Missisquoi, 56-37. Now, free throws are not the most exciting part of basketball, but the abilities to draw fouls and convert from the line are important parts of the game. Gosliga hit 16 out 20 free throws, an 80 percent rate. A point of reference: NBA players hit 75% of their free throws. When the Commodores bowed out of the playoffs in the quarterfinals, Gosliga nailed 15 of 15 and scored 25 points. 
Because of scheduling quirks in the playoffs — the deserving Tiger boys and Mount Abe girls both played on Wednesday, again, after our deadline for the Thursday edition and too early for our Monday paper — intrepid photographer Steve James and I ended up back on a Tuesday covering the No. 7 Commodore girls in the D-III playoffs. 
It proved to be memorable. They barely stayed afloat for a half against visiting No. 11 Fairfax, which like VUHS entered with a 12-8 record. Then 10 Commodores did something to help their team bounce back and win with a 40-point second half. 
 But it's hard not to single out senior Emily Rooney for shutdown defense on the Bullets' leading scorer, Gosliga for another 17 points and nine boards, and Poirier for scoring all 16 of her points and grabbing most of her 10 steals in the second half. On one play Poirier picked off a pass in the defensive paint, bolted down the left side and banked in a contested five-foot runner as an exclamation point for the program's first home playoff game and win since 2011.
That was the last high school action I saw live this winter, and it looks like this year, and it was as good way to end as any.
More News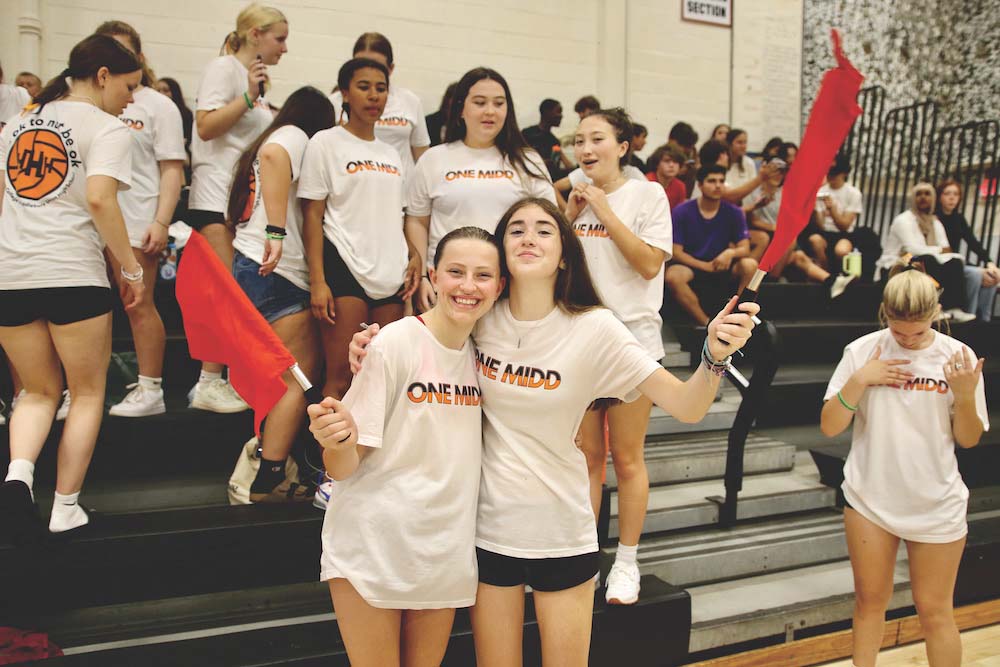 Considering the Middlebury Union High School volleyball team's decidedly successful record … (read more)
In a hard-fought girls' soccer match on this past Saturday, Middlebury outlasted Vergennes … (read more)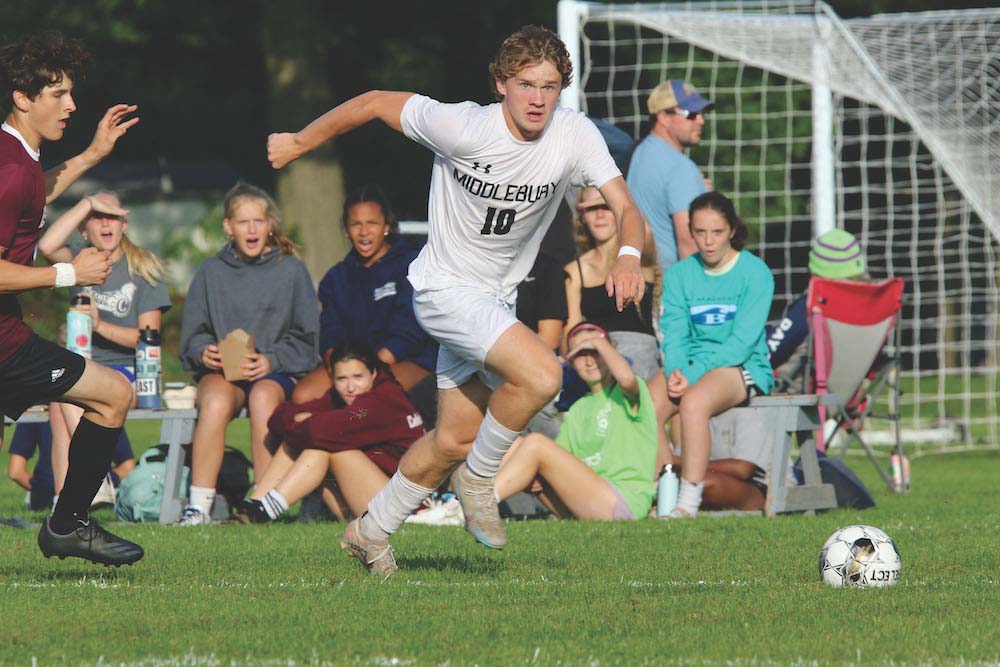 The Middlebury Union High School boys' soccer team survived a scoreless first half in whic … (read more)