Town meeting results: Bristol
BRISTOL — Residents of Bristol elected another new member of the selectboard on Town Meeting Day.
Darla Senecal defeated Bill Mount, 763 – 487, for a two-year term on the board.
"I am so happy to be able to serve my community as a selectboard member," Senecal told the Independent in an email. "I was 20 when I moved to Bristol. I basically grew up here. I raised my family here. This community gave me the opportunity to create a home and lifelong friendships with people that I care deeply about. I hope to serve them all well."
Incumbent selectboard member Michelle Perlee, who was running unopposed, was re-elected for another three-year term.
The following also won election unopposed: Jen Stetson Myers, town clerk and town treasurer; Bruce Nason, first constable; Brian Fox, second constable; Robert Wilkey, library trustee; and Fred Baser, town moderator and town agent.
At Monday night's annual town meeting, Bristol voters approved the following budget items without amendment:
•  $922,799 in general fund spending.
•  $815,365 in public works and highway spending.
•  $300,653 for the Arts, Parks and Recreation Department.
•  $105,756 for voted appropriations.
•  $512,000 for various town reserve fund accounts.
•  $144,248 for Lawrence Memorial Library.
•  $29,000 for the Bristol Cemetery Association.
•  $3,000 for the Turning Point Center of Addison County.
Voters also OK'd various uses for the June 30, 2019, General Fund undesignated fund balance, the largest piece of which ($52,620 plus interest) to pay the balance of the South Street Bridge loan. Also, $10,000 will be used to establish a Cemetery Reserve Fund to maintain, repair and preserve cemeteries owned by the town.
For the rest of the fund balance they approved transfers of $20,000 to the Capital Building Fund, $25,000 to the Capital Paving Fund and $30,000 to the Capital Sidewalk Fund.
Voters who live in the Bristol Police District (primarily the village) approved $452,370 in spending for next year.
The school district budget and an additional article passed easily. Bristol voters, along with voters from the four other Mount Abraham Unified School District towns, approved a $31,399,182 spending plan for the coming school year, 2,391–1,611, with all ballots commingled.
They also approved the creation of a Capital Reserve Fund, to be initially funded with $610,118 of the district's audited fund balance existing on June 30, 2018.
Annie Denny ran unopposed for a Bristol seat on the MAUSD board and was elected for a three-year term.
A second three-year term on that board will be filled by David Sharpe, who ran as a write-in candidate and won election with 181 votes.
In Bristol 1,053 ballots were cast in the Democratic Presidential Primary and 278 in the Republican Presidential Primary.
Bernie Sanders topped the Democratic field with 598 votes. He was followed by Elizabeth Warren and Joe Biden, both with 164 votes; Mike Bloomberg, 76; Pete Buttigieg, 18; Tulsi Gabbard, 10; Amy Klobuchar, 9; Andrew Yang, 5; and Tom Steyer, 3.
For the Republicans it was Donald Trump, 233 votes; Bill Weld, 34; and Rocky De La Fuente, 5.
More News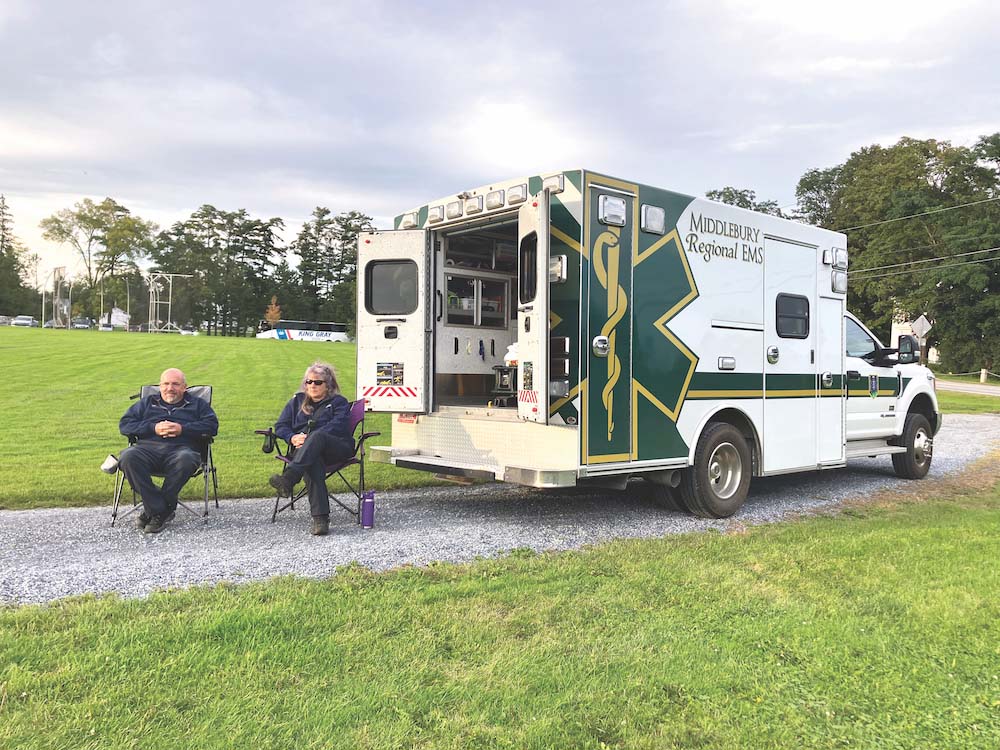 Middlebury Regional Emergency Medical Services wants to eliminate its annual Town Meeting … (read more)
Middlebury police are investigating the death of a Middlebury College junior and say the p … (read more)
In the course of her almost 101 years on Earth, Vergennes resident Margaret Clifford, bett … (read more)