Volunteers scanned day and night to count birds
MIDDLEBURY — In this year's annual Christmas bird count in Middlebury, 41 field birders and 17 observers at feeders located and identified 28,839 birds of 62 species on Sunday, Dec. 15. This is ten fewer species than we found in each of the last three years and 4.6 species lower than our average of 66.6 over the last 31 years; however, the total number of individual birds is almost 12,000 above average.
We survey a 15-mile-diameter count circle centered on the Lemon Fair river in eastern Bridport and covering from the A & W Root Beer stand on the east to New York State on the west and from Snake Mountain on the north to Richville Dam on the south. The Middlebury bird count is one of over 1,800 held throughout North and Central America.
Owling teams started the day in the predawn blackness. Field birders met them at 6 a.m. for breakfast and an organizational meeting then headed out to their assigned territories.
Most territories were covered by a group of two to four field birders and a few feeder watchers. One or two experts familiar with birding and the assigned territory accompanied each team of field birders. At the end the day, the field teams met at the home of Jim and Kris Andrews for dinner and a preliminary tally of the species seen. Reports from feeder-watchers came in over the next few days and were added to the total count.
Very cold temperatures early this fall appear to have driven many half-hardy birds further south. In addition, still water froze and drove many water birds either north to the wider portions of Lake Champlain or south to the ocean coast. However, large portions of Lake Champlain reopened during the days before the count and some waterfowl and gulls moved back into the count circle.
Field teams located 13 of the total of 44 water-related species that have been found during the count over its history. This is higher than the average of 11.8 water-related species. In addition, Bald Eagles moved back in and contributed to an all-time-high total of 27 Bald Eagles in the count circle. Bald Eagles often hunt for fish and waterfowl along the boundaries of the ice in larger lakes and rivers. The previous count record was 15 Bald Eagles back in 2016 and the average over the last 31 years is only 3.3. Much of the increase is due to a successful recovery of this species in Vermont over the last few decades.
The most unusual of the water-related birds located during the count was a single Lesser Black-backed Gull spotted by Paul Wieczoreck. This is only the second time during the history of our count that this species has been found within the circle. The species is common in Europe and its numbers have been increasing dramatically in eastern North American over the past few decades.
Many feeder watchers reported very few birds at their feeders this fall before and during our count. This may seem hard to believe given that our total of 28,839 individual birds was the highest number of individual birds seen in the 31 years of our count and 12,000 over our average of 16,940. However, it is easily reconciled given that the total of European Starlings this year was 17,463. Eleven thousand more than the average number of starlings seen in our count.
In addition, numbers of individual Common Crows, American Robins, and Canada Geese were all well above average. Subtract the additional 11,000 starlings, 1,800 crows, 1,200 robins and 900 geese and the total numbers of individuals of birds would drop to around 14,000 birds.
Starlings are not native. They were introduced from Europe into Central Park in New York City by fans that wanted all the birds mentioned in Shakespeare's plays to be found in New York. It is estimated that they released a combined total of 100 birds in 1890 and 1891. Those relatively few birds are the ancestors of the 17,463 starlings we counted. Why are all those starlings here? It may be they are here for the same reason as all the robins, namely the abundance of small fruit this year on junipers, crab apples, dogwoods, sumac, and other trees and shrubs.
One reason feeder watchers reported fewer birds could be that those birds are finding plenty of natural food on their own. Another possible reason is that almost none of the northern seed-eating birds have come down from the north this year. There were no grosbeaks, crossbills, redpolls or siskins found during the count.
In addition, many of those species commonly found at feeders, such as Blue Jays, Black-capped Chickadees, Red-breasted Nuthatches, Northern Cardinals, Tufted Titmice, Carolina Wrens, House Finches, Song Sparrows and Mourning Doves were here, but were found in numbers well below average. Some of the low numbers may be due to birds seeking cover as a result of increasingly strong winds during the afternoon of our count, but despite that handicap, numbers of many bird species seemed low this year. 
Despite the challenges, field teams still found some unusual species. Spencer Hardy located a Chipping Sparrow at an active set of feeders and Warren King, Barry King, and Dave Hof located a Swamp Sparrow along Otter Creek. These two species are usually well south of Vermont by December. Also the team of Kathy and Gary Starr and Marcia and Jeremiah Parker located a single Yellow-bellied Sapsucker in Shoreham (see photo). Sapsuckers have become more common as wintering birds in the north as our climate warms.
Wind noise makes it harder for owls to be heard by owling teams and perhaps harder for the owls to hear birder recordings. Still, for the second year in a row they located record-tying four Saw-whet owls, as well as three Eastern Screech Owls, three Great Horned Owls, and a single Short-eared owl. No Snowy Owls were located this year, as was the case last year, but that is not all that unusual. Snowy Owls are only sporadic visitors to our area. Far more unusual was the complete lack of Barred Owls heard or seen this year. Last year 24 Barred Owls were located, and the average is 5.3 per year.
Field teams found only a single Ruffed Grouse. In the late 90's twenty or more of these birds were found. This is almost certainly the result of the loss of habitat. Only 13 Wild Turkeys were found, probably because they were mostly roosting and not easy to find. 
Other than the thousands of starlings, a few other new record highs were set. Mixed in with all the berry-eating American Robins were 24 Northern Flickers. This surpassed a previous high of 19 flickers found back in 2007. The 60 Common Ravens found beat the previous high of 57 and was well above our average of 21.6 birds. This is another species showing a long-term recovery here in Vermont. 
A total of 17 Horned Larks was well below the average of 320.1 and 72 Snow Buntings is disappointing compared to the average of 345.8. They are harder to find when without snow cover. Snow pushes the two species to the plowed edges of roads to find food. In such circumstances they are regularly flushed by passing cars.
The total of 62 species is the lowest total in a decade. These numbers fluctuate annually based on weather events before and during the count, food availability here and north of us, and the availability of open water in our count circle, so most likely do not indicate long-term trends for most species.
Final results of our count were then compiled and entered online and made available for casual browsing or scientific study at the National Audubon Christmas Bird Count (CBC) website at audubon.org/conservation/science/christmas-bird-count.
A Christmas Bird Count is a team effort between field teams and feeder watchers. This year included an excellent number of field birders (41) but reports from feeder watchers still need to be increased.  Organizers are looking for additional people who live within the count circle, can identify the birds they are seeing, and who are interested in reporting what they see at their feeders. If you are interested in reporting your feeder birds or participating on a field team next year, contact Jim or Kris Andrews at 352-4734. Thanks again to all the volunteers and landowners.
More News
Blasting ledge could begin on Monday in Vergennes as work on the $25 million Vergennes Gra … (read more)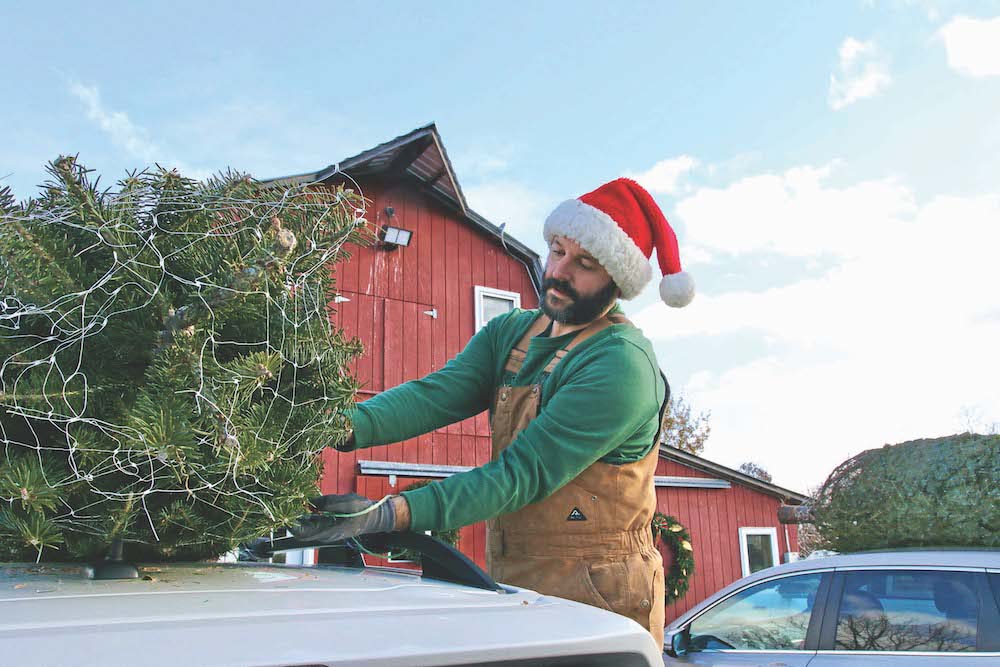 With the holiday season underway, county Christmas tree farms have begun welcoming visitor … (read more)
As the Middlebury Snowbowl prepares for opening day this Saturday, Dec. 9, loyal skiers an … (read more)