Calendar by local artist celebrates Vergennes
VERGENNES — This past summer Erin Daigle painted oil paintings, plein-air, of 12 Vergennes businesses, and the paintings are being put together in a 2020 calendar called "Vibrant Vergennes." The paintings are of Vergennes storefronts and restaurants. Each month of the calendar includes a brief statement from each business letting people know a little about them. 
Daigle will host an opening reception this Friday, Dec. 6, 5-7 p.m. at Kennedy Brothers on North Main Street, where the original paintings will be on display until the end of February. 
The Franklin County native was living in Chittenden County when started spending time in Vergennes in 2015 after meeting her boyfriend, who lives in Panton. 
"My initial impression of Vergennes was that it was small, quaint and had a surprising amount of quality local food and live music," Daigle said. "I found it really easy from the time I first started coming here to get to know this community and start forming my own friendships."
She said that since Vergennes is a small city, people see many of the same faces each time they go out to eat. Vergennes also puts on a lot of events, like shows at the Vergennes Opera House, Winter Carnival, Vergennes Day, the farmers market, etc. 
"All of that has made it easy to participate in things and feel like I belong," Daigle said. 
A long-time painter, she primarily creates her works from reference photos — usually people's pets. She got the idea to make a calendar this past January. 
"I just thought, wouldn't it be cool to paint a dozen spots around town and turn it into a calendar?" Daigle recalled. "My inspiration was just that it's a place I like with lots of great restaurants and shops to highlight. I had a sense that the Vergennes community would like the idea of a calendar."
She also believed it would be nice to bring some attention to the businesses that she likes, and quickly got a sense of most of the places she wanted to paint. Still, she didn't have the whole project mapped out from the start, and she wasn't even sure it was possible to complete 12 paintings in one summer. 
She also didn't have much experience painting plein-air — outside — let alone in public. 
"I started in June and one by one I just kept painting until I had 12, plus a 13th painting (a cityscape scene of Main Street) for the calendar cover, which I completed in October," Daigle said. "So I was out there in the summer heat and the fall cold. I learned a lot by painting directly from life versus painting from photographs. It was also pretty vulnerable and exhilarating, as far as the whole experience went."
Painting is just a hobby for Daigle, she has a paying job. So this painting project was all done in her free time. Each painting took eight-20 hours to complete. Some she completed in just a couple sessions, but for some she had to go back to the same spot several times. 
"The amazing part was that after just a few times being out there, people would start approaching me saying, 'Hey, I saw you over there the other day, now you're over here, what are you doing?'" Daigle said. "They seemed genuinely curious and excited when I said, 'I'm making a calendar of Vergennes!' It was really encouraging. People would drive by and honk or wave or call out to me. I had repeat people that I got to know, as well as talking with tourists and visitors."
One major life change that made this project possible was a change of jobs that Daigle undertook in April.
A social worker by training, she had been a case manager at Howard Center in Burlington for more than 10 years. The long commute from Panton to Burlington since 2015 was getting old.
"I finally decided I just didn't want to do that anymore along with feelings of not enjoying that career anymore," Daigle said. 
She works at Middlebury Natural Foods Co-op now, which is a shorter commute and a fun workplace. Her schedule is such that a couple days a week she gets out at 3 p.m., which opened up more time to paint Vergennes.
"That never would have been possible with my previous commute and schedule," Daigle said.
"2019 felt like a big year for me, of being brave and taking risks to go after something else in life."
The original paintings that will be on display at Kennedy Brothers are for sale. Daigle is still working with the printer (Precision Print in Vergennes) on the final layout of the calendar, so she hasn't set a final price, but expects that it will be around $19. They will be sell them directly through her website, erindaigleart.com, and also at a few local shops. 
If things go well, she will also have some greeting cards, post cards and prints for sale, as well. 
More News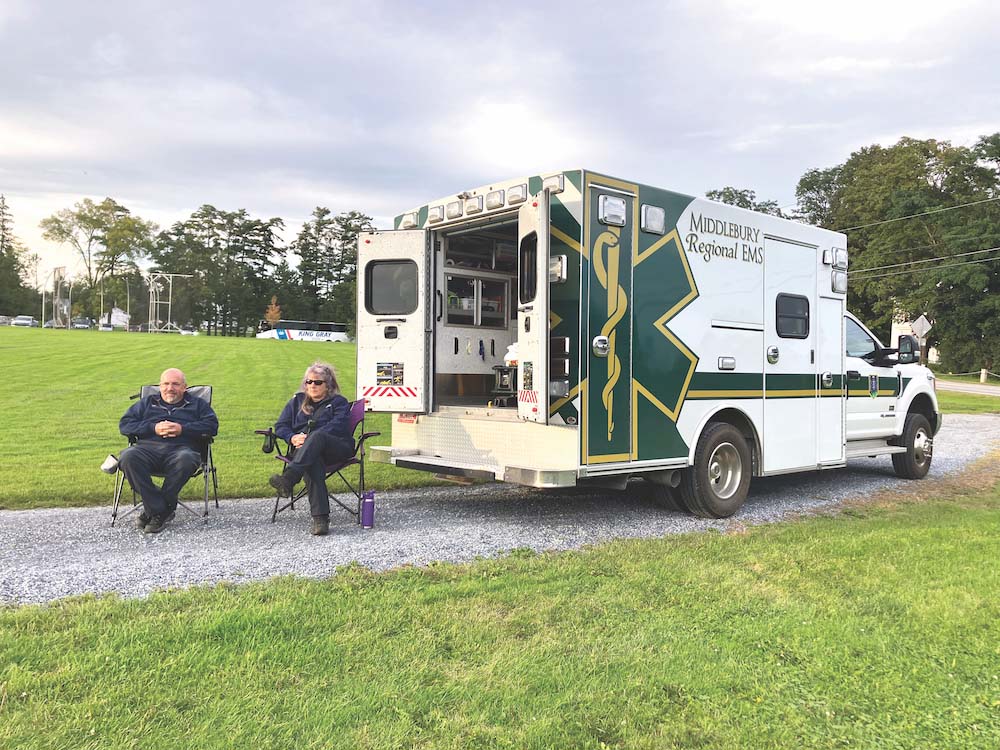 Middlebury Regional Emergency Medical Services wants to eliminate its annual Town Meeting … (read more)
Middlebury police are investigating the death of a Middlebury College junior and say the p … (read more)
Vergennes resident Margaret Clifford offers nearly a century of recollections, from losing … (read more)