Founder of Burton Snowboards dies
STOWE/BURLINGTON — Jake Burton Carpenter, the founder of Burlington-based Burton Snowboards, died Wednesday evening of complications from cancer, the company announced Thursday. He was 65. 
Carpenter founded Burton Snowboards out of his Vermont barn in 1977, and the company grew to be one of the premier snowboard companies in the world and one of the signature companies based in Burlington. 
John Lacy, the company's co-CEO, sent an email to staff Thursday morning informing them of Carpenter's death. Top of FormBottom of Form
"He was our founder, the soul of snowboarding, the one who gave us the sport we all love so much," Lacy wrote. "This all happened very suddenly, and it's a tremendous loss for his family, his friends and all of you."  
Carpenter is the "godfather of snowboarding," as the New York Times described him. Burton is an industry leader, sponsoring leading snowboarders and pioneering new snowboard designs. 
Carpenter had faced serious health issues in recent years, including a rare nerve disease called Miller Fisher syndrome that left him temporarily paralyzed in 2015. 
In an email to Burton staff Nov. 9, Carpenter revealed that the testicular cancer he had fought in 2011 had returned, as industry publication Shop, Eat, Surf reported. 
"The odds are in my favor, but it is going to be a struggle for sure," he wrote. 
Lacy wrote that Carpenter was surrounded by his family and loved ones when he died at the University of Vermont Medical Center.
He encouraged Burton employees to take the time and space to process the news and said the company would be sharing more information about services at a later time. 
"As a start of our celebration of Jake's life, I'd encourage everyone to do what Jake would be doing tomorrow, and that's riding," he wrote. "It's opening day at Stowe, so consider taking some turns together, in celebration of Jake." 
Carpenter advanced the development of the snowboard from its predecessor, the snurfer, which was ridden like a snowboard but had no binding and had a pole in front. Carpenter appeared at a 1979 Snurfing Championship with a modified snurfer that was an early snowboard design, according to Forbes magazine. 
 "He's like the cool dad of the sport," Shaun White, the world's most famous snowboarder, told the Times. 
Carpenter was a staple of the Stowe community for decades. 
Jeff Wise, Vail Resorts' senior manager of communications for the northeast region, met Carpenter around 25 years ago when Wise was a snowboard school supervisor at Stowe Mountain Resort. 
Wise said Carpenter was an "incredibly important" figure in the Stowe community, and frequently snowboarded on the mountain. 
"He touched so many people, not just because of the innovation that he brought to snowboarding, but how much he personally cared for this place, this community, and this mountain," Wise said. 
Carpenter was very kind and always had something positive to say, Wise said. 
"Whenever I saw him on the mountain, he was just wonderful to be around," Wise said. "His enthusiasm for the sport was always very contagious, it always made you appreciate where we are and what we do even more."  
Wise said with Carpenter's leadership, Burton prioritized teaching the sport to children through its Learn to Ride programs, which are currently offered at 190 resorts around the world, according to its website. 
"Those programs really contributed towards people getting introduced to the sport at an early age and having a lifelong passion for it," Wise said.  
In lieu of flowers, the company requested donations to the Chill Foundation, a nonprofit founded by Carpenter and his wife, Donna Carpenter. The charity provides children with snowboarding, skateboarding and paddleboarding programs free of cost. 
Vermont Sen. Patrick Leahy tweeted his condolences Thursday. 
"Vermont mourns the loss of Jake Burton Carpenter," the Democratic lawmaker said. "He was a visionary who helped nurture the sport he loved into an international and Olympic event. He loved his wife and boys dearly. Our hearts are with them." 
Burlington Mayor Miro Weinberger said in a statement he always appreciated the "warmth, curiosity, and optimism" that Carpenter embodied. 
"Today, the city mourns the loss of one of its great entrepreneurs and creative spirits," he said. "Both the sport and the company that Jake built have contributed greatly to the success and character of modern Burlington." 
Gov. Phil Scott shared his condolences and said he was grateful for Carpenter's contribution to the state and snow sports around the globe. 
"It takes millions of years to move mountains, but Jake Burton Carpenter was able to do it in a single lifetime," he said. "From snowboarders being chased from the slopes to Olympic gold medals being placed around their necks, Jake led the way and changed winter as we knew it." 
Carpenter appeared on NPR's "How I Built This" podcast in 2017 and described working on snowboard prototypes while living in Manhattan. 
"I said, 'I've got to move to Vermont to start this company'," he said. "You're not going to start a snowboarding company [in Manhattan]." 
Carpenter said he made around 100 different prototypes of snowboards before finding the right design and opening his first store in Londonderry.
"I always feared the minute ski companies caught wind of this, they'd jump on it and I'd be out of business in no time," he said. "Nobody cared." 
At the start, Carpenter said no one — not the skate shops, not the ski shops, not the surf shops — wanted anything to do with his product. 
But he went from selling 300 boards in his first year to 700 in year two as word of the new product started to spread. 
"What snowboarding and Burton did was revolutionize winter life, and this was the beginning of it," he said. 
Gaining acceptance of snowboarding from the ski resorts took time, Carpenter said, but the growth of snowboarding was unstoppable. 
Carpenter told podcast host Guy Raz his struggle with Miller Fisher syndrome changed his outlook on life, and that he no longer took his family for granted. 
"I do live life for the moment, much more than ever," he said. "I think it happens through something like that, I don't know why or how, but it does, or at least it did for me." 
He said that his illness had prepared him for death.  
"I could die, get hit by a bus walking out of your studio, and I'd still think I am the luckiest guy in the world," he said. 
More News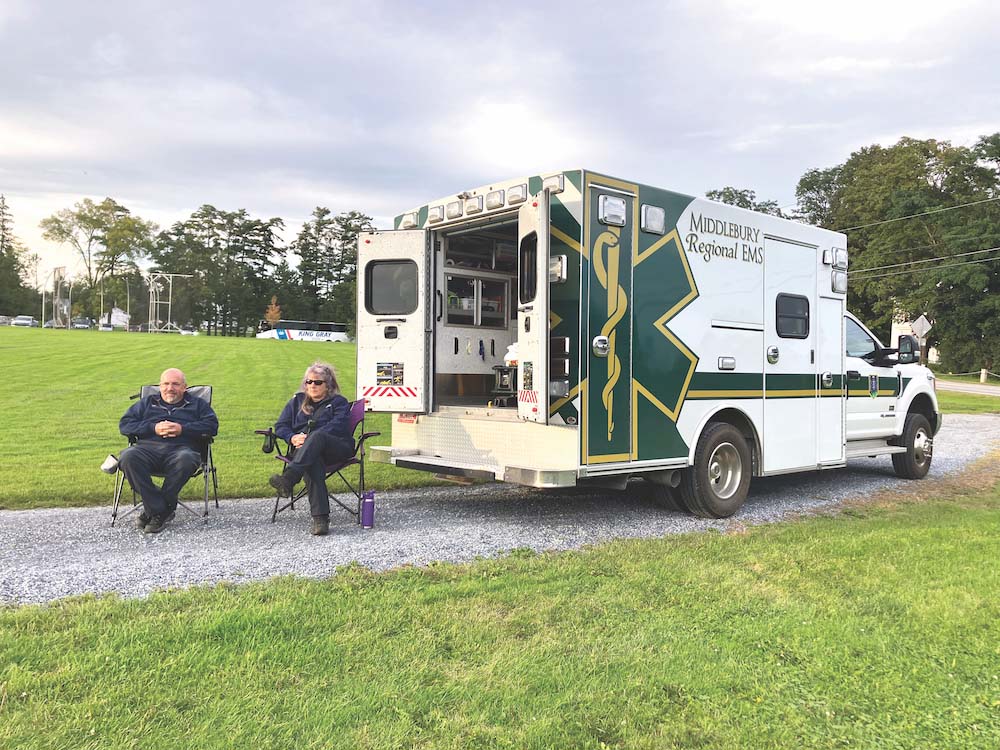 Middlebury Regional Emergency Medical Services wants to eliminate its annual Town Meeting … (read more)
Middlebury police are investigating the death of a Middlebury College junior and say the p … (read more)
In the course of her almost 101 years on Earth, Vergennes resident Margaret Clifford, bett … (read more)