Shoreham news for Nov. 14
Have you got Shoreham news? Contact Gail Wood at 989-2454 or [email protected].
SHOREHAM — Welcome back! The Shoreham news section of the Addison Independent has been a "no show" for a number of years, but we're back now. Look for this section in the Thursday edition each week. This column will try to share Shoreham specific news and events with you.
WHAT'S HAPPENING AROUND TOWN
St. Genevieve/Bernadette Parish members are continuing their warm clothing drive for area migrant workers. Donate your clean, new or lightly used warm clothes at the Shoreham Town Office collection box (Monday through Thursday from 9 a.m. to 4 p.m.), or at the outside collection box at 99 Inn Road at the side porch entrance. For more information, contact Kathleen Brisson at 897-5625. Suggested items to include are long johns, warm socks, vests, coats, fleece hoodies and flannel shirts. Small and medium in men's size is best, but some warm women's clothing is needed as well.
Have you noticed activity around the Shoreham Congregational Church? A renovation project is under way in the lower level. Breadloaf Construction has removed the old flooring in preparation for a whole new look in the Fellowship Hall. While the renovation project is underway, church services are being held at 4 p.m. on Sundays in the Old Masonic building at 82 School Rd.
SAVE THE DATE
The Shoreham Elementary School winter concert will be held on Tuesday, Dec. 10, at 6:30 p.m., at the Middlebury Union High School auditorium.
Shoreham's annual Christmas Memory Tree lighting ceremony takes place at 3 p.m., on Sunday, Dec. 1, at the gazebo on School Rd. We will sing Christmas carols, drink hot cocoa, enjoy Christmas treats and count-down to celebrate the lighting of the tree. The person who actually lights the tree will be the lucky winner of the tree lighting raffle. (Raffle tickets will be available for sale beginning Nov. 17 for $1 each.) Donations may be made in memory of loved ones for $5 for each person honored. Forms will be available beginning Nov. 17. Make checks payable to Shoreham Congregational Church with a memo for Christmas Memory Tree. Please bring an unwrapped present with you. These presents will be brought to the Holiday Shop at HOPE. In 2018, HOPE's Holiday Shop helped nearly 600 Addison County children from low income families have a happier holiday. Without the Holiday Shop, many of these kids would not have had any gifts at all.
There will be a holiday makers' market on Saturday, Dec. 7, from 9 a.m. to 1 p.m. at the Shoreham Community Center (former Masonic Hall). Space is available for rent for a $10 donation. Whatever you bake, sew or create can be sold. Contact Julie at 897-5841 or visit the Town Office to reserve your spot.
More News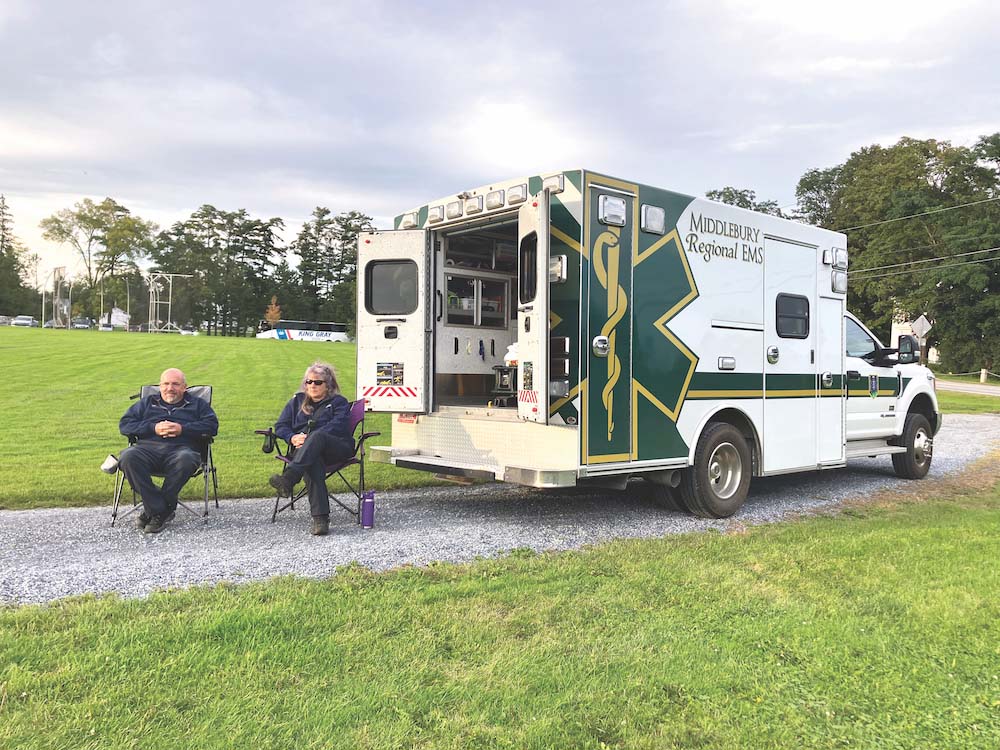 Middlebury Regional Emergency Medical Services wants to eliminate its annual Town Meeting … (read more)
Middlebury police are investigating the death of a Middlebury College junior and say the p … (read more)
Vergennes resident Margaret Clifford offers nearly a century of recollections, from losing … (read more)