Vergennes budget on pace for $61K increase
VERGENNES — After the Vergennes City Council concluded a highly preliminary department-by-department budget review of city spending with a brief look at the police force at its Oct. 22 meeting, Vergennes City Manager Matt Chabot offered council members a highly speculative 2020-2021 potential spending increase of $60,888, or 2.7 cents on the municipal portion of the tax rate.
Chabot immediately qualified the figures, pointing out that any increase in the cost of health insurance won't be known until early next year, nor will many other variables. The figures did assume no changes to police staffing.
"These numbers are so random," he said. "You won't know until after the beginning of next year."
One figure that could move, he acknowledged, are police salaries and benefits, now being negotiated between a city committee — Chabot and zoning administrator Peter Garon, who has a background as a labor negotiator both for management and labor — and its professional counsel and three members of the newly formed patrolmen's union and their representative.
Chabot (clarifying later that negotiators have a confidentiality agreement and financial issues have not yet even been raised) said his experience with union negotiations led him to guess the line item for labor costs in the police budget could rise.
"You can anticipate an increased ask on the part of the department," Chabot said. "It's simply an assumption."
Negotiators will meet again this Thursday, he said. Both sides have so far declined to make any comment on even what has been discussed, where meetings have been held, or how long they have lasted, citing the confidentiality agreement.
In other business at the Oct. 22 council meeting:
• Deputy Mayor Lynn Donnelly, who advocated for the police department when Chabot proposed reducing staff levels in his initial budget this past spring, asked to join the city committee negotiating with the police union. Donnelly noted Garon spoke in public meetings in favor of a smaller department and said her presence on the committee would bring balance to the negotiating team.
Mayor Jeff Fritz said Chabot's job description puts him on the committee, and Chabot cited Garon's background in labor relations. Fritz and others noted that the council would be in the position of making the final decision on whether to ratify an agreement reached by the negotiating committee, and were not sure a council member should be on the committee. Fritz said the council could add Donnelly if it wished, but no motion was made.
• Fritz updated progress on the proposed $22 million truck route through northern Vergennes that Agency of Transportation officials said they would consider building within the next two decades, if there was solid regional support.
Fritz told the council that backing among area towns was virtually unanimous, and all had agreed to write letters of support. But he said Panton officials still had concerns, the chief of which was that the route might eventually be moved and that its west end could be built at least in part of Panton. Panton officials, he said, agreed to write a letter of support that included their reservations.
Fritz noted the first step toward creating a truck route would be a study.
"Panton was asking questions a study would answer," he said.
Fritz also acknowledged Ferrisburgh's letter would include that town selectboard's recently revived concern that when Vergennes' boundaries were originally drawn, land that should have remained in Ferrisburgh and other towns was given to the city, and that a modern survey could re-establish the proper boundaries.
• The council discussed health insurance benefits as part of its budget discussions. The city now pays 100 percent of what officials call a generous plan, and the council has looked at saving money with a less costly benefit package.
Chabot said former city manager Mel Hawley always maintained the generous benefits went hand-in-hand with modest salaries. He recommended that current employees retain existing benefits, and that changes to different plans only be "made through attrition."
Andy Kirkaldy may be reached at [email protected].
More News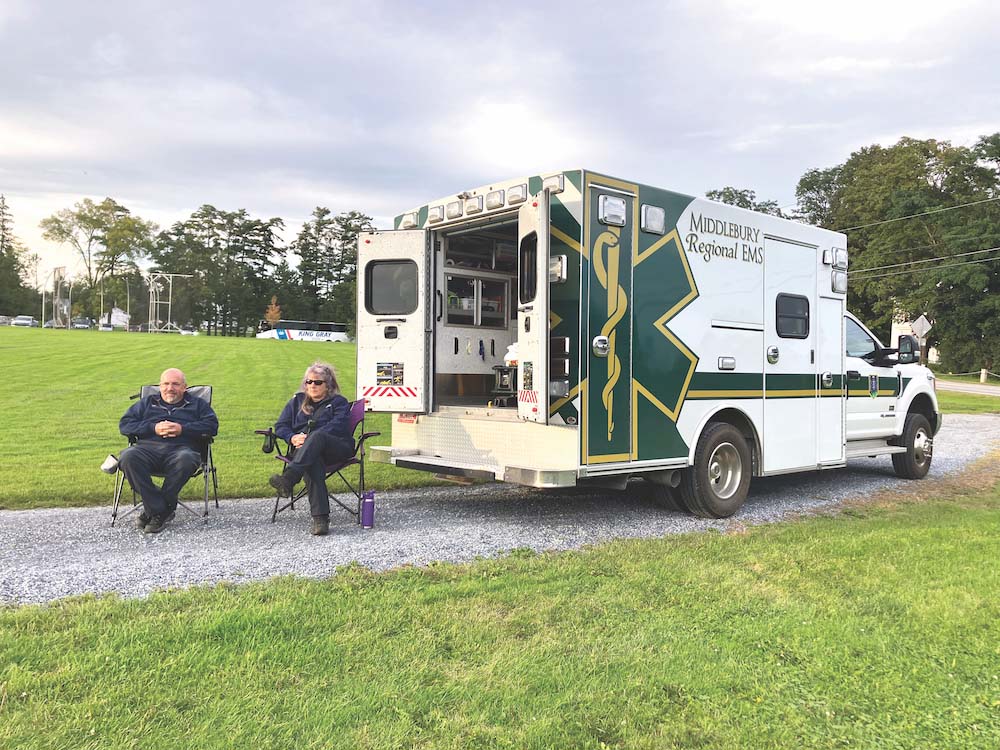 Middlebury Regional Emergency Medical Services wants to eliminate its annual Town Meeting … (read more)
Middlebury police are investigating the death of a Middlebury College junior and say the p … (read more)
In the course of her almost 101 years on Earth, Vergennes resident Margaret Clifford, bett … (read more)