Police charge Monkton man with possession of the gun that was used to kill David Auclair
BURLINGTON — Vermont State Police have identified the gun that was used to kill Monkton resident David Auclair on July 11, and have arrested Auclair's stepson, Kory Lee George, 31, of Monkton, on firearms violation charges. The firearms charge alleges that George was in possession of the gun that was used to kill Auclair.
George, a convicted felon, has been charged with possession of two firearms — a 9mm Beretta pistol and a shotgun — both of which state police say had been stolen. His felony convictions prohibited him from possessing either weapon.
According to the criminal complaint filed with the U.S. District Court in Burlington Wednesday morning, David Auclair was shot nine times in the parking lot of the LaPlatte Headwaters Town Forest in Hinesburg, at about 9:45 p.m. on July 11, and the Vermont Forensic Laboratory later concluded that the bullets recovered from his body were fired from the Beretta Kory George is accused of possessing.
An affidavit given by Det. Sergeant James Vooris of the VSP's Major Crimes Unit details evidence indicating that George stole the Beretta from the Colchester residence of James Synnott on the evening of July 10, the day before Auclair was killed.
Evidence also indicates, according to Vooris, that shortly before the gun was stolen, George had met with his mother, Angela Auclair, who was David Auclair's wife, at the University Mall in South Burlington. An hour later, while Angela Auclair had dinner at a restaurant with Synnott, Angela's boyfriend John Turner drove George to Synnott's house, the affidavit said.
The criminal complaint charging George said police have evidence that George spent 10 minutes in Synnott's house while Synnott was at dinner. 
"On the evening of July 10, 2019 George stole the Beretta from James Synnott's house in Colchester, Vermont," Vooris alleged in his affidavit. "The following day, July 11, 2019, the Beretta was used to shoot to death David Auclair."
The stolen Beretta was test fired a few hours after it was stolen, near the Auclair house at 116 Cat Tail Lane in Monkton, police say.
On July 14, three days after the gun was used to kill Auclair, the Beretta was recovered from Lewis Creek, between the Auclairs' Monkton residence and the Hinesburg location where David Auclair's body was found. Also recovered was a prepaid cellphone that had been used to call David Auclair less than an hour before he was killed, "apparently to lure him to the Hinesburg trailhead," Vooris said in the affidavit.
"Evidence indicates that the cell phone was purchased on July 11, 2019 at the Rite Aid in Milton," the affidavit said, adding that, though he says he cannot remember what he purchased, "George has admitted entering the Rite Aid that day."
Later in the affidavit, after stating that Angela Auclair lived with David Auclair at the time David was killed, Vooris indicated that "through this investigation I have learned that John Turner frequently visited their house. I am further informed that John Turner had a romantic relationship with Angela Auclair, and that Angela Auclair and David Auclair appeared to maintain separate bedrooms in their home prior to David Auclair's death."
Kory George, Vooris added, lived at certain times in a trailer located on the Auclairs' Monkton property.
According to town property records, the mortgage for the Auclair residence, 116 Cat Tail Lane, was paid off on Jan. 14, 2019 — by David Auclair's parents, Robert and Danelle Auclair. The house was subsequently listed for sale by Greentree Real Estate on April 11. 
The listing was withdrawn on July 12, the day after Auclair was killed.
According to a press release issued by the U.S. Attorney for the District of Vermont, George has been ordered detained pending a bail hearing on Friday.
Reach Christopher Ross at [email protected].
More News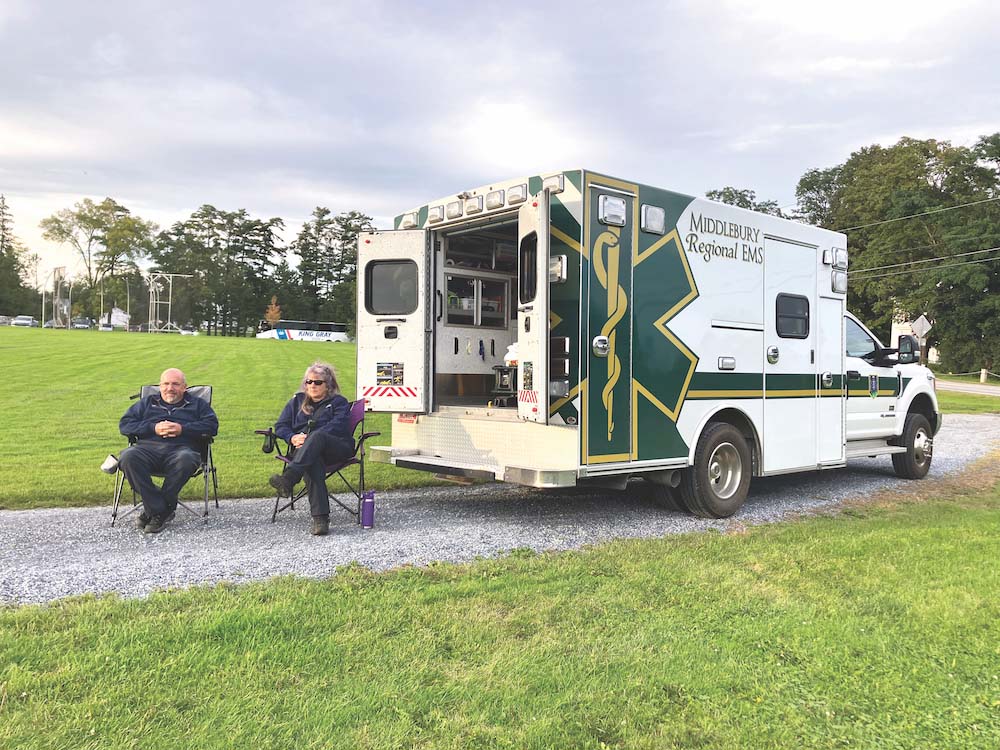 Middlebury Regional Emergency Medical Services wants to eliminate its annual Town Meeting … (read more)
Middlebury police are investigating the death of a Middlebury College junior and say the p … (read more)
Vergennes resident Margaret Clifford offers nearly a century of recollections, from losing … (read more)