Fall athletes ready for action
ADDISON COUNTY — When overnight temperatures in the Champlain Valley dip into the 50s it's a sure sign that another year of high school sports is here.
By the middle of next week, every Middlebury, Mount Abraham, Vergennes and Otter Valley union high school cross-country, field hockey, football, golf and soccer teams will take to a field or course in regular-season action.
This Friday, Sept. 30, is the magic date, with four teams taking a bow: in chronological order, Eagle and Tiger field hockey, Tiger boys' soccer, and Tiger football.
By the time the dust settles on Saturday, Commodore, Eagle and Tiger cross-country; Otter field hockey and boys' soccer; and Otter and Mount-Abe-VUHS cooperative football will all have joined the party.
All other teams will get serious by the end of next week.
Sport by sport, starting chronologically, it will look like this:
FIELD HOCKEY
Fittingly, one of the first two teams out of the chute is the defending Division II champion Eagle field hockey squad, which will visit U-32 at 4 p.m. on Friday.
Coach Mary Stetson's team in 2018 pulled out a dramatic overtime victory over Burr & Burton in a D-II final in conditions none of us want to think about yet. Seven seniors moved on from that group, including a clutch goal-scorer, all-star midfielders, and a three-year starter in goal. But many athletes return, including the heart of the defense, and the Eagle JV squad was loaded a year ago.
Debuting at the same time is Coach Chelsey Giuliani's MUHS squad, which showed flashes a year ago and won a D-II playoff game. The Tigers graduated only four seniors, but all played important roles, especially at midfield, and the team will look at overall improvement to make a step forward this season. The Tigers will visit Burlington at the same time the Eagles head to U-32. The Tigers then host Colchester on Tuesday before the Eagles visit on Sept. 5.
The area's third D-II field hockey squad, Coach Stacey Edmunds' Otters, lost just three seniors from the group that gave the Eagles all they could handle in a semifinal setback a year ago. Edmunds saw a big turnout of freshmen, and growth from some of the team's younger players should make OV a contender once again. The Otters, open by hosting Brattleboro at 11 a.m. on Saturday, and then visit the Colonels on Sept. 6.
BOYS' SOCCER
Coach Reeves Livesay's Tigers are up first in boys' soccer with a home match on Friday at 4:30 p.m. vs. D-I Colchester. The big news for the MUHS boys — and a number of other MUHS teams this academic year thanks to a flash of insight on the part of the Vermont Principals' Association — is that they will compete in the D-II postseason for the first time in many years.
Given the Tigers' recent track record in recent years and a 10-win regular season in 2018 they should be at the very least competitive after dropping down from D-I.
Coach Dick Williams' Otters take the field vs. Fair Haven on Saturday at 11 a.m. in their annual home game played in Proctor. The Otters graduated a number of mainstays from 2018's eight-win team, but bring back experience at midfield and have good numbers at the varsity level. The VPA's shuffling of the deck dropped OV down to D-III for the postseason, where the Otters hope to thrive.
Second-year Coach Bobby Russell's Eagles open on the road at Green Mountain Valley on Tuesday. A half-dozen seniors graduated from Russell's competitive 5-7-2 squad of a year ago, but just as many key cogs return, many in important roles. Mount Abe opens with three straight road games and won't play at home until Sept. 17, when the Eagles host Colchester at 1 p.m.
Coach Kevin Hayes' Commodores, who in 2018 enjoyed their best season in several years, also open away from home: They visit defending D-III champion Stowe on Wednesday. Stowe knocked off VUHS in this past year's D-III semifinal, but the Raiders moved up to D-II this fall. The Commodores will host Northfield/Williamstown on Sept. 7 at 11 a.m., and then MUHS visits on Sept. 10.
FOOTBALL
No doubt the best-attended event of all these openers will be staged at Doc Collins Field at MUHS on Friday at 7 p.m., when the D-I Tiger football team and its big fan base hosts D-II power Fair Haven, a program whose faithful supporters travel well (and which is now coached by former OV leader Jim Hill.)
Coach Dennis Smith's team won six times a year ago, including a playoff game, before falling to eventual champion Mount Mansfield in a road semifinal. The Tigers return 10 seniors, including many skill-position players. The team does have to rebuild its offensive line, which began the season a year ago with four senior starters, but signs are positive.
Both the Eagle-Commodore collective and the Otters open at home at 1 p.m. on Saturday. In Bristol, Jeffrey Stein, a former college standout and Champlain Valley defensive coordinator who teaches PE in the Mount Abe district, takes over as head coach. Stein promises a more wide-open offense and aggressive defense for a program that was hit hard by graduation but has decent numbers this fall. He hopes the team can hold its own in D-II, starting with Oxbow on Saturday.
Likewise, Coach Kipp Denis' Otters saw a number of players collect diplomas this past spring, but also a number of newcomers sign on, including reinforcements from the now defunct Mount St. Joseph program. The Otters were bumped back down to D-III, and starting with a visit from Poultney on Saturday Denis believes the Otters can compete at that level.
CROSS COUNTRY
VUHS and Mount Abe cross-country teams ran earlier this week in the South Burlington "class races," essentially a preseason scrimmage in which runners from each grade level face each other.
Competition gets tougher for the Commodores, Eagles and Tigers on Saturday at the Essex Invitational, a major early meet that will draw many of the state's top teams.
Coach Brad Castillo's VUHS boys' team lost two of its top runners, but returned three scorers from the group that took fifth in D-II a year ago and was just points behind the Tigers in third. Two other runners were on their heels, and two transfers are on the way to boost the Commodore boys' prospects. On the other hand the only potential returning female runners transferred away, and Castillo was hoping the beginning of school would bring recruits.
Second-year Eagle coach Karyn Norwood had a young team a year ago that reportedly has been joined by even more underclassmen this season to bring the roster up to two-dozen. The development of the younger runners will determine if the Eagles can make a move up the D-II ranks.
Both of Coach Chris Anderson's Tiger teams finished third in D-II a year ago, and neither suffered major losses to graduation. MUHS teams have consistently contended in D-II, and reasonable expectations would be for the Tiger teams to be in the running again for top finishes at the state meet.
OV Coach Brooke Kimball starts with a roster of 15, including enough boys and girls to field full teams in D-III. The Otters were near the back of the pack a year ago, but the boys' side brings back four of its six runners who competed at the state meet and could make a move. The girls return two of their state competitors from a year ago and will rely on newcomers to climb the standings. OV opens by visiting Rutland for a Marble Valley League meet on Tuesday.
GIRLS' SOCCER
All of the girls' soccer teams open next week, starting with Co-coaches Dwight Irish and Peter Maneen's Commodores hosting Randolph on Tuesday at 4:30 p.m. The Commodores bring back many contributors from the group that made a run to the D-III final a year ago, but the coaches are looking to rebuild the team's defense.
Coach Dustin Corrigan's Eagles will open on Friday, Sept. 6, when D-II rival U-32 visits. The Eagles once again showed their mettle a year ago with a run to the D-II semifinals despite heavy graduation losses, and then few of them walked across the stage this past June.
Coach Wendy Leeds' Tigers went through a rare losing season a year ago as injuries struck an inexperienced squad. But many talented young players picked up valuable seasoning, graduation losses should prove manageable, and the team should benefit from the postseason move to D-III. MUHS opens by visiting Fair Haven on Sept. 6.
Coach John White's Otters are coming off a seven-win season and return strong players up and down the field, including Olivia White, the versatile Independent player of the year. The Otters petitioned up to play in D-II and will open their season at Black River's annual tournament on Sept. 6 vs. Green Mountain Union, with the consolation or final the next day.
GOLF
Coach Chuck Beazley's Tiger golf team might have only a couple players, leaving the Tigers competing as independents. Their first scheduled match is at Lang Farm in Essex Junction on Wednesday.
Coach Bill Crossmon's OV golf team includes defending D-II girls' medalist Mia Politano, a junior, and another 14 golfers, with enough boys and girls to compete as teams this fall. The Otters were set to host this past Wednesday at Neshobe, and will visit Woodstock this coming Wednesday.
More News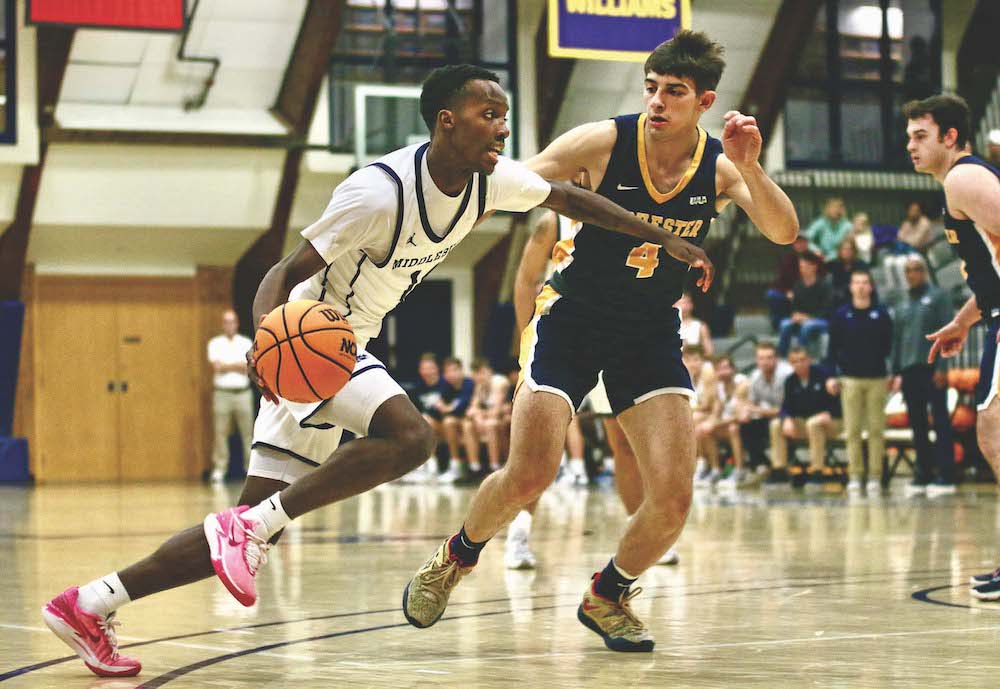 The Middlebury College men's basketball team dropped a pair of home games to teams in the … (read more)
The Middlebury College women's basketball team split a pair of games this past weekend at … (read more)
The Middlebury College women's hockey team lost one game and settled for a tie in another … (read more)