Panther athlete is a local volunteer
This story courtesy of the Middlebury College Sports Information Department.
MIDDLEBURY — Marissa Baker, a rising senior midfielder on the Middlebury College field hockey team, shoots for the stars both on and off the field at Middlebury.
The computer science major from Darien, Conn., who minors in Russian Literature and Culture, helped the Panthers win back-to-back NCAA Division III championships, has volunteered at Beeman Elementary School in New Haven, and has worked throughout her Middlebury career at the college's Mittelman Observatory.
Baker recently sat down with the college's Sports Information Department for an interview.
Q: How did you end up working at the Mittelman Observatory?
A: I began working at the observatory in the spring of my first year. I was taking a couple of classes during the fall of that year in Bi Hall (Middlebury's science center) in the fall and I ended up on the seventh floor one day and began talking to Jonathan Kemp, a professor and telescope and scientific computing specialist. That talk, combined with taking the ancient astronomy class as my J-term class, led me to a campus job there.
I enjoy how flexible and multi-dimensional my job is there. Some nights, we collect data using the big telescope. I plan on using this data in my senior project for computer science. Other nights, we lead stargazing events for people in the Middlebury community. I've been fortunate to have amazing moments there where someone sees the surface of the moon for the first time and they are astonished.
That's my favorite part about the work — the fact that everyone, little child to senior citizen, regardless of ethnic background, ability, language or identity, can see a star in the sky and simultaneously feel humbled and awestruck. We also get glow-in-the-dark t-shirts, which is pretty cool.
Q: What other activities keep you busy?
A: I have been a volunteer at nearby Beeman Elementary School. I had a mentee who graduated out of the program and we're still in contact today. Campus life can be busy and hectic, so it is really fun to head over to an elementary school and have recess soccer be your top priority for an hour. The kids there are wonderful and silly and I have learned as much from them as they learned from us.
Q: Going into the final season of your collegiate career, what are the biggest lessons from your two NCAA championships?
A: I've been led by incredible women over the past three years. Going into my senior year, I aim to emulate their leadership styles for the team. Everything we do, we do for the team. That's what's most important — it's about the process. Championships are the byproducts of great teams; great teams are not the byproducts of championships.
Q: How did you develop your love of field hockey?
A: I started playing field hockey during my first year of high school. I had always been an ice hockey player and those skills translated to field hockey well enough that I could make the team. I owe everything to my high school coaches in field hockey, who were patient, encouraging and tough.
The summer following my first season, I went to a field hockey camp at UMass Amherst in high school where we played on watered turf and the game felt very similar to ice hockey, as the field hockey ball moves like a puck on ice. I watched the players have a scrimmage that afternoon and watching that level of skill opened my eyes to a whole new level of play I hadn't known before, and I wanted to be a part of it.
After my junior year, I had the opportunity to play at a camp in Barcelona, Spain. In Europe, men and women of all ages play together on the same teams. That was the first time I got a sense of the internationality of field hockey. I realized that it was a sport that I could play and use to connect with people all over the world. When I went to Denmark in the spring of 2019, field hockey was the outlet I used to meet Danes.
I watched Middlebury play Husson on Kohn Field during my senior year. The Panthers played the most selfless field hockey I'd ever seen. The final score was 5-0 and five different players scored. We still play field hockey like that today. That combined with the humility of the team, and the backdrop of the Green Mountains, were the main reasons I wanted to call Middlebury home for four years.
I fell in love early on with the game. I love the pace, the freedom, and the creativity. But throughout my career, I've become more and more involved in the field hockey community. From coaching a kid with her first stick in her hands to sharing a meal with the Irish national coach, the game spans the world and is always in a flux of give and take.
Q: What is your #MiddMoment?
A: My #MiddMoment has to be breakfast sandwiches in Proctor Cafeteria on game days.
Q: What are your future plans after graduation?
A: I really enjoy product development and engineering. Any job that is creative, fast-paced and problem-based is fun for me. That might lead to product management, or I could spin off and start my own company.
Before all of that though, I want to become involved with sports diplomacy. The Middlebury field hockey team was part of an incredible program last year to empower and coach women in Jharkhand, India, where they are at a high risk for human trafficking. It's incredible what can happen when 20 women come together under a common goal, and if the game can provide that, then I want to be a part of it.
More News
The Middlebury College football team scored first the outlasted visiting Bowdoin on Saturd … (read more)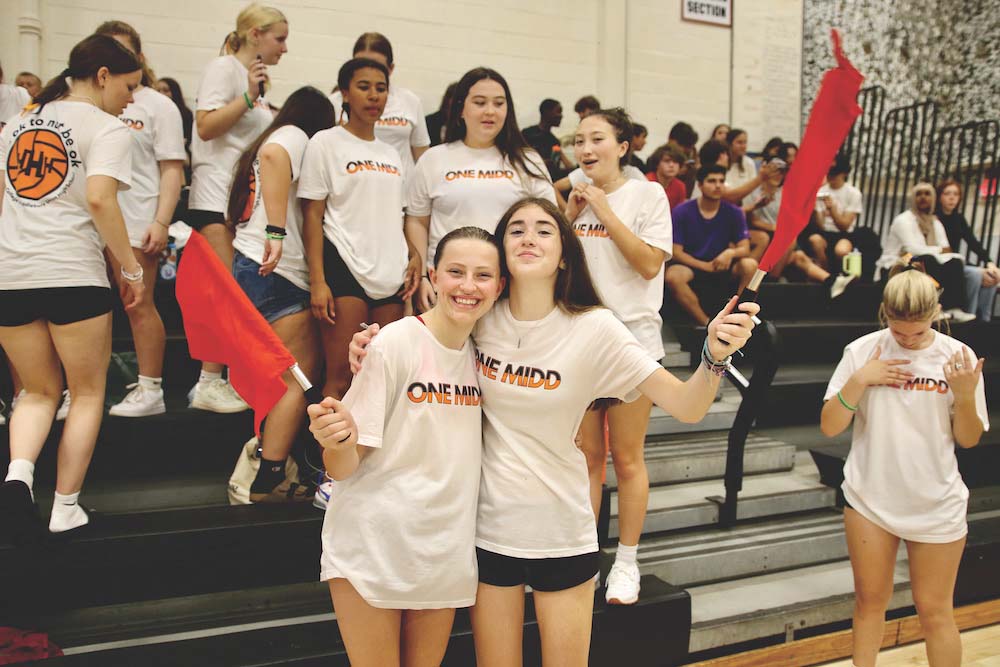 Considering the Middlebury Union High School volleyball team's decidedly successful record … (read more)
In a hard-fought girls' soccer match on this past Saturday, Middlebury outlasted Vergennes … (read more)