Leicester's Piper picks up a victory at Devil's Bowl
WEST HAVEN — New York driver Kenny Tremont Jr. did it again on Sunday, winning for the second time in five days and for the fourth straight time at Devil's Bowl Speedway. Leicester racer Adam Piper also picked up his first victory of the summer that evening.
Tremont earned his triumph in the 30-lap Sportsman Modified feature. Tremont started in 18th place and needed some luck to win the race. Early on, Adam Pierson — the only driver to truly keep pace with Tremont so far in 2019 — tangled with Shoreham's Brent Warren and fell out of contention.
Several other frontrunners — including Fletcher's Joey Roberts, Orwell's Tim LaDuc and the three racing Hammonds of New Hampshire, Walt, Walter, and Allan, also encountered problems.
And when Roberts opened the bottom lane with four laps to go, Tremont, a nine-time Bowl champion, seized the moment to take the lead for good.
Roberts inherited the lead when Walter Hammond's throttle stuck wide open on a restart, sending his car flying through a tire barrier in Turn 1. Hammond, who was uninjured, partially cleared the speedway's northern property line and crossed into the town of Benson. Roberts led 18 laps before holding on for the runner-up finish. Pierson recovered from his early run-in to come back and earn third.
Tremont is now one victory shy of matching his personal-best streak of five consecutive wins at Devil's Bowl, which he achieved in 2007. The late Vince Quenneville Sr. holds the all-time Modified track record of 11 straight wins, which he set in 1968-69.
Piper picked up his first win of the year in the 25-lap Limited Sportsman race. Piper blew an engine on Wednesday, but rebounded for the second win of his career. He and Poultney's Marty Hutchins had an intense dogfight in the final stages of the race, only to be stalled by a late caution flag. Piper broke away at the restart, and Orwell's James Hanson slipped past Hutchins to finish second. 
The Super Stocks ran a special two-segment race, with the overall finish based on low-total scoring points. Josh Bussino of Belmont found himself in the catbird seat in the first segment when leader Chris Murray tangled with a lapped car and flipped over just short of the finish line. Bussino won that round to collect one scoring point, with Mark Norris taking two points, Kevin Elliott three, Scott FitzGerald four, and Garrett Given five.
Given dominated the second segment and appeared to have the overall victory in hand before two late caution flags bunched the field up and gave Bussino an opportunity for a late pass to steal the overall win. Bussino won with five points (1st, 4th), and Given took second with six points (5th, 1st).
P.J. Bleau of Latham, N.Y., scored his second Mini Stock win of the season. Bleau and early leader Jake Barrows of Middlebury had a good battle up front before Bleau was able to pull away. Barrows took second.
New York's Samantha Mulready scored a career-first win in the 500cc Mini Sprint division. Driving hard on the outside lane, Mulready tried multiple times to pass leader Shawn McPhee before pulling the trigger in the final corner and winning a drag race to the checkered flag. McPhee was second by a hair.
The winners and local drivers' results on the Rutland Regional Medical Center "Hometown Heroes" Night were:
•Pepsi Sportsman Modified Feature (30 laps): 1. Tremont ; 9. Justin Comes, Middlebury; 16. Tim LaDuc, Orwell; 17. Vince Quenneville Jr., Brandon; 19. Mike Palmer, Salisbury; 26. Brent Warren, Salisbury; 28. Jimmy Ryan, Shoreham.
•O'Reilly Auto Parts Limited Sportsman Feature (25 laps): 1. Piper; 2. Hanson; 6. Anthony Warren, Shoreham; 7. Matt Bilodeau, Brandon; 8. Dave Snow, Brandon; 13. Austin Comes, Middlebury.
•Super Stock Feature (15 laps x 2): 1. Bussino; 2. Given; 8. Kaleb Shepard, Vergennes; 11. Ronnie Alger, Orwell.
•Mini Stock Feature (15 laps): 1. Bleau; 2. Barrows; 13. Scott Cowdrey, Leicester.
•Friend Construction 500cc Mini Sprint Feature (15 laps): 1. Mulready; 9. Alyza McKeighan, Brandon.
More News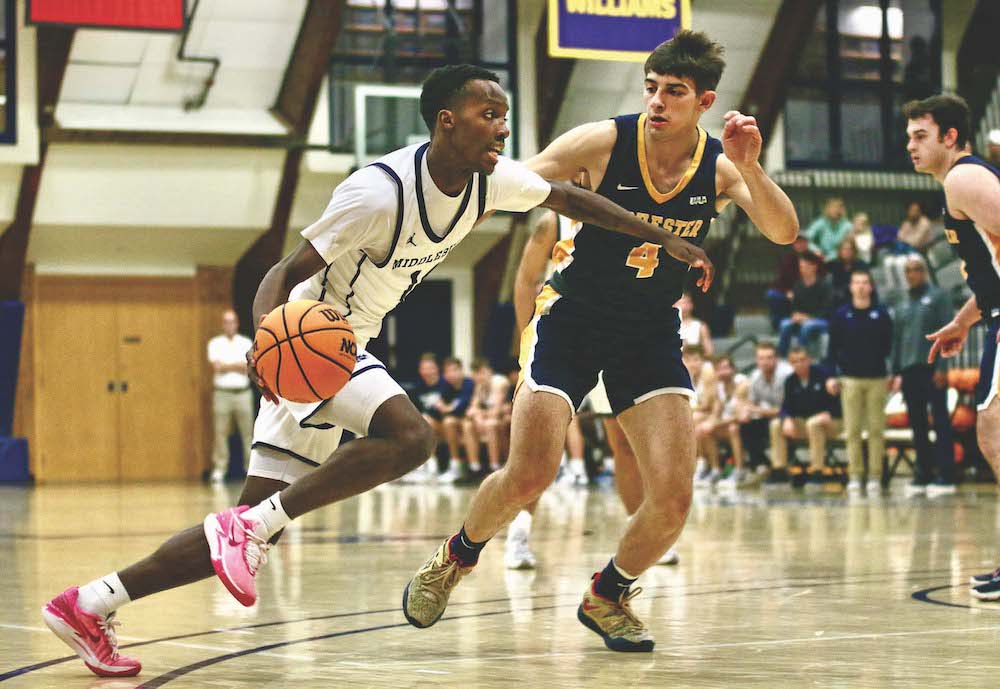 The Middlebury College men's basketball team dropped a pair of home games to teams in the … (read more)
The Middlebury College women's basketball team split a pair of games this past weekend at … (read more)
The Middlebury College women's hockey team lost one game and settled for a tie in another … (read more)