Medals go to two firefighters who risked their lives
MIDDLEBURY — The incident happened two years ago, but the memories of it are indelibly seared in the memory banks of both Paul Garrow and Pat Shaw.
The two veteran Middlebury firefighters and 31 of their colleagues had gathered at their Seymour Street headquarters on Dec. 14, 2016, for an evening of training, food and conversation.
Their training was interrupted at 7:40 p.m. for the real thing: A report of a structure fire at 7 Murdock Court. And to make matters worse, someone was trapped in the structure.
"The room rapidly emptied as every member was aware of the severity of the call," Middlebury Fire Chief Dave Shaw noted in his account of the incident. "We were talking about the potential loss of life."
Pat Shaw, the assistant chief, and then-Captain Paul Garrow were among the first on the scene. They had learned that 95-year-old Robert Kellogg was trapped inside the home, which at this point was fully involved in flames.
Knowing that time was of the essence, Shaw and Garrow tied off a safety rope and entered the blazing building through a rear door.
The two men crawled on their hands and knees through a dark, smoky oven. They hollered, hoping Mr. Kellogg would hear them and lead them to his direction. They felt around with their hands, as flashlights were of no use in the murky melting pot.
Fire was spitting out of every room; instinct and training taught them to close as many the doors they could to retard the fire and reduce personal risk.
"Your senses get heightened," Shaw said.
"It's survival."
They entered the kitchen area, which by this point had reached a temperature so hot that it could melt the shield off a firefighter's helmet, according to Chief Shaw. They continued to feel their way around, without luck, until the heat — which at this point was melting a kitchen window — required them to exit the cauldron or die.
"We rolled out the door together," Garrow recalled, noting rescuers might have had to look for three bodies instead of one had they not exited when they did.
They took a quick breather and re-entered the building, this time with a fire hose that allowed them to tamp down the heat and flames.
Kellogg was found laying on the kitchen floor, only 15 feet from where Garrow and Shaw had to retreat from their first rescue attempt.
They quickly pulled Kellogg out, but it was unfortunately too late; he had succumbed to the horrific conditions inside.
It's an experience that left the two firefighters rattled, and disappointed with the culmination of their efforts.
"That's the sad part about all this," Shaw said. "Somebody lost a father, a grandfather, a great-grandfather. I almost feel like a failure for not being able to save him. I often ask myself, 'If only we were a little quicker, if the fire hadn't chased us out of the house. That's what pissed me off so much. That the fire chased us out of there."
While Shaw and Garrow insist they were "just doing their job" on that fateful day, their colleagues and community believe they deserve special recognition — the highest, in fact, that the department can give. The two men were recently presented with medals of valor.
They are now part of an exclusive group. They're two of only three firefighters to ever receive Middlebury's medal of valor. The first and only other recipient was Dave Broughton, who earned the supreme citation in 1992 for his actions during a Monroe Street blaze. Like Shaw and Garrow, Broughton — at great personal risk — went into a burning home and rescued a woman trapped inside. Broughton continues to serve on the Middlebury force.
Both firefighters said they're honored to receive the department's highest commendation. But they stressed they're not serving the public with the expectation of accolades.
"In those situations, you put your life on the line for another person," Shaw said.
"It's part of the job," he said.
Paul Garrow was 19 when he joined the MVFD in February of 1990. It was ironically Broughton who recruited him.
Not that it was a hard sell. Garrow's dad, Leo, was a firefighter in Warren at the time. So Paul had a good idea about the intensive training, hard work and erratic hours that awaited him.
"It takes a lot to be an officer here," said a proud Garrow, who served a stint as captain.
Pat Shaw joined the MVFD in in 1982, at the age of 18. For him, it was destiny. His grandfather became a member of the department back in the 1930 and his dad followed suit. He'd seen some of his brothers stand in line to perpetuate the family firefighting legacy.
"It's a way to help the community, to give back," Shaw said of his main reason for joining.
It was also for the challenge.
"You never know what's going to get thrown at you," he said.
Shaw moved to New Haven around five years after beginning his firefighting career. So he served the New Haven Fire Department until his return to Middlebury in 2005. He's been assistant chief for the MVFD for the past four years.
'EVERYONE IS FAMILY'
Garrow said becoming a firefighter is akin to inheriting new brothers and sisters.
"Everyone in this department is family, one way or another," Garrow said. "Whether they're blood, or just having known each other for more than 30 years. "
Both men's family trees might as well be made of fire truck extension ladders.
Shaw's brother is his fire chief, from whom he received his medal. His son is a full-time firefighter in Barre City.
Garrow's son Randy is a fellow Middlebury firefighter.
They've each got nephews poised to join the ranks.
"Do we fight like family? You bet," Shaw said with a smile. "But when the chips are down and the stuff is hitting the fan, I'll tell you what… "
And the collaboration and selflessness extends beyond firefighting. If a brother or sister needs help with a moving or building project, a handful (at least) of members show up to lend support.
When Garrow built a new home in Cornwall recently, none other than Chief Dave Shaw was crawling around in the trusses with a hammer.
"It's that simple; we're all that close," Garrow said.
Pat Shaw and Garrow have been friends and fire department brothers for so long, they finish each other's sentences.
"I'd do it again…" Shaw said of the act of running into a burning building to save a person.
"… and hopefully next time with a better outcome," Garrow added.
Reporter John Flowers is at [email protected].
More News
Blasting ledge could begin on Monday in Vergennes as work on the $25 million Vergennes Gra … (read more)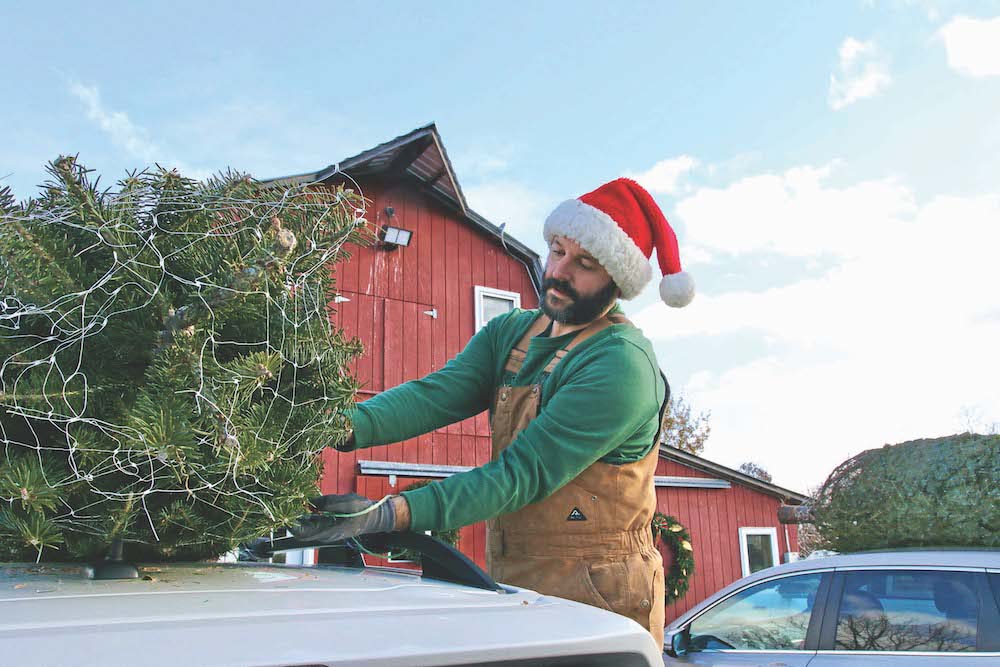 With the holiday season underway, county Christmas tree farms have begun welcoming visitor … (read more)
As the Middlebury Snowbowl prepares for opening day this Saturday, Dec. 9, loyal skiers an … (read more)