Panther football on top vs. Bowdoin
MIDDLEBURY — The Middlebury College football team outlasted visiting Bowdoin on Saturday, 34-27, a result that left both teams with 2-1 records. The Panthers will look to stay close to the top of the NESCAC standings this Saturday, when they visit Williams at 2 p.m.
Middlebury scored on a three-play drive to open this past Saturday's home game. Quarterback Cole Kennon passed to Patrick Jamin for 60 yards to set up a 1-yard touchdown pass to Donovan Wood. Kicker Zach Levy, who scored 10 points in the game, added the extra point.
The teams then traded touchdowns to leave the score at 14-14. The Polar Bears marched 74 yards to reach the end zone on a short run by QB Andrew Boel. The kick by Jotham Casey knotted the contest at 7-7.
Middlebury responded with a 75-yard drive capped by a 15-yard Kennon strike to Cole Crider. Next, on the opening play of the second quarter Boel tossed a scoring pass to Colton Fahey to make it 14-14.
Later in the period Panther John McCool forced a fumble and recovered it near midfield, and Middlebury running back Walker Coleman broke free for a 51-yard rushing touchdown to make it 21-14.
The Polar Bears then went on an 82-yard drive capped by a 19-yard Boel TD pass to Brendan King, and it was 21-21. The Panthers closed the half by marching to set up a 21-yard Levy field goal to take a 24-21 lead.
At 11:29 of the third quarter, Bowdoin kicker Casey hit a 27-yard boot to tie the game at 24-24.
Middlebury was up next with a 20-yard Kennon TD pass to Wood make it 31-24. Another Casey field goal cut the lead to four late in the third period.
An interception set up Bowdoin deep in Panther territory early in the fourth quarter, but Finn Muldoon raced across the end zone to pick off a Boel pass and end the threat.
Then the Panthers mounted a long drive keyed by a 64-yard Kennon scramble and a third-down completion to Jamin. Levy concluded it with a 29-yard field goal for a 34-27 lead with about three minutes to go. Pass breakups by Rocco Stola, Teddy Daniel and Sam Wilson thwarted the final Bowdoin possession.
Bowdoin outgained Middlebury, 530-506 yards, as Boel completed 32 of 52 passes for 417 yards; he also tossed two picks.
Kennon completed 21 of 41 attempts for 358 yards, including eight passes to Jamin for a career-high 185 yards.
McCool recorded game highs in tackles (13) and solo stops (eight), including 2.5 tackles for losses. Tomás Kenary had a sack for a loss of 12 yards; he leads NESCAC with 5.5 sacks.
More News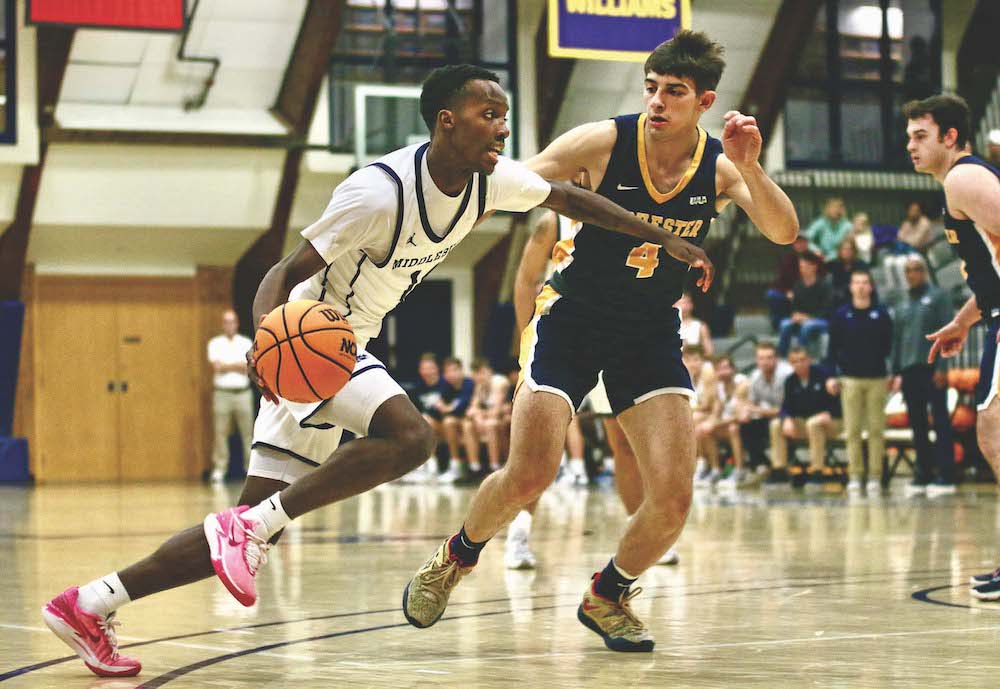 The Middlebury College men's basketball team dropped a pair of home games to teams in the … (read more)
The Middlebury College women's basketball team split a pair of games this past weekend at … (read more)
The Middlebury College women's hockey team lost one game and settled for a tie in another … (read more)