$25M city senior housing plan good to go
VERGENNES — Five years and several setbacks after first launching their plans for a major expansion and renovation of Vergennes Residential Care, a home for seniors just off the city green, Charlotte residents Dan and Rebecca Hassan have finally lined up the financing for what is now just over a $25 million project. 
Beginning in a few weeks, Dan Hassan said that funding will allow the transformation of the existing 18-bed senior housing facility, a 200-year-old property at 34 North St., into an interconnected 53-room, four-building care home capable of accommodating up to 82 seniors with modest means. It will also triple the business's employee count from 18 to an estimated 48.
The Hassans call the project Vergennes Grand Senior Living. It will include roughly 40,000 square feet of new construction and what the Hassans call a historically sensitive renovation of the existing 10,000-square-foot North Street building that fronts the northwest corner of Vergennes' central park. 
Their plans have been backed by city officials and members of the Vergennes business community, who see Vergennes Grand meeting a need for area seniors, providing jobs, and bringing patrons to other ventures.
According to figures accepted by the city's development review board during the project's approval process, Vergennes Grand was then estimated to add $390,000 annually of civic and commercial revenue to Vergennes. That figure included property taxes, water/sewer fees, and visitor and staff purchases at local businesses.
According to Dan Hassan, more importantly it will provide housing for an underserved segment of the senior population, as do the other four such properties the Hassans own and manage in South Burlington; Bradford, N.H.; and Washington, D.C.
He described their target demographic as seniors with "low to middle income, or sometimes no income, because we use the Medicaid waiver program."
Hassan also estimated that since the COVID pandemic 400 beds have been lost in Vermont through closures of small care homes that served that demographic.
"That is our model," he said. "Our target is serving that underserved population. Our industry has come to refer to them as the forgotten middle, the lower and middle population all the way down to the no-income seniors." 
But to get to this point the Hassans have had to overcome initial opposition from immediate neighbors, doing so with design tweaks to the project. Then COVID created delays and uncertainty, and finally inflation over the past five years added more than $5 million to the bottom line. 
Those rising costs caused their initial lender to back out, Hassan said. 
"Coming through COVID and the first time we went forward with the project we had a few obstacles," he acknowledged. "Our original investor, which was an out-of-state institutional investor, was beginning to get antsy. They needed to put their money to work and so on, so they pulled out."
HAPPY PHONE CALL
But a combination of funding sources came together to make the project work, he said. 
Individual investors, most of them local, joined with the Hassans to put up about $2.5 million. The project earned a $500,000 Agency of Commerce Community Recovery & Revitalization Program grant.
Then loans came in: $5 million from the Vermont Economic Development Authority and $18 million in primary financing from the National Bank of Middlebury and the Community National Bank.
Then on Sept. 6 the long-awaited final piece of the puzzle fell into place. 
That was an $18 million loan guarantee from the U.S. Department of Agriculture the Hassans first applied for a year before. Hassan said bank financing hinged on the USDA commitment, which gave lenders confidence to move forward.
Hassan explained how it felt waiting for a call that didn't come through from Washington, D.C., until 6 p.m. on Sept. 6.  
"We acquired that property in January of 2018. This is five years. And we thought we would be open by now. So there was a lot of pent-up anxiety by that Wednesday while we awaited word," he said. 
 He acknowledged some corks might have popped when the USDA confirmation call finally came.
"I've got a video I could send you," Hassan laughed. 
Hassan said he is particularly pleased with the support of eight investors from Vergennes and its surrounding towns; they comprise the majority of the private investment in Vergennes Grand. 
"We couldn't have done this without them aboard," he said. "They have been the greatest peer leaders and supporters while we have gone through this really elongated process with USDA."
Hassan also cited the backing they have received from city officials and civic leaders. He spoke about his appreciation for Vergennes at a recent council meeting, and did so again while talking to the Independent.
"Rebecca and I are just huge boosters of Vergennes. We couldn't find a better location to do what we believe, and we have now seen many times over, not just in this state, but elsewhere in the country, (to meet) the great need that is being underserved," he said.
CONSTRUCTION PHASE
While Hassan estimated construction will begin in earnest in a few weeks, some minor work has been done to pave the way for the project, and one larger step was done a year ago: An older duplex to the left of the construction site that the Hassans purchased from Vergennes Residential Care's original owners was removed. 
Hassan acknowledged that demolition was done in expectation of an earlier USDA loan guarantee.  
"Fast forward a year," Hassan said. "We originally anticipated a 90- to a 120-day process."
But work will now begin in three or four weeks, he said, and should last a little more than a year.  
There will be one change in the construction process. Because of the funding delays, Hassan said the original plan to wait until the new construction was complete before beginning renovation of the original building had to be abandoned. 
But Hassan said that would have meant a two-year construction phase on top of the funding delays.
Instead, residents were relocated to the Hassans' South Burlington property rather than allowed to stay in Vergennes during construction. However, Hassan said, all have a "priority right" to return, with first choice of units upon completion. By doing so, the projected construction timetable went from 24 to 14 months. 
"That allowed us to do this in one phase, which cut out about 10 months of construction," he said. 
Another element remains intact. The state offers what Hassan calls a "sales tax reallocation program," that will turn into sales tax credit that will upon the project completion funnel about $180,000 to the city to pay for improvement to its central green and the sidewalks and roads around it. 
Hassan summed up. 
"We are grateful to be here and serve that population in Vergennes," he said. "We couldn't be more thrilled and grateful for the community support and our investors, who have been just fantastic." 
More News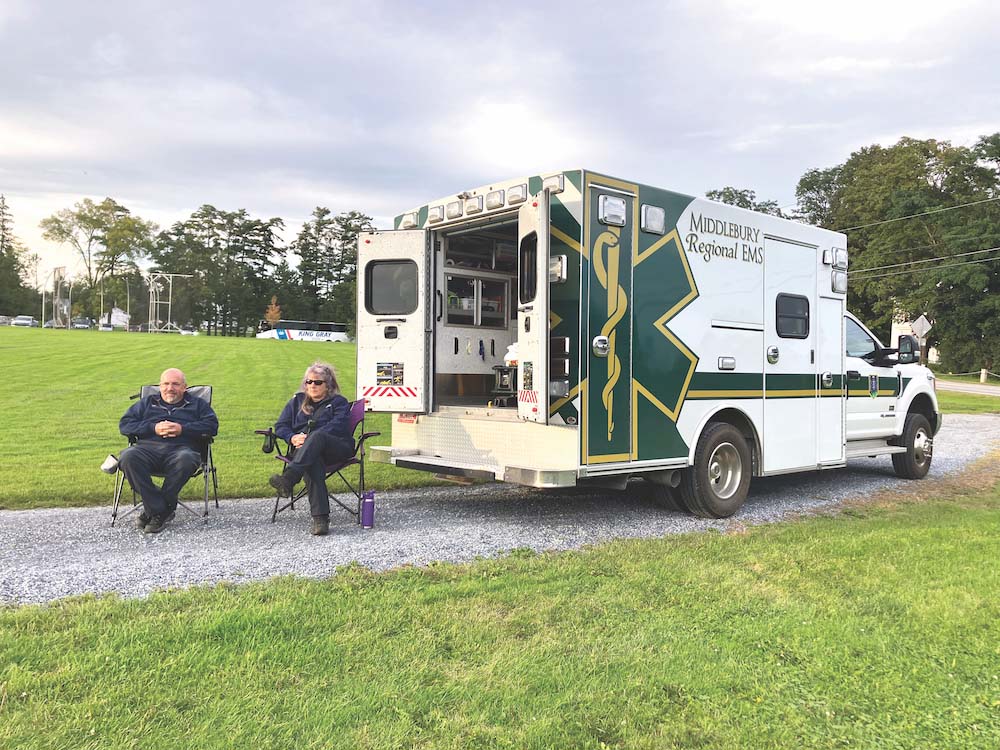 Middlebury Regional Emergency Medical Services wants to eliminate its annual Town Meeting … (read more)
Middlebury police are investigating the death of a Middlebury College junior and say the p … (read more)
Vergennes resident Margaret Clifford offers nearly a century of recollections, from losing … (read more)