Karl Lindholm: The Rotarians, COVID and a Colossus
So I was scheduled to regale the Rotarians with baseball tales at their breakfast meeting at Rosie's last week. They gave me 20-25 minutes to do so. That's not much time but the compensation was grand (free breakfast!), so I was happy to do it.
I'll sing for my supper (bark for my breakfast?).
When the time came, I couldn't make it. COVID! I was a scratch.
Rotarian impresario John Barstow found a pinch hitter for me: Alex Wolff, 36 years at Sports illustrated, a senior writer, much decorated. In his 20 minutes, on the spur of the moment, Alex brought some coherence to the crazy college (DI) sports landscape.
Those Rotarians have a deep bench!
Here are the observations I had planned to make in my 25 minutes with the Rotarians at Rosie's.
The Impossible Dream
John told me that one Rotarian had suggested I talk about the "Impossible Dream" Red Sox season of 1967. That was 56 years ago! But reminiscing is what I do, so I have personal memory of that exciting season. Not a particularly good one though.
It was called "impossible" because it was just that — improbable in the extreme. The year before, '66, the Red Sox had a bad team, finishing ninth in the 10-team American League, 26 games behind pennant-winning Orioles. (The only good thing about that year was that the Yankees were even worse, finishing dead last, tenth, 26 and a half games out!)
On the last day of the '67 season, the Red Sox, Tigers, and Twins were all tied for first place (90-71). The Tigers lost and the Red Sox defeated the Twins 5-3 and "pandemonium ensued." In the World Series, the Red Sox and Cardinals battled through seven games with the Cards prevailing, as their great pitcher, Bob Gibson, on three days' rest, bested Sox ace Jim Lonberg, pitching on two days' rest, 7-2.
It was a fabulous summer, but I pretty much missed the whole thing.
Four days after I graduated from Middlebury College in June of 1967, I found myself, hot and miserable, at Fort Polk, Louisiana, in Basic Training in the U.S. Army. In October, during the World Series, I was at Fort Sam Houston in San Antonio, Texas, at medic school.
On the day of Game Seven, I went AWOL from training and watched, furtively, that climactic game at the PX, where it was on TV to very little interest in Texas. Every time the door opened at the PX, I expected a couple of MPs to come in and grab me by the collar and haul me off.
I didn't think they'd take me to the brig, but I thought I'd get some nasty duty as a result of my absence, probably in the aptly named mess hall.
Nothing happened. I wasn't even missed. That was it for me, the Impossible Dream season, one game, a loss. Suffice to say, that disappointment in '67 made even more delicious the miraculous 2004 Curse-busting Red Sox World Series win over the Cardinals (and the Yankees!).
The Best Ever?
On July 26, just a couple weeks ago, Shohei Ohtani pitched a nine-inning complete game win, throwing 111 pitches, giving up just one hit to the Detroit Tigers in the first game of a doubleheader. Not a single Tiger even reached third base. It was a terrific performance, his ninth win of the season.
Then Ohtani started the second game as the designated hitter, batting second, and hit two home runs in an 11-4 win. The second home run, traveled 435 feet, was his 39th, and led the major leagues at the time.
Nobody does that! Nobody has ever done that.
Not even Babe Ruth.
Ohtani is often compared to Ruth. The Babe too was a great pitcher and a great hitter in his 22-year career: a great pitcher for the Red Sox early on, a great hitter for the Yankees after his sale in 1919. Only in 1918 and 1919, however, did he attempt to do both in the same season, like Ohtani.
Also, keep in mind, Ruth played during baseball's segregation, never played in official games against his great contemporaries of color, never faced Satchel Paige, Smokey Joe Williams, or Bullet Joe Rogan, never had Willie Mays, Oscar Charleston, or Cool Papa Bell chase down a long drive to the wall.
This season, as a hitter, Ohtani leads the American League in home runs with 41 and is one of four AL players batting over .300 (and is in the top five in the other major offensive statistical categories). He has the highest OPS (on base percentage plus slugging) in the Major Leagues (1.073).
As a pitcher, he has 10 wins and 5 losses (the third-most wins in the AL), his earned-run average is 3.17, third-best in the AL. His fastball has been clocked 102.5 mph and averages 97. He's 6'4" tall, weighs 210 pounds, and runs like the wind. He leads the Majors in triples (7) and has 17 stolen bases.
He is referred to as a "unicorn" He is indeed a mythical creature, but he is hardly fantastical. He walks among us. Like Babe Ruth, he is a colossus.
My message to the Rotarians, and all: Make it a point to see him play (on television, at least) if only to be able to say you have.
The Remarkable 2023 Season
If Barstow had not already given me the hook, I was going to urge any Rotarians whose ardor for the game had waned to check back in. The game at the highest level is being revived by the changes that have been introduced this year, restored to the game you loved.
MLB games are a half hour shorter — 2:40 this year as compared to 3:11 just two years ago, 2021. They are now about the same length they were in 1984 (2:39). It remains to be seen what the effect of these changes will be: Can baseball attract a younger and more diverse fan base? Attendance is up 9% this year.
The Last Shall be First; the First Shall be Last: The Baltimore Orioles are loaded with young talent and are the best team in the American League, the same Orioles who lost over 110 games two years ago. The Texas Rangers lost 102 games in 2021 but have restocked and are headed to the postseason under old guy manager Bruce Bochy (68). The teams that spent money like water (Mets, Padres) have struggled.
I would have given the Rotarians my assessment of the Red Sox … ah, but that can't be done in 25 minutes.
We'll have to schedule another breakfast for that.
—————
Karl Lindholm can be contacted at [email protected].
More News
Tiger boys' cross-country team held off runners from Burr & Burton, VUHS and Mount Abe in … (read more)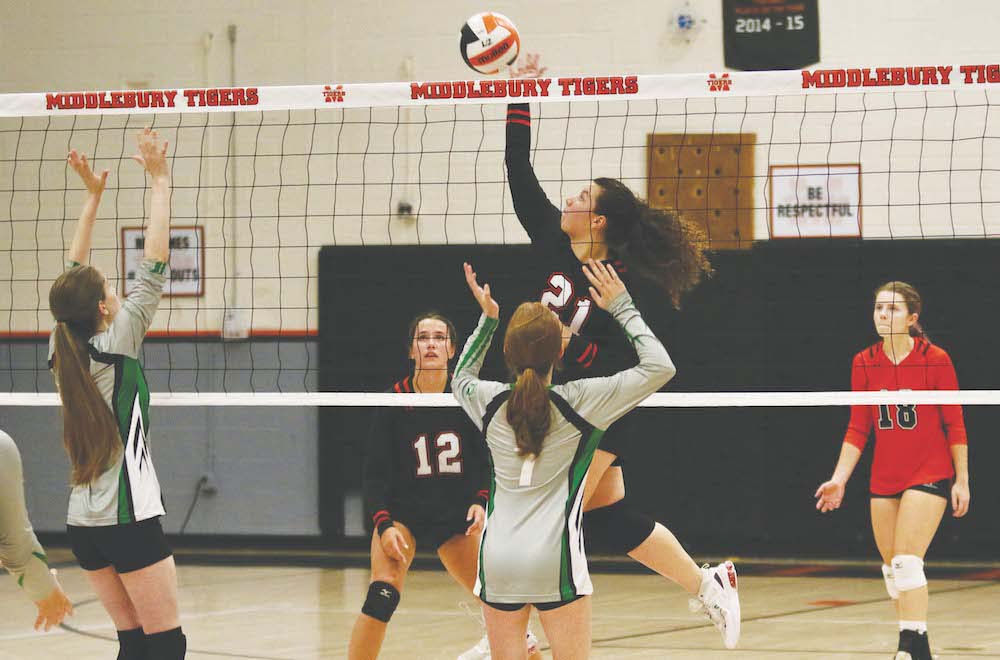 The first-year Middlebury Union High School girls' varsity volleyball team continued its r … (read more)
Soggy conditions didn't slow down Middlebury runners noticeably at a cross-country meet ho … (read more)