Habitat to the rescue for city family of four
VERGENNES — Amy and James Muir both have jobs, his fulltime in HR with the Transportation Security Administration in Burlington, and hers parttime with the Comfort Hill Kennel in Vergennes.
Yet for the past six years, they've been unsuccessful in finding permanent housing while living with their two children, Hunter, 10, and Alison, 7, in a transitional apartment in Vergennes provided by the John Graham Shelter.
Amy Muir said despite their best efforts and combined incomes, they've been frustrated by the region's notoriously difficult real estate and rental markets.
But in late May, their fortunes took a decided change for the better. 
That's when they learned Habitat for Humanity of Addison County had approved their application to own a 1,200-square-foot, three-bedroom home in the Vergennes neighborhood Booth Woods, which will be finished early next year. The energy-efficient home will come with a solar array that could zero-out the Muirs' power bills.
Habitat will sell the home to the Muirs — whose income fell within the allowable Habitat range — for around $175,000. That's less than half its market value, according to Habitat board member Ashley Cadwell. 
Amy remembers exactly when she and James found out they'd get the home after those six years of housing frustration. Habitat called them on the same day on which Amy's grandfather had died. She described a rollercoaster of feelings.
"It was really emotional," she said. "It was really kind of entwined with it, them (Habitat officials) wanting to come over, and then coming over. The timing was really crazy," Amy recalled. "They showed up with flowers and sparkling cider, and they just said the sweetest things. And it was just a really a great moment I won't ever forget, for sure. I think I felt all the emotions that day."
BOOTH WOODS BOON
The Muirs' volunteer-built home will be the third of three in Habitat's successful foray into Booth Woods, all on the right side of the neighborhood's entry road off Green Street. Habitat closed on the second home recently, for a three-generation family of three, and on the first home two years ago. 
Cadwell said the local Habitat branch will now turn its attention to finding families for four future homes on Gorham Lane in Middlebury, on land donated by Middlebury College.
Cadwell said until recently, Habitat has had difficulty finding candidates for its homes. Habitat is restricted by its funding — including grants from the Vermont Housing and Conservation Board as well as donations — to working with applicants whose incomes range between 50% and 80% of the area median income. 
For example, for a family of three to qualify, their income must range from $42,156 to $67,450, or for a family of five, between $50,563 and $80,900. Successful applicants must also have good references and join other volunteers in building their new homes, contributing at least 200 hours.  
Cadwell said the task has become easier now because affordable housing is scarcer and more people are learning about what Habitat can offer.
"We have become much more proactive. We have a much better website. It's just a more concerted effort to get the word out," he said. "We're not going to have any problem with the Gorham Lane houses."
PROCESS
But those circumstances also meant a more competitive process for the Muirs. 
Before 2021, Amy said, they had thought they wouldn't qualify. But that year, they listened Amy's cousin Dora, owner of a Middlebury Habitat home, and then her grandmother.
"(Dora) had encouraged us to apply," Amy said. "But we assumed we wouldn't qualify, because our income has very much fallen in that very large middle crack Vermont seems to have between being able to afford to live here and being able to apply for financial assistance.
"But then my grandmother saw a news article a couple years back that they were looking for Habitat families, and that qualifications are higher than people think."
The Muirs applied in 2022 for the second Booth Woods home, but were turned down. This year, she got valuable help from their John Graham service coordinator and Habitat officials in filling out what is a long and detailed application, and it was accepted. 
"It took a lot of patient waiting, which we've got a lot of practice at," Amy said. 
She and James then started helping to build their home, designed by student architects at Middlebury College taught by architect John McLeod. Work is done two days a week, usually by six or eight volunteers out of a roster of 20, and is overseen and planned by Ripton contractor Alex Carver. 
"We do everything that the other volunteers do. James and I don't really have experience building anything, let alone a house, but the volunteers have all, honestly, been so great," Amy said. 
"Personally, one of my fears or trepidations was that starting the work as a woman that they wouldn't have me do much, or it would be hard for me to learn things. But that's been the opposite of what my experience has been. Everyone has been really great about making sure I am involved, teaching me new skills."
LOOKING AHEAD
Habitat homeowners, when and if they sell their homes, must sell back to Habitat in order to keep the homes perpetually affordable. Owners keep only 25% of accrued equity.
Amy said she and James were just happy to find housing and were unconcerned about equity. 
"That's the least of our worries. In 2017, we were literally homeless for two months. Since then, we have lived in shelter housing," Amy said. "With the pandemic and the housing crisis and just the rising costs in Vermont in general, we were almost certain we were going to have to move out of state. Which kills me, because I'm from here."
Now, she said, their children are excited to choose paint colors for their rooms and have a bathroom with a bathtub, she said. 
Meanwhile, she and James are still almost in disbelief, she said. It feels like they just won the lottery.
"It honestly feels surreal. I don't think it will feel real until, like, we're packing the boxes to bring there. I feel like we've been looking for housing for so long. I feel like the application process itself was such a rollercoaster of 'Are we getting it? Are we not?'" she said. "There was such a lot, a lot, getting to this moment. And I don't think it will finally sink in until get into the house."
And they are grateful.
"We fully acknowledge this is a rare opportunity. And we just appreciate and are grateful for what it does for our family."
More News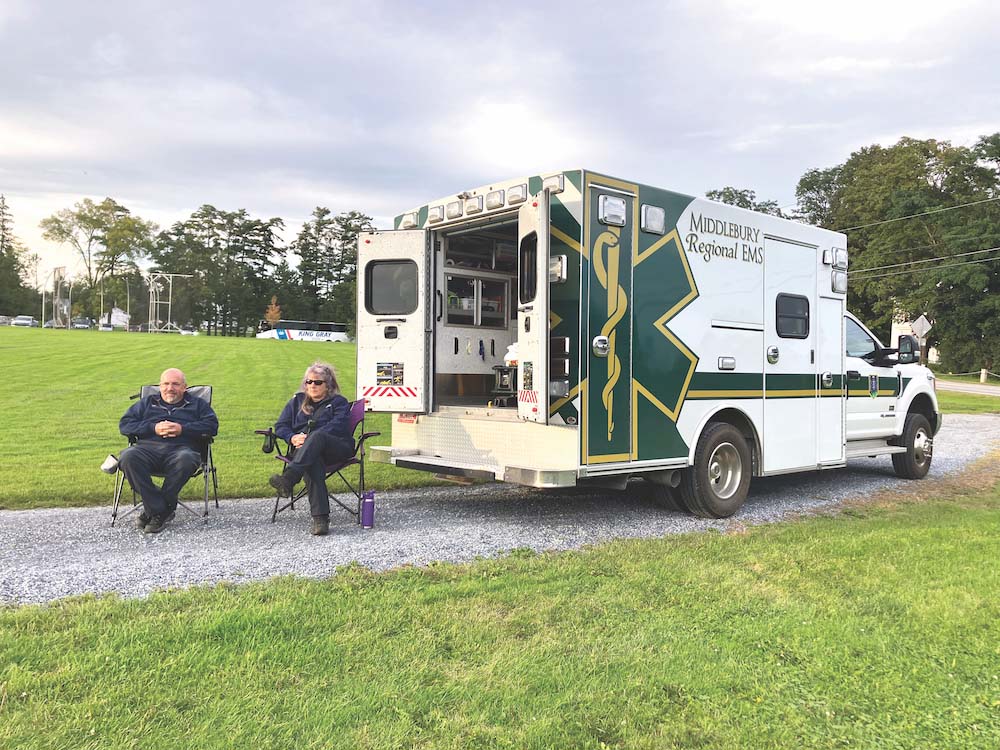 Middlebury Regional Emergency Medical Services wants to eliminate its annual Town Meeting … (read more)
Middlebury police are investigating the death of a Middlebury College junior and say the p … (read more)
Vergennes resident Margaret Clifford offers nearly a century of recollections, from losing … (read more)