New pastor in Bristol looks to grow church
BRISTOL — The congregation at the First Baptist Church of Bristol earlier this month welcomed a new pastor to the church community and to Vermont. Isaac Dzomeku and his family recently moved to Addison County from Worcester, Mass., and Dzomeku officially took on the role of leading the Bristol church at the start of this month. 
The 44-year-old pastor said he is excited about his new post and hopes to bring more young people into the church's aging congregation. 
"If we give ourselves another 100 years, all of the 65-year-olds will be gone, but we need the church to be functional," Dzomeku said during a recent interview. "My goal is 'how can I get young people to join the church and keep the fire going,' so that when our generation and the older generation is gone, we can still have the fire of God burning and people joining (the church)." 
Dzomeku himself began going to church as a young adult. At 18, he began attending, and working at, a church in his hometown of Koforidua, Ghana. He spent most days and nights at the house of worship, both practicing his faith and patrolling the building as a security guard. 
Dzomeku said the church also provided him with a place to sleep during a time when he did not have anywhere else to stay. 
"I used to go to church seven days a week, because I would sleep in the church. If women are having fellowship, I'm there. If the men are having a meeting, I'm there because I have to lock the church and sleep there," he recalled. 
Dzomeku found that his connection to the church during those years helped attract other young people in town to the house of worship. 
"Right after school, I would come back to the church. That's how I would do my studies. As a result of that, a lot of my friends began to come to church, because if you want Isaac to talk to you, you have to find him in church," he said. 
In 2003, Dzomeku decided to further his work in ministry in the United States. At 25, he moved to Massachusetts and began serving under the pastor at the Redemption Christian Center in Worcester. He obtained a bachelor's degree in chemistry at Worcester State University and went on to achieve a Master of Divinity degree from Liberty University. 
Upon receiving his Master of Divinity, Dzomeku said he was faced with a decision about where to go next with his work in ministry. At the time, Dzomeku recalled a conversation he'd had while attending a send-off service for a friend in Worcester a couple of years prior. 
At that service he'd been introduced to Dale Edwards, the region minister for the American Baptist Churches of Vermont and New Hampshire, a network of Baptist churches in the two states. 
"Dale said 'Isaac, this is my card, after you finish Bible school and you want a place to become a pastor, give me a call,'" he said. "As I kept praying, the Lord kept bringing Dale to me." 
Edwards helped direct Dzomeku to the First Baptist Church of Bristol, which had a congregation in the process of searching for a part-time minister since interim pastor Todd Goodyear announced in early 2022 that he would step down from the role. 
Dzomeku made his first visit to the Green Mountain State last year, meeting with Greg Orvis, a member of the church's board of deacons, and other members of the congregation. 
"When I met Greg and the other team, I knew in my heart that I needed to come (to Bristol)," Dzomeku said.  
The church's congregation agreed.
"Isaac just blew us away," Orvis recalled. "We had a wonderful interview, and he was always very direct with us about where we were as a church, as an aging congregation." 
Orvis said the congregation is excited to have Dzomeku take on the role of leading the church and is optimistic about the pastor's goal of filling more of the pews with children and young adults. The Bristol church currently has around 35 regular attendees, only a couple of which are young children. 
Retaining younger members is an ongoing challenge for churches and other houses of worship throughout the country. Gallup reported this past December that over a third of Americans have tapered off from attending regularly religious services throughout their lifetime.
The 2022 survey found that while 67% of respondents said they frequently attended religious services while growing up, only 31% reported attending a church, synagogue, mosque or temple weekly or nearly weekly today. The survey's findings are in line with previous Gallup research that highlights a steep decline in U.S. religiosity in recent decades. 
Dzomeku is hoping to address that trend at the Bristol church, both by attracting younger members to the church community and encouraging them to stay. 
"We need to preach a message of love. That is what the world is lacking right now," he said. "I'm hoping that we can get our youth around and preach love to them, and through them, they can bring their friends." 
Outside of his work in the church, Dzomeku said is also looking forward to becoming a part of the Bristol community. He noted that Addison County reminds him a lot of Koforidua, despite being nearly 5,000 miles and an ocean away from his hometown. 
"I like the country life. I was raised up in the country. The only time you would come to the city is when you wanted to come and have city life," Dzomeku said. "I grew up going to farm, I grew up in the village. I see that life over here." 
More News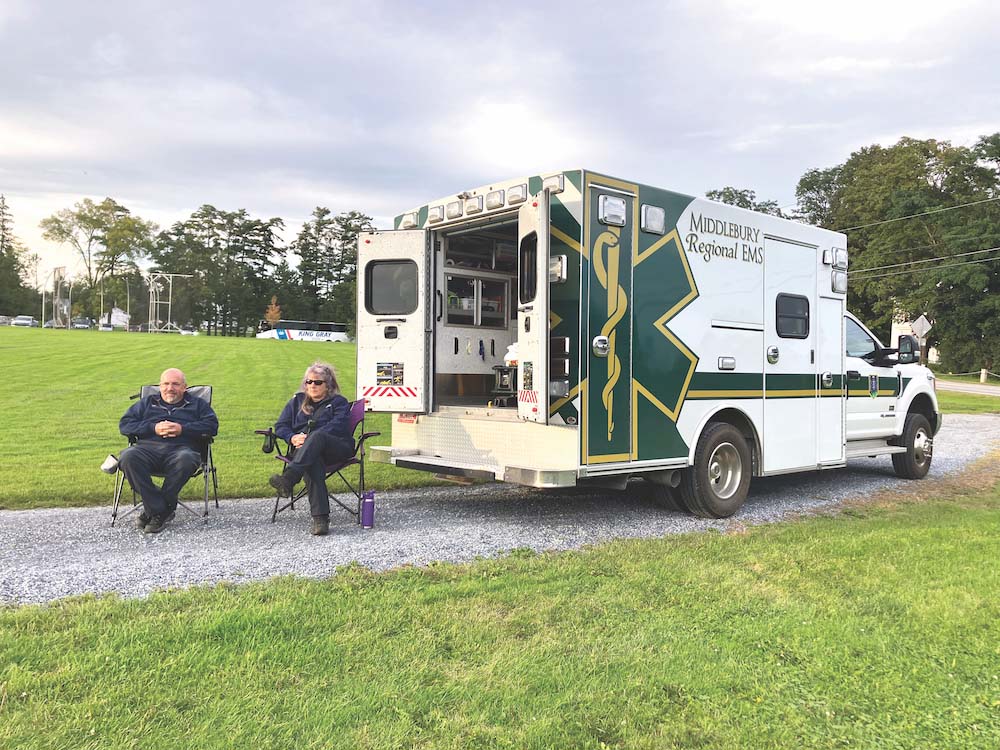 Middlebury Regional Emergency Medical Services wants to eliminate its annual Town Meeting … (read more)
Middlebury police are investigating the death of a Middlebury College junior and say the p … (read more)
Vergennes resident Margaret Clifford offers nearly a century of recollections, from losing … (read more)