Legion nine finishes strong for playoff berth
CASTLETON — The Addison County American Legion baseball team finished the regular season with a flourish to earn a berth in this past weekend's state tournament at Castleton University.
But the local nine was unable to make much noise in the double-elimination postseason, picking up a forfeit win sandwiched between a pair of losses to finish the season with an overall record of 7-14.
As the regular season wound down AC defeated visiting Montpelier on July 19, 10-0, and host Franklin, 8-3, on July 20 to finish the regular season at 6-12 and clinch a playoff berth. AC earned the No. 4 seed from the Legion's Northern Division by winning three of its final four regular season games last week, including two victories over Franklin, its closest rival for the final Northern Division playoff berth.
But earning the No. 4 seed from the North meant an opening playoff game against Southern No. 1 seed Brattleboro, owner of a 16-2 regular season record, at noon this past Saturday.
And Brattleboro cruised, 16-6 in six innings. AC won on Sunday when South No. 2 seed Manchester, which lost to Colchester, 13-0, on Saturday, could not muster enough players and forfeited. 
That sent AC to another elimination game on Monday morning vs. South No. 3 Lakes Region, based in Fair Haven. Lakes Region, which upset South Burlington on Saturday, 3-0, had fallen to Brattleboro, on Sunday, 12-8. On Monday, Lakes Region ousted AC, 11-1. 
AC, 10-0
On July 19, AC moved a step closer to the postseason by blanking last-place Montpelier, 10-0, in five innings in a game that saw visiting Montpelier's starting pitcher ejected for arguing a second-inning balk call and then throwing at an AC batter, and umpires then toss Montpelier's manager for arguing both the balk and the ejection.
Tucker Morter tossed a four-hit shutout for AC, striking out four and walking none. After working out of a bases-loaded jam in the first inning, Morter allowed just two hits the rest of the way.
Alex Sperry manufactured a run for AC in the bottom of the first by singling, stealing two bases, and scoring on a wild pitch. 
AC added three runs in the contentious second inning. Mike Dunbar singled, stole second, and scored on a Tyler Kimball single. Kimball stole second, and Sperry singled him home. Sperry moved to third on the balk that started the arguing, and the home plate umpire ejected the pitcher and manager when the hurler hit Carter Paquette with his next pitch. An error then scored Sperry, and it was 4-0 after two innings.
The home team added two more in the third on a Xavier DeBlois single, an error, a walk and Cole Warren's two-run, bases-loaded single. 
AC reached 10 runs by scoring four more in the fourth. Paquette singled, and Morter doubled him home. Dunbar, Kimball and Nate Muzzy all walked, and Warren was hit by a pitch to plate another run. A two-run Sperry hit capped the rally. 
AC, 8-3
AC entered its July 20 game vs. Franklin in St. Albans with a one-game lead, and the local nine clinched its playoff berth with its 8-3 victory. Cole Cudney earned the pitching win, allowing three earned runs, all in the sixth inning. 
By then AC already led Franklin, 7-0, and Franklin pitcher Eli Calhoun had hit Cudney with a pitch in his pitching elbow during the top of the inning. Calhoun struggled with his control and hit a half-dozen AC batters during the game. Paquette tossed a scoreless seventh for AC to nail down the win. 
Paquette also gave AC the lead in the first inning, singling, stealing second and third, and scoring on a passed ball.
AC continued to run wild on the bases in the second inning. Sperry doubled and stole third, and Cudney was hit by a pitch for the first time and stole second. Eyon Tembreull then doubled them both home, and Kimball's RBI single made it 4-0. 
AC put three more runs on the board in the fifth. Calhoun hit Paquette with a pitch, and after he stole second he scored on a Cudney single. An error and a Ben Fuller hit plated two more runs and made it 7-0.
In the seventh AC added its final run. After walks to Kimball and Morter, Kimball stole third and scored on a passed ball. 
BRATT, 16-6
In Saturday's tournament opener, South top seed Brattleboro scored the game's final 10 runs to snap a 6-6 tie and prevail, 16-6, in six innings.
AC took a short-lived lead in the top of the first. Paquette reached on an error, Cudney was hit by a pitch, and Tembreull doubled home Paquette. 
Brattleboro answered with a pair of runs off Kimball in the bottom of the inning on an Alex Bingham single, a walk, and Turner Clews' two-run double. 
Brattleboro made it 6-1 with four unearned runs in the second on singles by Aidan Davis and Sam Bogart, two AC errors, and two sacrifice flies. 
AC rallied to tie the game with three runs in the third and two in the fourth. In the third the runs came when Warren was hit by a pitch, Sperry and Paquette each doubled, and an error allowed Paquette to score. 
In the fourth, Zeke Dubois was hit by a pitch and Reese Paquette reached on an error. A double play erased Paquette before consecutive singles by Sperry and Cudney produced runs. 
Brattleboro responded with three runs in the fourth to make it 9-6, scoring on a walk, two singles, two errors and a sacrifice fly. In the fifth, a walk, a throwing error and a Harper Cutler single allowed Brattleboro to add a run, and in the sixth the winners added six more on five walks, a hit batsman and a Bingham base hit. 
For AC, Sperry finished with three hits and two runs; Paquette with two hits, two runs and two RBIs; and Cudney had two hits and an RBI. Muzzy and Dunbar threw in relief of Kimball.
LAKES REGION, 11-1
On Monday, Tembreull started and held Lakes Region to one run in the first three innings, on a Caleb Nelson single, an error and two walks in the opening inning. Tembreull went three-plus innings, and Morter and Warren threw in relief.
AC tied the game in the top of the fourth, when Muzzy reached on a fielder's choice, DeBlois singled and Morter plated Muzzy with a sacrifice fly. 
DeBlois's single was one of just three AC hits. Carter Paquette knocked out the other two off LR pitcher Jackson Howe, son of Otter Valley Union High School Coach Mike Howe. Howe struck out just one and walked three, but kept the AC hitters off balance.
LR took the lead in the bottom of the fourth, scoring three times on Max Kyhill's two-run double, two walks, and a Sawyer Ramey sac fly.
LR broke the game open in the fifth inning with six runs. The key hits were a Joe Buxton RBI triple and Lee's two-run RBI single, and Ramey walked with the bases-loaded as AC pitchers walked two batters and hit two more. 
LR ended the game and AC's season in the bottom of the sixth, when Kyle James came home on a Noah Woodbury sacrifice fly.  
More News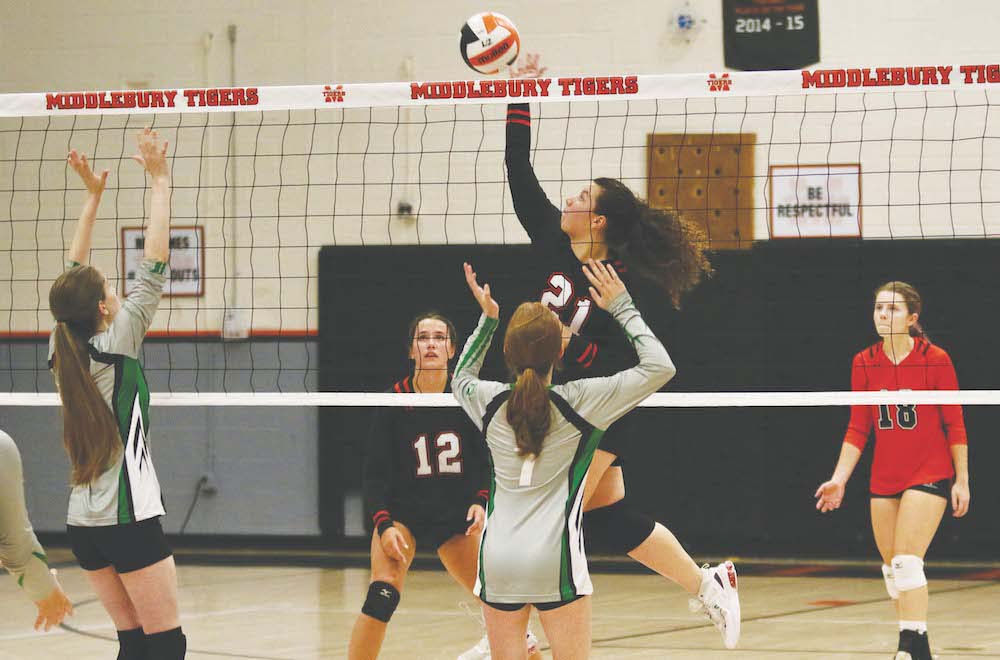 The first-year Middlebury Union High School girls' varsity volleyball team continued its r … (read more)
Soggy conditions didn't slow down Middlebury runners noticeably at a cross-country meet ho … (read more)
I gave Bill Lee a call last week, hoping he was at his home in Craftsbury and we might arr … (read more)