Addison County is spared the worst flooding
VERMONT — After huge amounts of rain fell Sunday through Tuesday morning, much of the Green Mountain State remained in active response mode on Wednesday morning even as the state's rivers continued to recede.
Addison County saw swollen rivers result in a few road closures, but this part of the state was largely spared the worst of the flooding that covered streets of Montpelier, Barre, Waterbury, Woodstock and Ludlow, and washed out roads in some smaller towns like Killington. 
"The hardest-hit area currently is Lamoille County, where we rescued 32 people and numerous animals overnight," Public Safety Commissioner Jen Morrison said at a press conference Wednesday morning in Berlin. 
Swift water rescue teams had conducted more than 200 rescues since Sunday, she said, and evacuated more than 100 people.
Even as the state began to dry out, officials cautioned that more water could be on its way. The National Weather Service has warned that Vermont could see more rainfall on Thursday and especially Friday. 
"This may not be over," Gov. Phil Scott said at Wednesday's press conference. "With rain in the forecast and nowhere for it to go, we could see waters rise again."
Locally, the Middlebury Highway Department on Monday closed four town roads along the Middlebury River and Otter Creek due to high water caused by the rainstorm. Blake Roy Road, Three Mile Bridge Road and Shard Villa Road opened Tuesday and Creek Road south of the state highway garage was open by Wednesday morning.
Town officials reported no damages or business interruptions, and no flood-related traffic incidents.
Although the Sunday evening performance of Festival-on-the Green was cancelled because of thunderstorms, the festival was undeterred by the storm, moving Monday evening and Tuesday noon performances into St. Stephen's Church.
Officials said locals should expect Otter Creek to remain high and even rise a bit over the coming days as flood waters from the drainage areas in Rutland and Bennington counties moves north along the creek. This will keep the flood plain in Salisbury, Cornwall, Leicester and Brandon inundated for at least a number of days.
Outside Middlebury, parts of Bristol's Lower Notch Road were closed on Tuesday. The Bristol public works crew also spent Tuesday morning removing trees, dirt and rock from Lincoln Road, where a section of Briggs Hill slid onto the roadway. 
Rising waters of the New Haven River prompted closure of the west end of River Road in New Haven. As is typical during heavy rains, Route 73 between Brandon and Sudbury was closed on Tuesday.
Gov. Phil Scott on Monday declared a State of Emergency in Vermont to enhance preparedness and expedite response to the major rainstorm.
Vermont's raging rivers began to fall late Tuesday after exacting catastrophic damage across the state. 
"They are all coming down or cresting right now," National Weather Service meteorologist Rebecca Duell said around 9:30 p.m. "We are not expecting additional rises on the rivers at this point."
After more than 36 hours of rainfall and widespread flash floods on Monday, the greatest threat to Vermont on Tuesday became the state's mainstem rivers, which gathered force as they drained the Green Mountains into Lake Champlain and the Connecticut River. They jumped their banks and poured into towns and cities — and, for a time, threatened to spill over dams. 
Several rivers reached record highs, while others came close to matching those set in 2011 during Tropical Storm Irene, Duell said. The Lamoille River exceeded Irene levels in Johnson and Jeffersonville, as did the Barton River in Coventry. The Winooski River ran higher in Montpelier than during Irene, but lower in Waterbury and elsewhere downstream. 
"This is definitely comparable to some of the biggest events in our history," Duell said, noting that the data was hard to compare to the Great Flood of 1927 due to changes in methodology. 
By Tuesday morning, the Winooski had crested in Montpelier. Levels on the Lamoille, Missisquoi, White, West and Wells rivers, along with the Otter Creek, were also dropping.
HEAVY RAINFALL
The flooding was precipitated by nearly unprecedented rainfall. The National Weather Service on Tuesday reported that some of the greatest rainfall was recorded in Calais (9.2 inches), Plymouth (9.05), Mt. Holly (8.66), Andover (8.65), Randolph (8.06) and Middlesex (8.03). 
A weather service report on Monday night said rainfall in Addison County had mostly ranged from 3 to 5 inches during the preceding 48 hours. Among the numbers reported were 5.75 inches in Ripton, 4.58 in South Lincoln, 4.41 in Middlebury, 4.23 in Hancock, 4.04 in Starksboro, 3.33 in Cornwall and 3.12 in Orwell.
"It was incredibly impressive in terms of rainfall amounts and rainfall intensity," Duell said, adding that she'd "never seen anything like this" in her 15 years in the profession. 
Duell said the state could expect drier conditions on Wednesday, as rescue and recovery work continues. But on Thursday and especially Friday, the chance of thunderstorms and showers is expected to increase, she said. 
Any storms that arise later in the week are likely to be localized, not widespread, Duell said.
"But the main concern is that there's nowhere for the water to go," she continued. Not only are soils saturated and rivers high, but culverts and other water control mechanisms are washed out. 
As temperatures remain warm and muggy, Duell said, Vermonters should continue to avoid fast-flowing waters. 
"A lot of people are going to want to go outside and cool off," she said. "But local swimming holes with all the recent rainfall are pretty dangerous right now. … It may look calm on the surface, but your best bet is to stick to the swimming pools right now until this calms down."
More News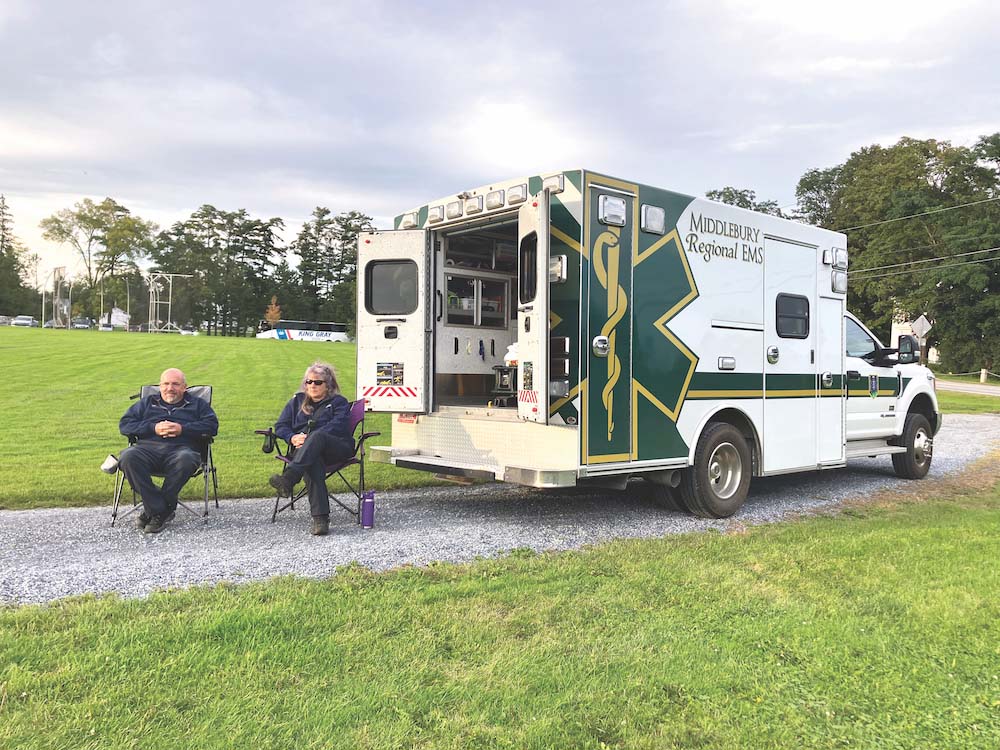 Middlebury Regional Emergency Medical Services wants to eliminate its annual Town Meeting … (read more)
Middlebury police are investigating the death of a Middlebury College junior and say the p … (read more)
Vergennes resident Margaret Clifford offers nearly a century of recollections, from losing … (read more)