Outhouse champ back for more
BRISTOL — Some might have considered the July 4, 2022, victory by LaRose Surveys in the Great Bristol Outhouse Race — by a toilet-paper-thin margin over a defending champion team led by prominent portable potty racing enthusiast Cam Perta — to be an upset. 
Not so, the LaRose Survey team of pushers Kobe LaRose and Zeke Savage and rider Gary Winthorpe proved Tuesday in this year's annual Main Street showdown of locomotive latrines. 
(It's billed by Bristol's 4th of July Committee as the World Championship, and no one from West Virginia or Tennessee has challenged the claim, at least not yet.)
Even with Winthorpe replacing a more svelte female 2022 rider, LaRose Surveys dominated its initial heat — the winners of three heats run along the 400-yard Main Street course reached the grand finale.
And then, in the final, the sprinting surveyors raced to a convincing victory over Village Creeme Stand, which took advantage of a slow start by Perta's team, Woodware, to gain position and take second, with Woodware settling for third. Village Creeme also won the priceless trophy for best decorated outhouse. 
All the Great Bristol Outhouse Race trophies are, in fact, priceless. Bristol 4th of July Committee member Ted Lylis said he makes them in his shop from scrap wood and metal. 
All three members of the LaRose team, who represent the business run by Kobe LaRose's grandfather Ron LaRose, are 2021 graduates of Mount Abraham Union High School, as is their tactical advisor, Richard Donnelly.
They credit his coaching — probably not too seriously — for the back-to-back win, and not their fitness and quickness. 
"We went through a couple different strategies during training, double-push, double-pull. We settled on the double-push. That's where the power comes from," Donnelly said. "You can see these grass-fed boys here."
Members of the team — who won despite also running the Bristol July 4 5-kilometer race earlier that morning, leading Kobe's grandmother Connie LaRose to later agree that it's good to be young — said they faced pressure from their sponsor, Ron LaRose (a retired Vermont National Guard lieutenant colonel), to repeat their 2022 performance. 
"At the start of the race he said you better win," Savage said. "So we did it for him."
Kobe LaRose, speaking after the team's first-heat victory, said the same thing: "My grandfather is like, 'You better win this year.' So we're winning this year, I guess."
Team members knew they had their championship wrapped up about 30 feet from the finish line, when Savage raised his hand in triumph. They said they had a spotter in the crowd who let them know they could not be caught.
"He saw me back there and threw the peace sign out," Savage said.
Perta, a highly competitive winner of three previous Great Bristol Outhouse Races, praised the winners. 
"They did a great job, a worthy two-time champ, no question," Perta said. "They beat us both times, fair and square."
Perta said his Woodware team, including puller Jake McDonough and his sister Bianca as the rider, was confident going into the final after cruising to a second-heat victory. "We felt good," he said. 
But the setback will make them rethink their perambulating privy tactics: They have used the one-pusher, one-puller strategy, which he said allows for more control, but sacrifices some speed. His team might have to go for broke in the future, he believes, with the double-push approach.
"Those guys are really fast. We were talking about it. We know they beat us last year," he said. "We think that might be the move going forward, to double-push."
As well as providing entertainment for the big pre-parade crowd that lined both sides of Main Street to watch, the rolling rest rooms also serve as a vital fundraiser for the Bristol Fourth of July Committee. Volunteers sell $1 tickets to allow spectators to wager on the participants in each race. Winning tickets go into a drawing, and holders of the winning tickets earn $25 for each preliminary heat and $75 for the final. 
The remainder goes for expenses of putting on the Independence Day parade and the many festivities that accompany it that are held on the Bristol Town Green. 
Ticket buyers are as faithful as those who return annually to push, pull and ride in the wheeled water closets.
"It feels good," said Koby LaRose after the repeat victory. "We'll be back next year."
More News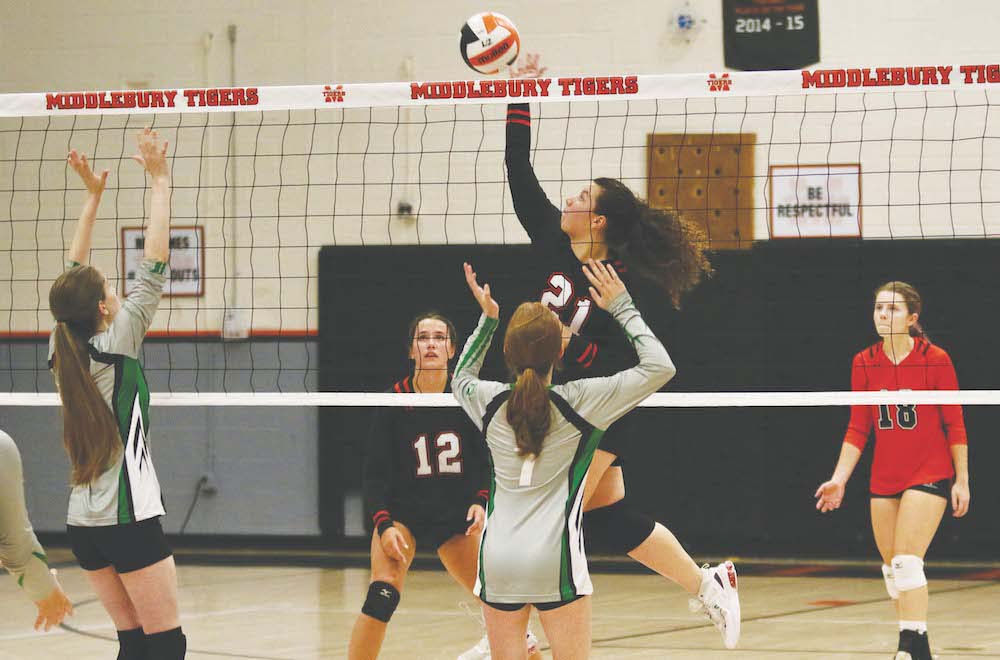 The first-year Middlebury Union High School girls' varsity volleyball team continued its r … (read more)
Soggy conditions didn't slow down Middlebury runners noticeably at a cross-country meet ho … (read more)
I gave Bill Lee a call last week, hoping he was at his home in Craftsbury and we might arr … (read more)