CVUUS leader ready to step aside
MIDDLEBURY — Barnaby Feder in 1980 had reached the pinnacle of print reporting — a job at the New York Times. He became a capable scribe for the Gray Lady's business section, turning out stories ranging from obituaries on people like tech maverick Stanford Ovshinsky to an overview of the idiosyncrasies of artificial hips.
He loved the work, but found himself a casualty of a major round of Times layoffs after roughly 27 years at the paper.
So at an age when a lot of folks are seriously planning for retirement, Feder had suddenly reached a professional crossroads.
"The question then was, do I continue in journalism at age 58, or do I follow this other calling that had been held in abeyance?" he recalled. "Anything else available in journalism wasn't going to be like working for the Times."
That other calling was as a Unitarian Universalist minister, and Feder — now The Rev. Feder — elected to take that path. And there have been no regrets as Feder comes to another crossroads — his retirement, following a much-heralded 11-year run leading the Middlebury Champlain Valley Unitarian Universalist Society (CVUUS).
His entry into theology during his late-50s is a story unto itself.
"My wife (Michele Lowy), who's Jewish and never had 'wife of a minister' on her bucket list, was very supportive of me doing this," Rev. Feder said.
He attended Drew Theological School in Madison, N.J. Feder was glad he took this step, as he had had a highly secular UU experience. Feder is a lifelong Unitarian Universalist who was born and raised in the San Francisco Bay area. His mom co-founded a UU congregation there during the early 1950s.
"I needed more of the Biblical background," he said. "So (seminary school) was very helpful.
He found himself somewhat of an anomaly among other aspiring clergy.
"They (at Drew) were very welcoming of a 'heretic,'" he added with a smile. "The dean said, 'We love UUs, it keeps our more pious students honest.'"
The Rev. Feder had what he described as "a great three years" at Drew, which included a ministerial internship for a UU congregation in Morristown, N.J. He took on a half-time minster assignment at the UU Fellowship of the Poconos, in Stroudsburg, Penn.
The Stroudsburg congregation asked him to stay, but Feder elected to go through the UUA process of seeking a match for his ministerial services. He applied to three UU parishes — including the CVUUS.
More than 90% of the CVUUS members supported Feder's hiring, and he started there in August of 2012, at age 62.
"We started out renting a cottage at Eastview (retirement community in Middlebury)," Feder recalled. "I was just old enough to qualify, knowing it was a temporary landing place. In one of my first (CVUUS) sermons, I said, 'I hope you're not alarmed that one of the first things your new ministry did was move into a retirement community."
With help, Feder negotiated a steep learning curve, thanks to an experienced CVUUS staff that included then-interim Minister Emily Melcher, and Poppy Rees, the director of religious education. Office Manager Laura Asermily has also been a longtime helpful presence.
"I had never done a full-time ministry and had never administered paid staff before," Feder explained.
He's brought both stability and change to CVUUS, and his legacy will include:
• Encouraging the congregation to complete work on its fellowship hall, an $800,000 project.
"We got it done sooner than I think anyone thought was possible," Feder said.
It's a project that came as the congregation was still retiring debt on another major undertaking — construction of a new, environmentally sensitive sanctuary building. Feder said some among the congregation thought it might be 10 years before the fellowship hall could be completed, but it was buttoned up within three — and has become a key asset for CVUUS members and events.
• Recalibrating the society's social-action policy, particularly as it relates to racism and oppression. Early this year, the society adopted a social action covenant that "I believe can be used as a lens on everything we do," Feder said. Consequently, his leadership has seen CVUUS host many events to channel action (protests, advocacy, etc.) on injustices, whether it be against gun violence, the 2020 murder of George Floyd, or in favor of more affordable housing and better healthcare.
"The bottom line is, it's a time of tremendous change and reconsideration of what we think our identity and mission is in Unitarian Universalism," Feder said. "One of the things I'm proud of is this congregation — which in some ways is remote from the 'action' — has stepped up to look at what's at the heart of the debate of what it means to be a Unitarian Universalist, today. The tremendous value in that is when you start to look at things through these lenses regularly, it takes a lot of guilt and shame out of things and says, 'OK, what are we responsible for, regardless of who's to blame for how we got to this situation?'"
• Reinforcing an openness for change.
"I'm a big believer that a progressive congregation is a unique organism on our national life," Feder said. "It's a landing place for people who are seriously hurting, from either other church experiences or other experiences in life. It has its life-saving moments for some people. It's changing all the time, so you find out about people on different levels, at different rates. I find it endlessly fascinating to try and be there to unleash the full potential — or something close to it — of such a dynamic, unusual organization."
CVUUS officials said Feder deserves to take a bow after a lengthy and successful tenure.
"The past 11 years at CVUUS have been a dynamic time," said Kerri Duquette-Hoffman, incoming president of the society's board. "Reverend Barnaby has shepherded our community through a large amount of change with patience and skill. I deeply appreciate his guidance for our congregation through a global pandemic with care, and continual reflection. He will be very missed."
Asermily will carry many fond recollections of Feder's time leading the society.
"Rev. Barnaby helped us grapple promptly, clearly and kindly to complex issues at any level from congregant life to state gun regulation to global climate change," she said. "Many appreciated his willingness to ask him anything, which he did annually at a press conference worship service and outside of the pulpit spontaneously walking to downtown coffee houses he liked to frequent. He believed in building interfaith coalitions, stepping in to helm when needed. While respectful of the need to give a new minister time and space by not being onsite for a while, he assures us he remains available as a resource as he retires in Middlebury."
Outgoing CVUUS board member Doug Richards said he has appreciated Feder's "deep-felt affection for the congregation and its members and for their well-being, and his advocacy for the power of love to do good in the world (that) has inspired members to help make the world a better place."
It was a few years ago that Feder told the CVUUS board his plans to retire during the spring of 2023 and ultimately return as a congregant following a two-year "exile" period, during which the congregation would become acquainted with a new minister.
"This plan has been well thought-out," Feder said.
The congregation got a taste of "life after Rev. Barnaby" for four months in 2021, when he took a sabbatical.
"That proved to be very important," he said of his temporary exit, during which he in part trained an interim ministry and studied the impacts of political polarization.
Feder is hoping CVUUS finds another good match, which will begin with an as-yet undetermined interim minister who would ideally serve two years. He's been the only minister that more than one-third of the current (active) CVUUS congregation — now numbering around 165 — have ever known.
Don't expect Feder to have a rocking chair retirement.
Still mentally and physically fit at 73, he's in negotiations to be half-time minister of the Universalist Unitarian Congregation of St. Johnsbury. Feder also plans to join the boards of a couple of Addison County nonprofits.
He leaves CVUUS with a repetition of his mantra: "Love, if it's sincere, seeks to be effective."
Feder plans to continue to practice that ethos as a CVUUS congregant.
"If we're going to actually try to make these changes, what are we responsible for? That's now something in the water we drink here, and I'm happy with that," he said. "I think I've reinforced the culture that this is a living tradition, that anything we do should be tinkered with, changed, challenged, if it's necessary, to keep us engaged with the heart of our mission. And that's to help people live lives of integrity and meaning that make a difference for themselves and the world."
Reporter John Flowers is at [email protected].
More News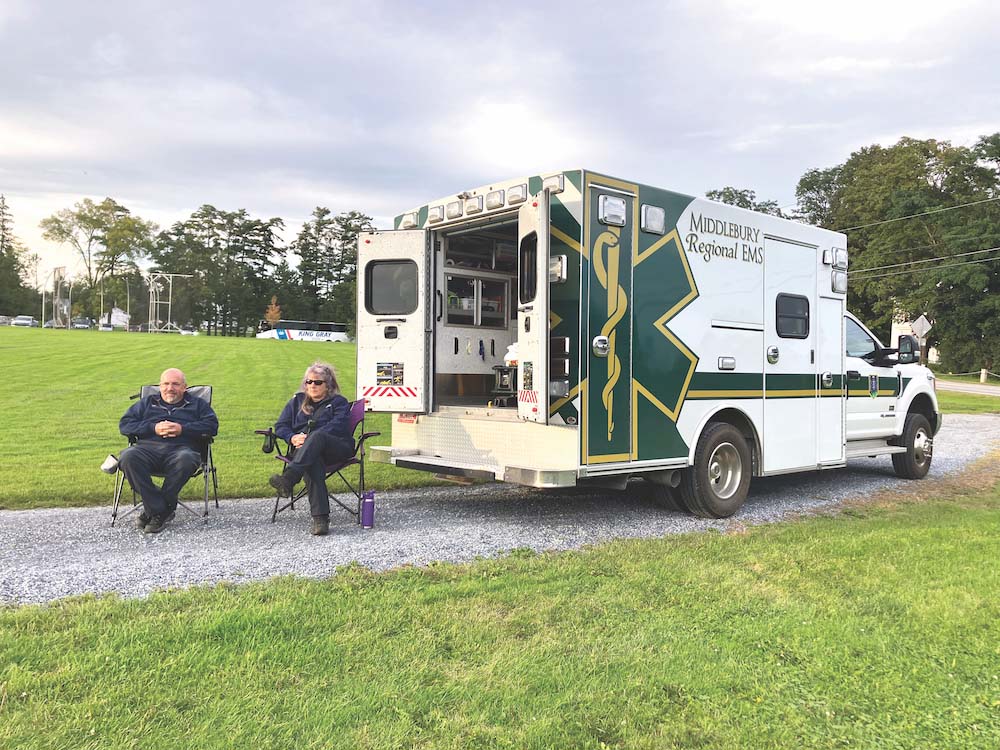 Middlebury Regional Emergency Medical Services wants to eliminate its annual Town Meeting … (read more)
Middlebury police are investigating the death of a Middlebury College junior and say the p … (read more)
Vergennes resident Margaret Clifford offers nearly a century of recollections, from losing … (read more)