New van helps Open Door Clinic reach more patients
MIDDLEBURY — Middlebury's Open Door Clinic (ODC) keeps rolling along, and the portability of its free healthcare services will soon be enhanced by a new van. 
The vehicle will help physicians and other health care providers visit more efficiently and discreetly with transportation-challenged patients in the most rural areas of Addison County.
The new "clinic on wheels" is somewhat of a throwback to ODC's roots. The service, which provides basic healthcare to the county's uninsured and under-insured, was launched in 1990 as a mobile entity — thanks to a grant from Ben & Jerry's Homemade. ODC became a standing free clinic in 1993, with a second (but now defunct) site established in Vergennes in 2010. The service is now based at the Porter Medical Center campus.
ODC has grown to include 10 full- and part-time staffers whose efforts are boosted by area physicians, dentists and ophthalmologists who donate their time to ensure finances aren't an obstacle for people who can't afford healthcare. Last year, ODC saw 1,162 unique patients, of which 505 were migrant dairy workers; 331 were new patients; 96 were seasonal guest workers at area orchards and other agricultural operations; and 716 were uninsured or under-insured Vermonters.
Around 97% of ODC's patients are uninsured.
Open Door's road to its new exam van has been long and circuitous.
It began last fall, when the organization applied for a $153,000 Health Equity Grant through the Vermont Department of Health, according to clinic Executive Director Heidi Sulis. The money was comprised of federal pandemic-relief dollars, and clinic officials were very optimistic they could land it to help ODC — which operates on a fine margin — cover its programming expenses.
"It was absolutely perfect for us," Sulis said of the Department of Health funding.
Further scrutiny of the grant criteria, however, revealed the money was not applicable to ODC's general operations.
"It could cover a lot of administrative things, like if you wanted to create a diversity, equity & inclusion team, offer professional development, or do planning," Sulis said. "But it was really hard to do anything having to do with clinical time, outreach, etc."
Clinic officials could've stopped pursuing the grant in favor of other potential revenue sources. But Sulis and ODC Case Manager and Outreach Nurse Julia Doucet committed to finding a needed service that could qualify for the award.
Doucet pitched the idea of an "exam van," which gained traction.
Open Door Clinic has actually had a van for several years. But that vehicle — an old Dodge — has largely been relegated to transportation of medical equipment and supplies used by clinic officials when they're seeing patients in agricultural settings, where services are mainly delivered either outdoors or in an outbuilding. ODC last year served patients at 44 Addison County farms and orchards.
Sulis explained ODC's current health-on-wheels setup is more geared to vaccination clinics rather than private physician-patient confabs. Those patients are entitled to privacy and confidentiality.
"Instead of having the conversation in front of everyone in a bunkhouse, the van gives us the opportunity to have a contained and private spot for the doctor-patients relationship," Doucet said.
But after receiving an initial heads-up this past winter from state officials that a new exam van could be grant-funded, ODC got word shortly thereafter that the grant money couldn't be spent on a vehicle.
"That was a huge blow," Sulis recalled of the bad news.
Disappointed but unbowed, Doucet kept advocating for an ODC exam van. And the Department of Health still wanted to work with clinic officials to secure resources.
The breakthrough came after Open Door leaders rewrote their grant application with a wellness program component, which made the nonprofit eligible for funding for specific elements of the van that contributed to wellness services.
The bottom line: The Vermont Department of Health was able to contribute $76,000 toward the van. That sum, coupled with several smaller grants and a private donation, totaled $158,000 — enough to buy and retrofit the new vehicle. That retrofit is currently being done at a CHC Vans in South Burlington.
The new, 21-foot, 2022 Mercedes Sprinter van will ensure patient-physician privacy in a compartment that Doucet said can comfortably accommodate three people — the health care provider, patient and an interpreter for Spanish speakers.
Once completed, the van's "extras" will include a small sink, an exam table, a swivel chair that will double as the driver's seat, and plenty of storage for medical supplies, as well as for warm clothing and food for patients in need. An attached canopy will allow ODC workers to comfortably triage patients outdoors prior to their appointments in the van.
Plans call for the exam van to make its maiden voyage late this summer — just in time for the clinic's fall outreach season.
And that outreach could eventually include eye and dental screenings, according to ODC officials. Sulis heaped praise on Middlebury Eye Associates and Middlebury Dental Group, both of which have loaned their skills to help ODC patients. The clinic also has a dedicated volunteer network that includes physicians and other healthcare workers, like physical therapist Cindy Marshall, who has been helping out at the clinic for more than 20 years.
More than affording privacy, the exam van could "ultimately… change how we do what we do," Sulis said. The mobile arm of the clinic will be able to visit more orchards, farms of all kinds and other businesses in the county.
"It allows us to expand what we offer and who we see," Doucet said. "So we can go out with an exam van and see… as many patients as need to be seen."
The clinic's homebase at Porter will always be its service hub. But the exam van is just one example of how ODC is bringing comfort to people in other locations.
SUPPORT GROUPS
When it became clear last year that more women were following their migrant worker spouses to Addison County, ODC decided to offer a series of weekly support group meetings that have typically drawn five to eight Central American women. Those informal meetings are led by Alysse Anton, the clinic's wellness coordinator.
An initial nine-week series was offered at the Ilsley Public Library last fall. Conversation topics included adapting to a new culture, housing challenges and relationships.
A second series of six weekly support meetings was held earlier this spring at Middlebury's Gather, the new community space at 48 Merchants Row. Participants also got to take yoga lessons at Otter Creek Yoga in the Marble Works.
"I believe the wellness program is crucial to the wellbeing of our patients, who live remotely in the countryside in Addison, far from their country of origin, families and support system," Anton said. "This program can help build a greater sense of community, self-esteem, belonging and ultimately happiness to people who have sacrificed and left so much behind to be here."
It's all about removing obstacles to good health, noted Susanna McCandless, ODC's communications and volunteer coordinator. Language is a major barrier, as many migrant workers entering Vermont don't speak English. They're dependent, at least initially, on bilingual folks like McCandless. Other obstacles include no access to transportation — when you need it, and at a time when clinics are open.
"Also, the places where our patients work are changing and shifting, as folks who have been here long-term move out of dairy and into other local businesses and industries," McCandless said.
She cited the landscaping, construction, hospitality and food sectors as examples of eventual landing spots for some migrant workers.
For more information about the Open Door Clinic, go to opendoormidd.org.
Reporter John Flowers is at [email protected].
More News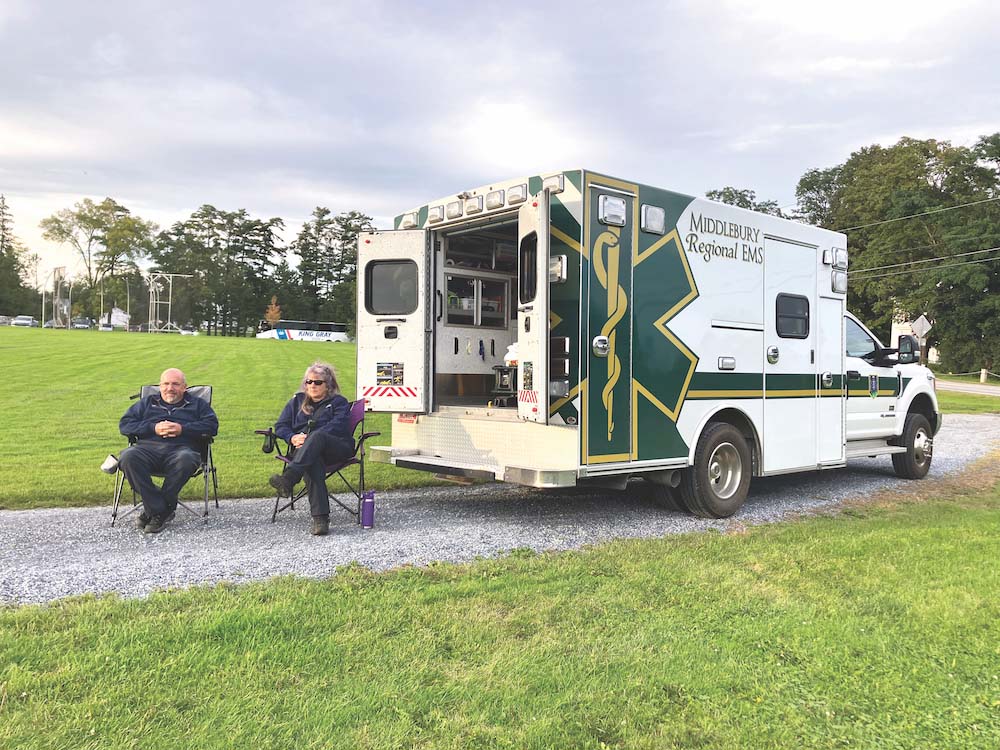 Middlebury Regional Emergency Medical Services wants to eliminate its annual Town Meeting … (read more)
Middlebury police are investigating the death of a Middlebury College junior and say the p … (read more)
In the course of her almost 101 years on Earth, Vergennes resident Margaret Clifford, bett … (read more)