Diane Bolduc ready for a new chapter
MIDDLEBURY — As she approaches her 69th birthday, Shoreham's Diane Bolduc has seen and done a lot — most of it associated with farming and her passion for seeing young children thrive in the classroom, something she's done for decades as a paraeducator at Middlebury's Mary Hogan Elementary School.
But there are things she hasn't yet done in her life, including something most folks take for granted: A real vacation, maybe even one that requires taking a flight on an airplane.
Well, Bolduc and her husband, Eugene, will soon be able to pack their bags. The couple sold their dairy farm off Happy Valley Road last year and Diane has elected to retire at the end of this week as a Mary Hogan paraeducator, a job she's held for 39 years.
"I'm not as spry as I used to be," Bolduc said matter-of-factly during a Tuesday interview at school. "So I was thinking, 'OK, Diane, you've done your share, it's time to step aside and enjoy life now."
Diane Bolduc's life is indeed a study in loyalty, hard work and selflessness. Like most good educators, Bolduc learned while she taught. She parlayed a high school degree (Mount Abraham Union High School Class of 1972) into a classroom gig that has spanned 45 years.
It began back in 1978, at New Haven's Beeman Elementary School. The Bolducs lived in New Haven at the time, and their son, Dwayne, was enrolled at the local school. Diane volunteered to help in the classroom. She did so well that Beeman officials asked her to make it a paying job, as a paraeducator.
School districts employ different kinds of paraprofessionals, whose tasks include collaborating with teachers, supporting class instruction, supporting and supervising students with schoolwork and addressing students' social emotional needs. Some are assigned as one-on-one helpers, working with individual students. Other paraprofessionals work across several classrooms supporting small learning groups and assisting classroom teachers in multiple ways.
Bolduc accepted the Beeman job, serving in that capacity until 1981, when she took a similar position at Shoreham Elementary, after her family had moved to that town.
The job brought her joy and fulfillment. So when she got a chance in January of 1984 to become a paraeducator in a larger setting — Mary Hogan — she jumped at the opportunity. Her colleagues would include Helen Kitchel, a former Shoreham Elementary colleague.
"Helen and I had worked well together, so I decided to apply," Bolduc recalled.
Bolduc has provided key support to countless students and many teachers during her time at Mary Hogan School. She's worked with the youngest students — most recently with first-graders — keeping them on task and reinforcing the educational messaging that the classroom teacher was trying to convey.
Bolduc grew accustomed to dividing her time between classes. This past year, she supported all four first-grade classrooms each day, two in the morning and the other two in the afternoon. She primarily worked with children on reading, spelling and writing skills.
"I love the kids," she said. "I would see them come in during the fall to see where they're at (academically), and you see where they've reached (by the spring). I enjoy seeing the growth of the kids. I was looking at the individual pictures of kids back in the fall and then I look at them now and think, 'Wow, they were really young when we started with them, and now look at them.'"
The younger children have kept Bolduc on her toes (and vice versa). And the tiniest tots tend to speak from the heart — without filters.
"When I told the first-grade kids I'd be retiring, one of the teachers asked the children, 'Do you know what retiring means?' And one little girl piped up and said, 'It's when you split your job.'"
Earlier this year, Bolduc was playing a game with some students and got temporarily confused on whose turn it was. One of the children said, "Mrs. Bolduc, you realize that when you get gray hair and get older, you start to forget stuff in your mind."
The comment made Bolduc chuckle, though the classroom teacher was taken aback, she recalled.
While Bolduc has possessed the drive, intellect and temperament to become a classroom teacher, she's been content as a paraeducator. Her continuing education has, ironically, come from her students.
"I learned by working with kids," she said. "That's where I've gained all the experience I have to this day."
TWO JOBS AT ONCE
That experience has included farming and has made for some positively grueling days for Bolduc as she juggled ag and ed duties.
Until the sale of the family farm last year, Diane would rise at 3:15 a.m. to help milk the farm's 150-cow dairy herd, then shower, eat breakfast and it was on to Mary Hogan for a full day of classroom activities with students. She'd leave school at 3:15 p.m. to head back to the farm, where there was no shortage of additional chores to do.
"My brothers and sisters would ask me, 'Diane, how do you do this and go to work to school?'" Bolduc recalled. "I just said, 'It's what needs to be done.'"
She noted her husband would still be farming if he had the choice. But one of his shoulders won't cooperate.
"He has missed it terribly," Diane said.
But since Eugene retired last year, and son Dwayne (who also worked on the farm) has settled into a new job at the Middlebury Natural Foods Coop, Diane felt she could make this year's summer vacation a permanent one.
Mary Hogan Principal Jen Kravitz said Bolduc has supported students and teachers in their growth from the day she started here.
"Diane has been a rock in the early grades at Mary Hogan for so many years," Kravitz said. "She approaches every day with positivity and an openness to what comes. She celebrates all of the little and big accomplishments of the students she knows. She is quiet and understated, never looking for accolades or recognition. Yet, she has hugely impacted literally generations of Mary Hogan students and staff."
Bolduc hears the lamentations of Mary Hogan teachers asking, "What are we going to do when Diane leaves?"
She takes it as a compliment but knows the school will work it out. Still, it could take a while; there continues to be a major shortage of paraprofessionals in school districts throughout Vermont, and indeed the nation.
Diane looks back upon her career with zero regrets. She wasn't sure what she wanted to do when she left Mount Abe 51 years ago, but things fell into place. Now it's time for more family time, reading and, yes, maybe seeing what it's like to travel out of state on an airplane.
"It's going to be different; you're not going to see those people every day," she said of her longtime colleagues. "They're your second family. It'll be very strange, but I'm ready."
Reporter John Flowers is at [email protected].
More News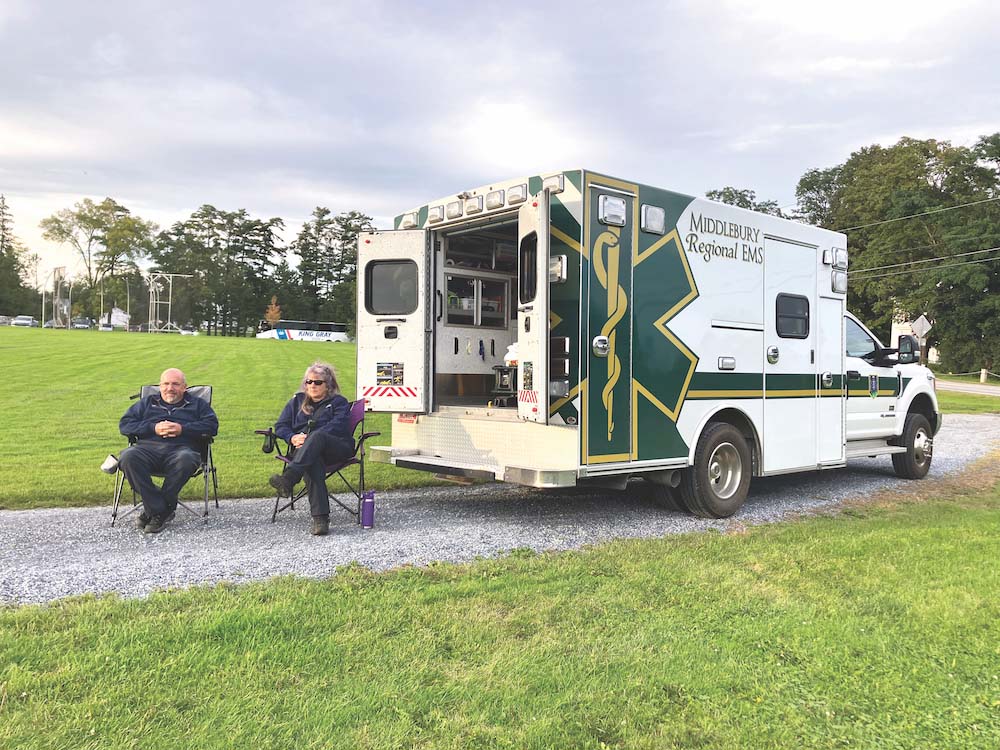 Middlebury Regional Emergency Medical Services wants to eliminate its annual Town Meeting … (read more)
Middlebury police are investigating the death of a Middlebury College junior and say the p … (read more)
In the course of her almost 101 years on Earth, Vergennes resident Margaret Clifford, bett … (read more)