Local high schools ready with defibrillators if heart attack like in NFL strikes
"We hope to never need to use them (defibrillators), but prepare just in case."
— VUHS AD Peter Maneen
ADDISON COUNTY — After Buffalo Bills safety Damar Hamlin collapsed on the field during an NFL Monday Night Football League game on Jan. 2, quick work by the medical staffs of the Bills and the host Cincinnati Bengals was credited with saving Hamlin from cardiac arrest.
A week later, the 24-year-old athlete remained critically ill but was apparently on the road to recovery.
One reason Hamlin has such a good prognosis is because medical personnel had an automated external defibrillator, or AED, handy.
But it's not just NFL teams that have AEDs on hand, so does every high school sports department in Addison County.
Such incidents are statistically more likely to happen at a Vermont high school than in an NFL game, but they are still highly improbable.
Local schools, their certified athletic trainers and their coaches are all ready if an athlete is struck in the same fashion as Hamlin — or if anyone present suffers a cardiac emergency, according to local athletic directors.
"We have AEDs in the building and at the athletic fields or in close proximity," said Middlebury Union High School AD Sean Farrell. "All coaches are required to do CPR/AED training every other year to be considered certified coaches by the state of Vermont. We also have EAPs (Emergency Action Plans) for every team that are reviewed by the Athletic Trainer and practiced by the teams."
Vergennes Union High School AD Peter Maneen and Mount Abraham AD Devin Wendel both said their schools have three AEDs on campus, with one portable out on the playing fields. AEDs are sophisticated, but user-friendly, devices that can analyze the heart's rhythm and, if needed, deliver an electrical shock, or defibrillation, to help a heart re-establish its rhythm.
What's important to know is that the consensus from medical experts is that Hamlin suffered from a rare condition called commotio cordis after taking a shoulder to the chest from a Bengals receiver.
Commotio cordis can be caused by a blow to the chest delivered at a specific point in the heartbeat cycle — one, according to the New England Journal of Medicine, that lasts only between 20 and 30 milliseconds — that causes a life-threatening heart arrhythmia or cardiac arrest.
According to the New England Cardiac Arrhythmia Center at Tufts Medical Center, there are between only 20 to 30 cases reported each year in the U.S.; this number is roughly comparable to the number of annual U.S. deaths due to lightning (20) and fewer than die annually in the U.S. in snowboarding and downhill skiing accidents (three dozen, about 75% of those not wearing helmets).
A 2010 New England Journal of Medicine article, however, also stated the National Commotio Cordis Registry believes many cases have gone unrecorded.
Hamlin's case was doubly rare, because commotio cordis primarily strikes those between the ages of 10 and 18. The New England Journal of Medicine article also reported that 95% of known victims in the U.S. are boys or men.
The article states about half of commotio cordis cases are found in young athletes playing organized sports who "receive a blow to the chest that is usually (but not always) delivered by a projectile used to play the game." Baseball players are the most likely victims, followed by athletes who play softball, hockey, football, soccer and lacrosse.
The key to survival, which is far from guaranteed, is a quick response. According to sadlersports.com, an insurance site, "The (National Commotio Cordis) Registry reports a survival rate of 24 %."
Sadlersports.com also reports, "History shows that responding with CPR efforts within three to five minutes is critical. Studies indicate … that the chances of surviving an incident of commotio cordis are enhanced if a shock from an automated external defibrillator (AED) can be delivered promptly."
According to the New England Journal of Medicine article National Commotio Cordis Registry data show survival rates have increased over time.
Reasons for this increase include some of the tactics now used in local high schools. As well as AEDs on their premises, all of the high schools have certified athletic trainers on staff, and their ADs said coaches take health issues seriously.
"All coaches are required to complete AED/CPR/EAP training," said Maneen. "We hope to never need to use them (AEDs), but prepare just in case."
Wendel pointed to another trend noted in the commotio cordis literature: better equipment.
"The NFHS (National Federation of State High School Associations) recently changed the rules on chest protectors to require NOCSAE (National Operating Committee on Standards for Athletic Equipment) certifications for both lacrosse athletes and baseball catchers … to ensure there was appropriate padding and dispersive material installed on them," Wendel said.
Wendel also pointed out protection from schools' medical staff and equipment extends to all school staff and students, not just athletes, as well as to all visitors. While there have been no apparent commotio cordis incidents in the state, he recalled a prominent 2015 incident during the girls' basketball postseason at the University of Vermont.
"It really wasn't all too long ago the Rice head coach dropped at Patrick Gym during a playoff game and was revived on the scene with an AED," Wendel said.
More News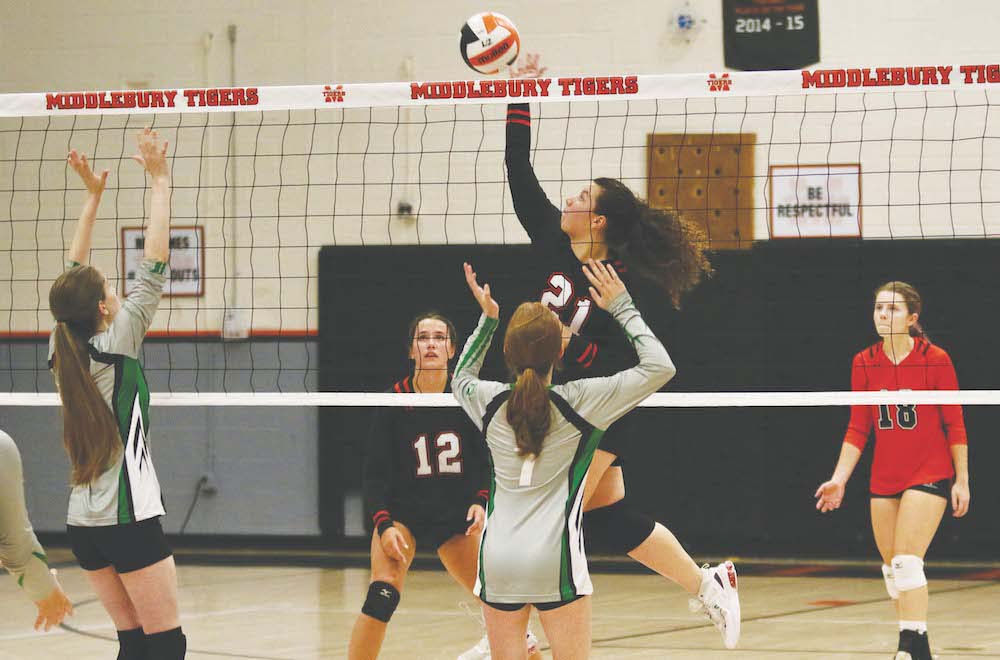 The first-year Middlebury Union High School girls' varsity volleyball team continued its r … (read more)
Soggy conditions didn't slow down Middlebury runners noticeably at a cross-country meet ho … (read more)
I gave Bill Lee a call last week, hoping he was at his home in Craftsbury and we might arr … (read more)