Eagle football wins playoff game in dramatic fashion
SOUTH BURLINGTON — In a game that featured two dramatic touchdowns that created lead changes in the final 1:09, the No. 5 seed Mount Abraham-Vergennes football team defeated No. 4 Rice, 43-40, in a Division III quarterfinal on Saturday.
The 5-4 Eagles advanced to meet undefeated top seed Windsor on the road at 1 p.m. this coming Saturday. The teams did not meet in the regular season.
Rice's Green Knights dropped to 5-4 with Saturday's loss. In that game, MAV held a slim advantage with just over a minute left, when Rice faced fourth-and-nine from its own 49-yard line. On the next play Rice quarterback Dallas St. Peter tossed a 51-yard touchdown pass to Sharif Sharif, and the Green Knights took a 40-37 lead.
Rice kicked off to Lucas Allen, however, and he broke the return 73 yards for the winning score, and the Eagles stopped the Green Knights for the program's first playoff victory in about a decade.
Rice got one rushing touchdown from Mathias Mazanti (49 yards) and two from St. Peter (5 and 3 yards). They also returned two interceptions for scores.
Jamison Couture had a big day for MAV rushing for 193 yards, including scores of 25, 24 and 6 yards. Couture also caught a 25-yard TD pass from QB Zeke Dubois and scored a pair of 2-point conversions. Rice held receiver Ian Funke to two catches, but one was for an 85-yard touchdown. Dubois completed nine of  26 attempts for 170 yards, with the two TDs and two picks.
More News
Tiger boys' cross-country team held off runners from Burr & Burton, VUHS and Mount Abe in … (read more)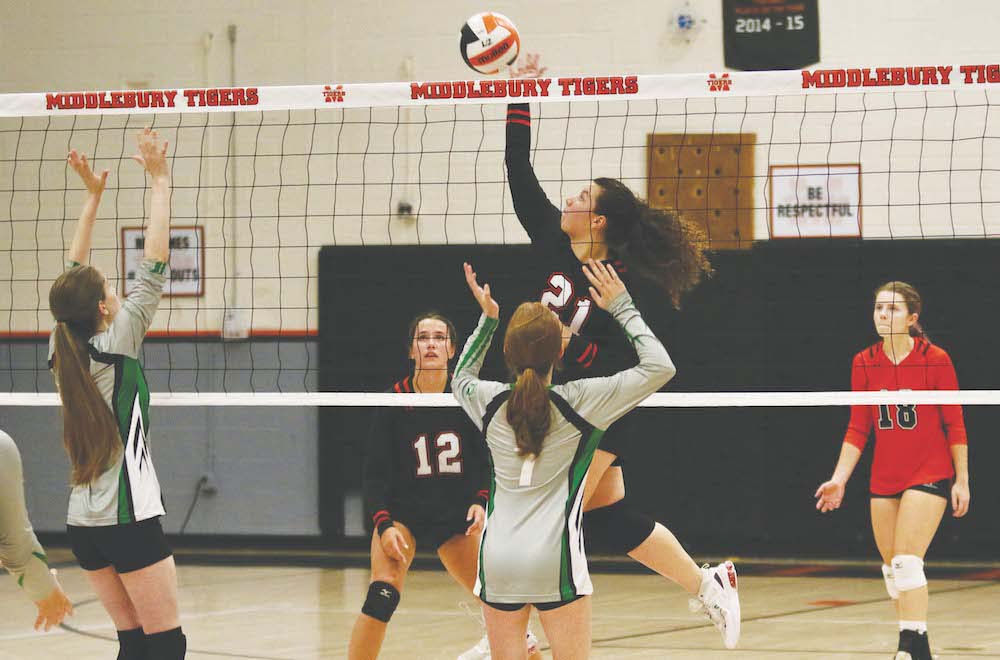 The first-year Middlebury Union High School girls' varsity volleyball team continued its r … (read more)
I gave Bill Lee a call last week, hoping he was at his home in Craftsbury and we might arr … (read more)